The Case Against Obama Visiting the Border
Despite bipartisan calls for a photo-op, it might still be a smarter political move to stay away.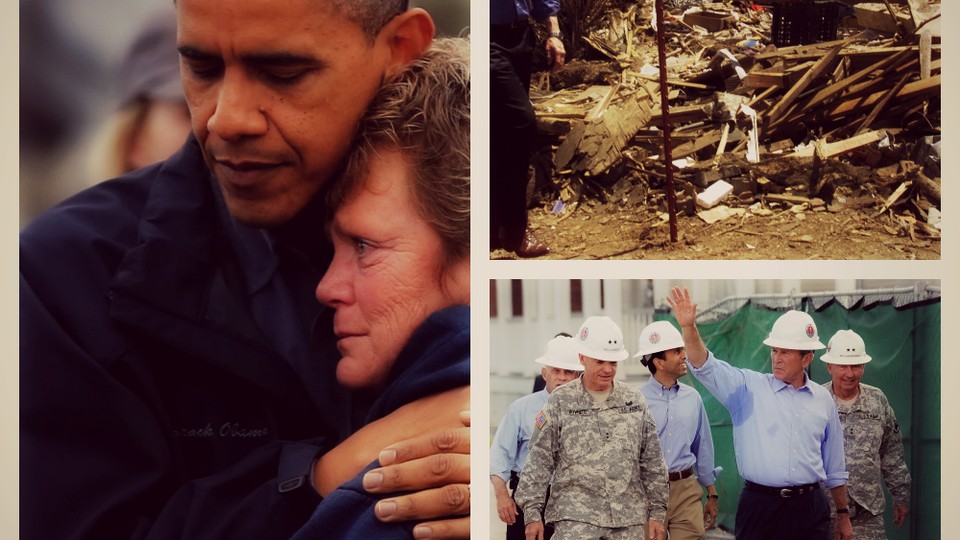 President Obama is in Texas Thursday, but he's not going to visit the southwest border. That's rankled some critics. Republican Texas Senator John Cornyn said Tuesday that "only by visiting the border and visiting firsthand and seeing with his own eyes ... will [Obama] be able to get a good idea of not only what the problem is but what the solutions are …" GOP strategist Ed Rogers in The Washington Post condemns Obama's failure to survey the scene of what he calls "invasion of America."
This criticism from the right isn't surprising. What's more surprising are the dissenting voices, of both politicians and immigration advocates, from within Obama's own party. Democratic Representative Henry Cuellar of Texas said, "I hope this doesn't become the Katrina moment for President Obama, saying that he doesn't need to come to the border. He should come down." Caitlin Sanderson, program director at the Esperanza Immigration Rights Project in Los Angeles, would "love for him to actually see the situation on the ground." Lara Brown, an associate professor of management at George Washington University, believes the president needs to visit the border and "box Republicans in a corner." It probably doesn't help Obama's case that he's attending a fundraiser at the home of director Robert Rodriguez instead.
On Wednesday, Obama told reporters, "This isn't theater, I'm not interested in photo ops. I'm interested in solving a problem." That explanation is clearly self-serving, but it gets to the essential point of the matter: What purpose would a visit serve? There are some good political reasons why Obama would want to skip the border, despite the bipartisan pressure to go.
The president probably doesn't need to visit a Border Patrol post to gather more information. Homeland Security Secretary Jeh Johnson has made several trips to the border and to Central America, the administration has been heavily focusing on the crisis, and Obama held a more substantive meeting with Governor Rick Perry and local leaders Wednesday.
But information gathering isn't the only thing that presidential visits are actually for—commanders-in-chief don't visit disaster-stricken areas to put out fires, even when there's literally a fire, or a hurricane, or a tornado. In times of crisis, however, presidents often add the role of emotional figurehead to their official duties. A visit can be useful for boosting a region's battered morale, for shaking hands and airing anodyne messages of support for victims. This is not one of those situations. Rebuilding homes, or supporting the troops, is universally popular, and it's easy to strike a pose of resolve in the wake of a storm. How to adjust immigration policy is more divisive and complicated. Does Obama embrace the illegal migrants whom Speaker John Boehner wants to dispatch the National Guard to stop? Or stand in the doorway, hands on hips, reminding these children there's likely no safe haven here? Does he hand out water bottles or Notices to Appear?
Catastrophes can also be used as a lever. This is the type of response reform advocates like Brown want. The president can stand at the podium and ask the nation: Why this is happening? How can we fix it? The thing is, that tactic doesn't necessarily work. After all, Obama tried an emotional appeal after the massacre of 20 children at Sandy Hook Elementary. However genuine and compelling his speech, it failed to move the needle on gun control. Hardly any of his calls for stricter gun control measures were taken up successfully by Congress.
Besides, this isn't the aspect of immigration policy the administration wants to trumpet, but the part it wants to sweep under the rug. Obama's balancing act now requires asking Congress for $3.7 billion to pay for the removal (and humane treatment) of some illegal immigrants while using executive action—over the head of a House speaker who is suing him for doing so—to make overall deportation policy more lenient.
Obama's decision not to visit the border is a gamble, but it may still be a smarter bet than making the trip.