The Border Surge: Is It a 'Crisis' or Not?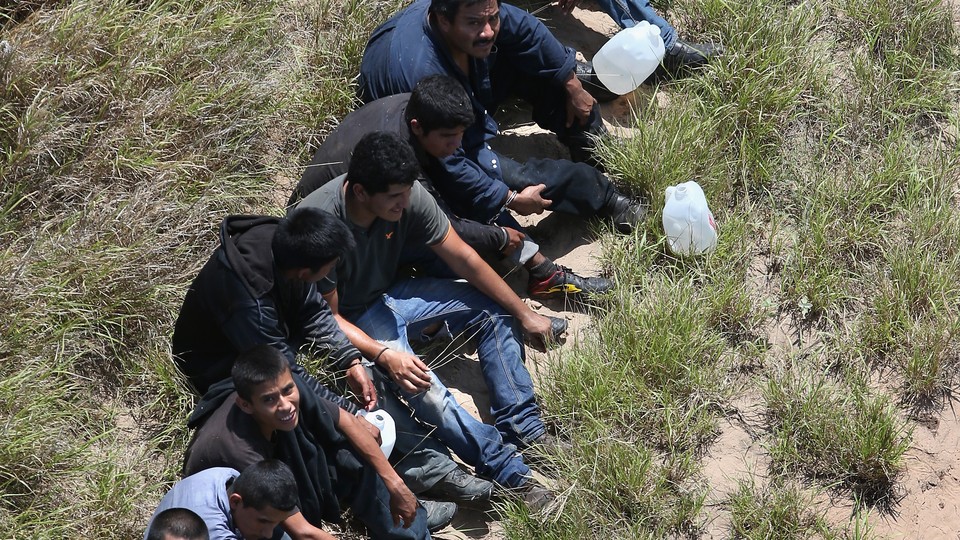 Capitol Hill is fiercely divided over how to handle the surge of tens of thousands of unaccompanied minors from Central America to the U.S.-Mexico border, but at least everyone can agree on one thing: It's a crisis.
Or maybe not.
Republicans are on a mixed-messaging binge over how best to describe the buildup at the border. Perhaps it's an "emergency." Or maybe Congress "ought to slow down," as one key Republican lawmaker put it this week. It depends on whom you ask.
Some, including House Speaker John Boehner, don't mince words. President Obama's lack of leadership, Boehner said Tuesday, is jeopardizing efforts "to find common ground and help the kids who are caught in the middle of this crisis."
Sen. John McCain, whose home state of Arizona sits on the front line, says it's both "a crisis" and "an emergency." And outside of Congress, Texas Gov. Rick Perry has said he is deploying up to 1,000 National Guard troops over the next month to the Mexican border.
Other Republicans are sounding more like crisis deniers—though they stop short of saying that, exactly.
For instance, Sen. Lindsey Graham of South Carolina said Tuesday that he wouldn't call the wave of unaccompanied minors from El Salvador, Guatemala, and Honduras an emergency—not just yet.
"You've got a humanitarian problem on the border," said Graham, who like McCain is a member of the bipartisan so-called Gang of Eight that worked on an immigration-reform bill last year. "I don't know if it's a crisis yet. I worry about you don't want to have children put in poor conditions. But at the end of the day, I want to address why the children have come."
So, what is really going on here?
On one hand, many Republicans want to maintain a narrative that what's happening on the border is indeed a crisis—in part so they can blame Obama for what they see as his anti-border-enforcement policies.
Republicans are using the events on the border to appeal for major changes to the deportation system, such as speeding up the deportation processes for such minors from the one that now exists under a 2008 anti-trafficking law.
And they're using Obama as a scapegoat on their way to pushing for other changes, even if they do not directly relate to the current influx of young migrants—such as blocking funding for an initiative to give undocumented immigrants work permits (the Deferred Action for Childhood Arrivals program, or DACA).
"You're not going to get any Republican to appropriate any large amounts of money until there's some structural changes," Graham said.
But then, if it's really a crisis, these lawmakers might have to actually agree and go along with funding a solution, and many of them don't want to do that. So, some are locked in sort of an in-between, never-never-land state of banter.
Sen. Jeff Sessions, the top Republican on the Budget Committee, on Monday took to the Senate floor to question the urgency of responding right away to Obama's proposed $3.7 billion emergency funding plan to address what's happening on the border.
As ammunition, Sessions pointed to a new Congressional Budget Office analysis that found just $25 million of the money Obama is requesting will actually be spent this summer—or in this fiscal year (which ends Sept. 30). Session said that "indicates clearly that the agencies are not in dire need of supplemental funding from this Congress, certainly not to the degree asked for."
Sessions did acknowledge that "we want to treat children and be helpful and treat them in a humanitarian way and a compassionate way."
But he said CBO shows that there is no basis for the amount of emergency spending that Obama is asking for, and that lawmakers "ought to slow down" in approving emergency funding. "We are already in debt. To spend $4 billion more is to borrow every penny of it, and we should not do that until we find out more about what is happening at our border," Sessions said.
Other Republicans say they already know that what's happening at the border is a crisis and an emergency—and they say they also know who's to blame for it.
"The American people must understand that this surge in illegals coming across our border is a presidential-caused crisis," said Rep. Steve King of Iowa.
King made that comment in announcing last week that he and more than 20 other House Republicans were introducing a resolution to allow border-state governors like Perry to deploy their National Guard units immediately to seal the border. Paying for that should be the only supplemental appropriations the House should be considering, he said.
King added, "The president's lawless actions such as DACA have caused this nightmare."
"It's both a crisis and an emergency, but it's a government-made," McCain said. "It's not like [a] hurricane or an earthquake. It's because of the failure of Obama's policies."