The Border Crisis Takes a Pause From Politics
At an ad-hoc hearing during a packed day, the actual unaccompanied minors took the focus.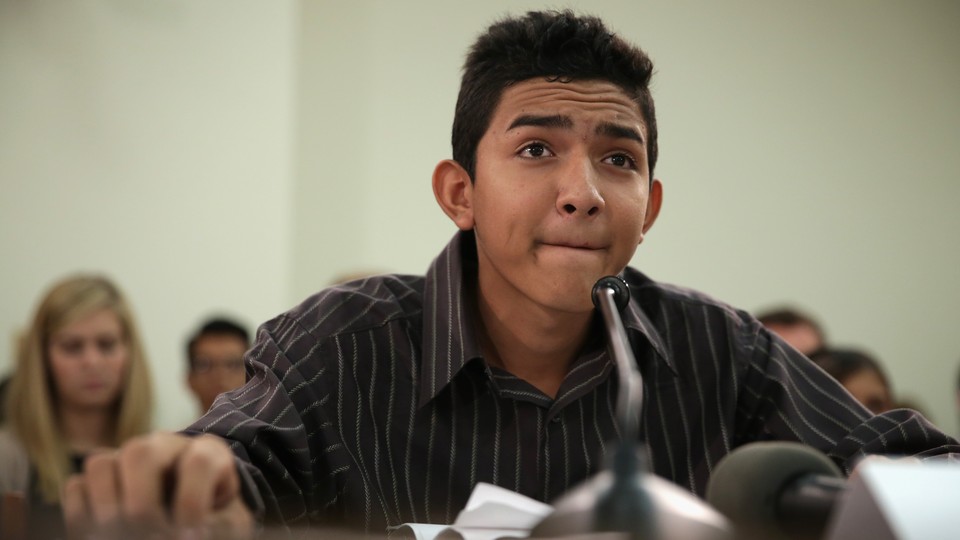 The street was one that Saul Martinez traveled often. He took it on his way to school, where he would avoid gang members, fearing recruitment. And he'd use it on his way home, where he'd grab his bicycle only to receive death threats from gang members during his ride.
And one day, on that street in El Salvador, the same street he lived on, he saw a man die after being shot multiple times.
Wearing a crisp button-down shirt and khaki pants, the 15-year-old calmly told his story to a panel of Congress members at a Congressional Progressive Caucus ad-hoc hearing Tuesday afternoon. He told of living in fear in a country where gang members recruit young children and where a refusal can have serious consequences.
In April, he crossed the U.S.-Mexico border, just one of the tens of thousands of children fleeing Central America's Northern Triangle to seek refuge in the United States.
"I don't want to go back to my country because I don't want to die," he told the caucus in Spanish Tuesday afternoon.
A hearing of this kind is largely symbolic. But after the last few weeks of political scrambling over an emergency supplemental bill, the ad-hoc hearing put the children back in the spotlight.
On Tuesday, the border crisis was a centerpiece on Capitol Hill, much like it's been since the July Fourth recess. House Republicans unveiled a plan to allocate $659 million for emergency supplemental funds. The House Judiciary Committee held a hearing to examine the White House's policies for U.S. Citizenship and Immigration Services. And political sparring ensued over the possibility of the Senate attempting to add comprehensive immigration reform to any House-passed bill.
There's little time left before the August recess to reconcile the political divides between the House's $659 million and the Senate's $2.7 billion border crisis plan. The possibility of changes to a 2008 anti-trafficking law has become a main sticking point for both parties. House Republicans favor tweaks to allow Central American children to opt for voluntary removal; many Democrats and immigration advocates disagree.
The bill coming to the House floor does not contain "adequate resources" for legal services for children — who often go without representation — nor does it call for a sufficient number of immigration judges, House Minority Leader Nancy Pelosi said at the ad-hoc hearing Tuesday. This issue is more than just politics, Pelosi said.
"It's not just about having a heart," she said. "It's about having a soul."
The Congressional Progressive Caucus and House Democrats have their eyes on bringing the attention back on the children, which could help build their case that an emergency supplemental with ample funds is needed.
On Tuesday, three children sat in front of members to explain just why they crossed the border and their dealings with U.S. agencies upon their arrival.
Dulce Medina, 15, told of a man in Guatemala who tried to sexually assault her and her cousin while they were walking to her school.
Mayeli Hernandez, 12, told of witnessing two murders in Honduras.
And Saul Martinez told of how there was too little food and one bathroom for 200 children in the U.S. detention facilities' quarters.
And as the ad-hoc hearing concluded — and though it holds no real political weight — the Congressional Progressive Caucus had thrust the children's stories back into the limelight. At least for a little while.