The Best Twitter Feed in Congress Belongs to Its Longest-Serving Member
Rep. John Dingell: "Staff has now informed me of what a Kardashian is. I'm only left with more questions."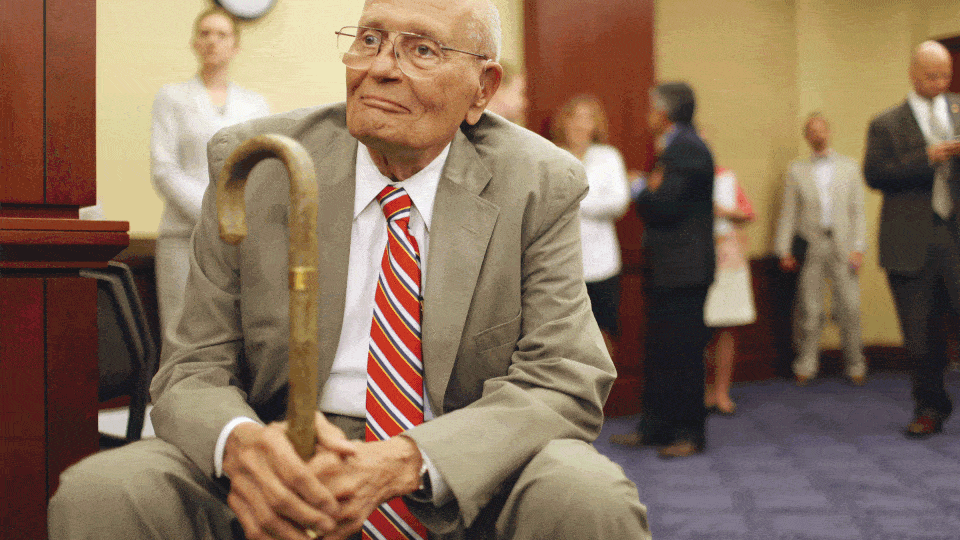 Trying to find creativity in congressional offices is often like trying to find a piña colada in Death Valley. But one surprising member of Congress has become a minor celebrity—if only for a few days.
Rep. John Dingell, who represents Michigan's 12th District, is 88 years old. He isn't the oldest member of Congress—that honor goes to outgoing Rep. Ralph Hall, who is 91—but Dingell is the longest-serving member. Ever.
It's well worth taking five minutes to scroll through Dingell's Twitter feed. Among his tweets you'll find a Photoshopped image of Dingell parodying Lebron James's recent Sports Illustrated story. And you can watch Dingell on YouTube navigating Google Glass, looking up "directions to a good Chinese restaurant."
On Monday, Dingell's Twitter notoriety peaked after he responded to an embarrassing tweet from the Environmental Protection Agency promoting Kim Kardashian's phone game.
"I'm now a C-List celebrity in Kim Kardashian: Hollywood," someone with keys to EPA's Office of Water account wrote in a now-deleted tweet. "Come join me and become famous too by playing on iPhone!"
Dingell's office responded with an age-appropriate joke. "I'm the last original author of the Clean Water Act, but I have no idea who/what a Kardashian is and I rarely play games," Dingell tweeted. "You OK, @EPAwater?"
Tweets mentioning Dingell skyrocketed on Monday, from about a dozen the day before to more than 2,000, according to Topsy. But Dingell's Twitter really took off on Tuesday, with this follow-up tweet: "Staff has now informed me of what a Kardashian is. I'm only left with more questions." That message has been retweeted more than 1,900 times since Tuesday morning.
So what drives Dingell's account? Many members of Congress employ their communications staff to run their social-media accounts. Other members, like Sen. Claire McCaskill, boast that they write all their own tweets.
Dingell's communications director, Christopher Schuler, insists that he works with Dingell on the lawmaker's social-media presence. But reading through Schuler's personal Twitter feed, it's easy to see where the sense of humor comes from.
Just 5 percent of Twitter users are over the age of 65. By comparison, more than a quarter of House members are 65 or older. And, pardon my ageism, but I doubt that someone who's been serving in Congress since 1955 has bothered to learn how to embed GIFs in a tweet.
It probably helps that Dingell is finishing up his last term in Congress before retiring—his staff can adopt a laissez-faire communications strategy without fear of it backfiring. Last year, a conservative commentator referred to Dingell as "a liberal Grandpa Simpson." In a tweet last week, Dingell's office turned the Simpsons joke on its head.
"We just have fun with it," Schuler told National Journal over email. "He finds it to be a good way to keep in touch with folks back home and engage on everything from important matters and official business to just commenting on Detroit Tigers games and University of Michigan games (equally important, in his opinion)."
Of course, it's not all jokes. Just like other members of Congress, Dingell's account tweets out photos of meetings with constituents and historic moments during his tenure. But the levity that gets mixed into Dingell's account is a welcome addition to the monotonous stream of bland press releases that flow from the Capitol.