The 2014 Against the Grain Awards
Grading the best and worst of the campaigns at the election cycle's halfway point.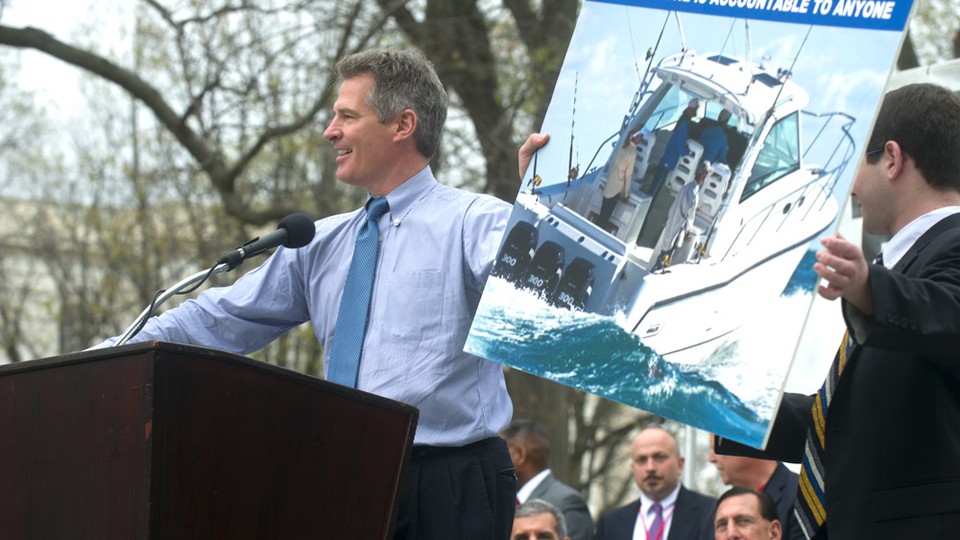 There's no All-Star break in politics, unlike in baseball this week, even though we're close to the midpoint of the election cycle. And with more than half of the primaries completed, most general-election matchups are set and campaigns are beginning to engage. There's already been a lot of action this year: Eric Cantor became the first House majority leader ever to lose a primary, a "kissing congressman" retired and then un-retired, and Sen. Thad Cochran just completed one of the most unlikely primary comebacks in recent memory.
So to mark the unofficial start of the general election, here's my list of the good, the bad, and the ugly from the 2014 election so far.
Most surprising candidate: Joni Ernst (R), Iowa Senate nominee
What a difference a year makes. The early conventional wisdom on Iowa's Senate race was that Republicans lacked top-tier candidates and faced a high risk of nominating a too-conservative, less-electable candidate. After comfortably winning the primary, Ernst is proving that she's one of the top Senate recruits in the country. Her farming background and military experience are major biographical assets, allowing her to draw a sharp contrast with Democrat Bruce Braley, an attorney. And Democrats haven't found any damaging oppo against her (yet), while Braley has struggled to get past his videotaped comments at a fundraiser mocking Sen. Chuck Grassley for being a farmer without a law degree.
HONORABLE MENTION: Georgia Senate candidate Michelle Nunn (D); Kansas gubernatorial nominee Paul Davis (D)
Most disappointing candidate: Former Sen. Scott Brown (R), New Hampshire Senate candidate
There's plenty of time for Brown to things to turn around, but the former senator from Massachusetts hasn't been able to translate his brand-name identification and moderate persona into making the race against Sen. Jeanne Shaheen truly competitive. He holds a net unfavorable rating, according to a July Granite State poll, with 40 percent viewing him negatively and winning only 38 percent against the incumbent. Shaheen, meanwhile, is still very popular even as the president's low approval ratings threaten to drag down her fellow Democrats. It's looking like it will take a Republican wave to bring Brown back to Congress.
HONORABLE MENTION: Michigan Senate candidate Terri Lynn Land; Iowa Senate candidate Bruce Braley
David Brat (Jay Paul / Getty)Biggest upset: Dave Brat defeating House Majority Leader Eric Cantor (R)
The scope of the Randolph Macon economics professor's victory over the majority leader was as impressive as the upset itself. Brat won 56 percent of the vote, and he carried six of the 10 counties in Cantor's district, including the congressman's home base of Henrico.
HONORABLE MENTION: Rep. David Jolly (R) defeating Alex Sink (D) in FL-13 special election; David Young's (R) convention win in IA-03
Best ad, non-pig-castration division: Mark Begich ("Father to Son")
Begich's inventive ad campaign, led by Democratic media strategist Mark Putnam, has focused on his long-standing Alaska roots. This sentimental biographical spot connects Begich's service to the state with his father, Nick, who died in a 1972 plane crash while serving as Alaska's at-large representative. The ad, narrated by his wife, features old campaign footage from his father, while underscoring his independence from Washington. Running in a deeply Republican state, Begich needs voters to view him more than just another Democratic vote in the Senate — and this ad set the stage defining him in a personal way that few other political ads manage to achieve.
HONORABLE MENTION: Oregon Senate candidate Monica Wehby (R) ad: "Trust"
Worst ad: Terri Lynn Land ("Really?")
Terri Lynn Land's Ad (YouTube)In April, as she enjoyed a small lead in polls, Democrats criticized GOP Michigan Senate candidate Terri Lynn Land for her opposition to equal-pay legislation. In response, her campaign aired an ad mocking the notion that she was waging a "war on women" by having her sip a cup of coffee and checking her watch. The goal of the spot was to point out the ridiculousness of the attack. But by not engaging in the argument, she may have unwittingly accepted the premise — at least in the eyes of viewers.
Indeed, a new NBC/Marist poll shows Land isn't getting any political advantage because she's female: Democratic Rep. Gary Peters leads Land by 13 points, 46 percent to 33 percent among women.
HONORABLE MENTION: GA-12 candidate John Stone (R), shooting a cannon
Most effective surrogate: Former Packers QB Brett Favre, on behalf of Sen. Thad Cochran
Brett Favre didn't play the biggest factor in Sen. Thad Cochran's come-from-behind Mississippi Senate runoff victory against Chris McDaniel, but his ad endorsing Cochran's clout stood out in a cluttered advertising landscape. The U.S. Chamber of Commerce, which commissioned the ad, has a Favre-like record in congressional primaries this cycle, going undefeated so far.
HONORABLE MENTION: Mitt Romney
Dead man walking: Pennsylvania Gov. Tom Corbett (R)
Tom Corbett (Mario Tama / Getty)It's hard to overstate how much trouble Corbett is in. A Franklin and Marshall poll released this month shows him trailing Democratic challenger Tom Wolf by 22 (!) points, 47 percent to 25 percent. Barely a majority (55 percent) of his own party's voters support his reelection. While other targeted governors, like Florida's Rick Scott and Michigan's Rick Snyder, have seen their approval numbers improve recently, Corbett's have headed steadily downward since his election. The biggest question remaining for the governor is if he'll be able to surpass Santorum's reelection mark of 41 percent in 2006 — one of the lowest totals for any incumbent not plagued by scandal.
HONORABLE MENTION: Rep. Michael Grimm (R) of New York, Rep. Kerry Bentivolio (R) of Michigan, Sen. John Walsh (D) of Montana
Most damaging early oppo hit: Maryland gubernatorial candidate Doug Gansler, photographed at beach week
Maryland Attorney General Doug Gansler started out as a strong contender for higher office but never was able to shake off the perception that he wasn't quite ready for prime time. After a photo of him attending his teenage son's wild beach-week party surfaced last October, Gansler found himself on the defensive throughout the campaign. He never was able to catch up to front-running Maryland Lt. Gov. Anthony Brown, who now is likely to become the state's next governor.
HONORABLE MENTION: Oregon Senate candidate Monica Wehby (stalking charges); Mississippi Senate candidate Chris McDaniel (supporter breaking into nursing home)
Biggest bellwether: North Carolina Senate race
Kay Hagan (Alex Wong / Getty)The contest between Sen. Kay Hagan (D) and Republican Thom Tillis is as likely as any to determine who controls the Senate majority in 2015. Unlike many of her red-state colleagues, Hagan doesn't have the experience (she's a freshman) or family connections (a la Pryor, Landrieu, Begich) to overcome a difficult political environment for Democrats. But in Tillis, she's facing the speaker of the state House whose conservative agenda has polarized the electorate and could drive Democrats to the polls. Democrats boast a deep field operation in the Tar Heel State, seeking to turn out voters who don't reliably vote in midterm elections — single women, African-Americans, students. If they succeed in North Carolina, it's an encouraging sign for Democratic prospects elsewhere.
HONORABLE MENTION: Colorado Senate race, Colorado's Sixth District, Iowa's Third District
The playing under pain award. Massachusetts gubernatorial candidate Steve Grossman (D)
No contest here: Grossman, the Massachusetts state treasurer, participated in a 90-minute Democratic forum in March while passing a kidney stone. His epic performance spurred a parody Twitter account @grossmansstone, but it didn't help him in the polls against front-runner Martha Coakley.