Team 'Press Pass' Wins Hotline's 6th Annual Political Pursuit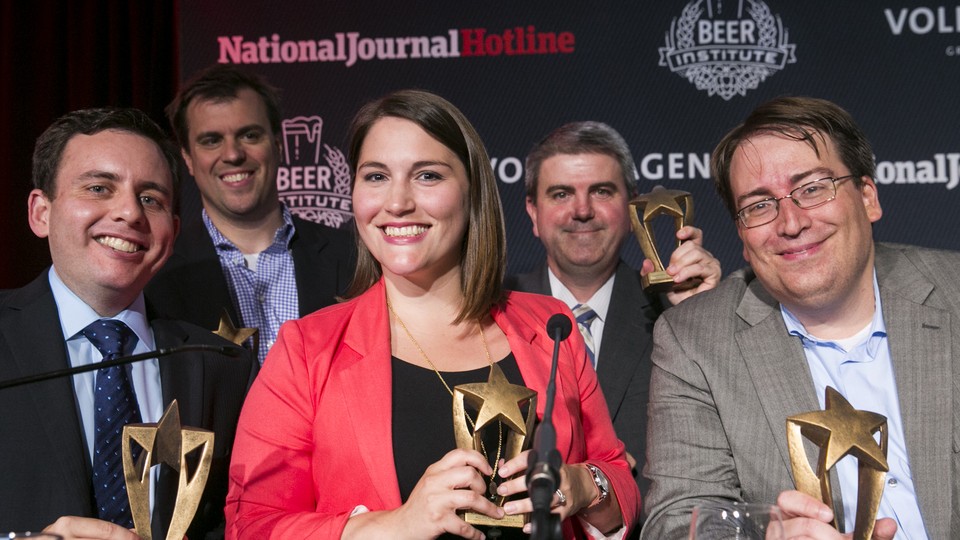 Political trivia abounded at the Newseum July 9 as congressional representatives, journalists, and political strategists tried to prove who knew more about Scott Brown's pink shorts or bipartisan gaffes.
Over five rounds, co-moderated by National Journal Editor-in-Chief Tim Grieve and Hotline Editor-in-Chief Scott Bland, Teams "Members Only," "Press Pass," and "Hotline Insiders" battled buzzers to earn the title of biggest political junkies.
In the end, "Press Pass" won the day with 290 points with the help of Bloomberg News's Greg Giroux, Roll Call's Shira T. Center, The Washington Post's Paul Kane, The New York Times' Jonathan Martin, and The Los Angeles Times' Mike Memoli.
Team "Members Only" walked away with 225 points, and "Hotline Insiders" with 200.
Rep. Rich Hudson of Team Members Only walked away with the coveted "Tom Davis Favorite Award," named for teammate former Rep. Tom Davis. The congressional delegation from District Trivia included Rep. Donna Edwards and Rep. Loretta Sanchez and Rep. Steve Israel.
The "Hotline Insiders" team included Republican pollster Kristen Soltis Anderson, The Polling Company's Kellyanne Conway, Purple Strategies' Margie Omero, IMPACT Strategies' Angela Rye, and SKD Knickerbocker's Doug Thornell.
Special thanks to Fox News's Greta Van Susteren, NBC's Chuck Todd, and CNN's Jake Tapper, who provided guest questions over recorded video.
Favorite questions (and answers) from the evening included:
"Who said, describing the alternative to electing him, 'Or, you might have a farmer from Iowa who never went to law school, never practiced law, serving as the next chair of the Senate Judiciary Committee'?

Answer: Rep. Bruce Braley, running to represent Iowa in the Senate

"There are 4 House Republicans whose districts touch the Pacific Ocean. Name them for five points apiece."

Answer: Don Young, Jaime Herrera Beutler, Dana Rohrabacher, Darrell Issa

"There are four states left that have never sent a woman to Congress. Which of the following is NOT one of them? Mississippi, Iowa, Vermont, or Wyoming?

Answer: Wyoming, represented by Rep. Cynthia Lummis.

"Which two members of Congress manage the Congressional Baseball Teams, which faced off just a few weeks ago?"

Reps. Mike Doyle and Joe Barton
Check out the highlights of the evening's festivities on Twitter at #ppursuit.
The event was organized by National Journal Hotline and National Journal Live Events. Thanks to our underwriters, the Beer Institute and Volkswagen Group of America