State Parties Gone Wild
There's been a lot of turmoil at the grassroots level in key battleground states.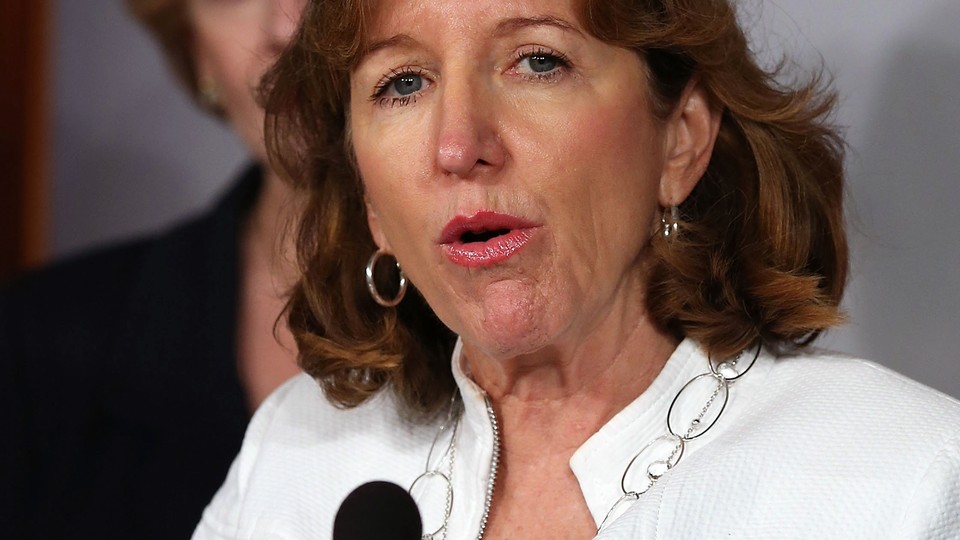 In Alaska, an outgoing Republican Party chairwoman changed the locks on the party office during a snowstorm and fled the state during her ouster. The Democratic Party in North Carolina is still rebuilding after a top staffer in 2012 was accused of sexual harassment by a fellow male employee. Oregon Republicans, not known recently for their organizational strength to begin with, are led by a chairman who made headlines in 2013 for soliciting urine samples for his medical-testing research.
These are just three colorful examples of state parties in turmoil, local stories that take on greater significance this year with these states hosting high-stakes Senate races.
Senate races and statewide campaigns aren't stand-alone operations; they depend on state parties for everything from get-out-the-vote efforts to financial assistance and data, and not having that support puts increased pressure on the candidates and national groups to fill the gaps.
"Most state parties, their primary responsibilities are to recruit and train good candidates, to provide a grassroots and voter-contact infrastructure, and be able to have the financial resources to pay for data," said Tharon Johnson, a Georgia Democrat and former regional director for President Obama's 2012 campaign. The relationships that a strong state party maintains with voters during nonelection years are crucial to candidates' outreach abilities the next fall, Johnson said.
"National parties have to continue to find creative ways to work with or without a functioning party," Johnson said. "It's always preferred to go through a healthy state party."
Troubled state parties now playing host to key midterm races are keenly aware of the roles they're expected to play, and many have ramped up efforts to get their organizations in place. Here's a look at how five challenged state parties are preparing for 2014.
Iowa Republicans
Up until several months ago, the Republican Party of Iowa had been dominated by Ron Paul-supporting liberty activists, which compelled national Republicans to form their own Iowa organization in 2012 instead of working through the state party. By the time allies of Gov. Terry Branstad swept out the last of the Paul-aligned leadership this spring, the party was essentially broke, with less than $11,000 in its federal account to support a high-profile Senate race and several competitive congressional campaigns. Adding insult to injury, the exiting executive director collected $38,000 in payments to use on his well-documented travel plans, and left his replacement with a list of inaccurate social-media passwords, which some suggested was intentional.
But new leadership under former state lawmaker Jeff Kaufmann has put the state GOP at the center of a highly-organized coordination effort.
"It's going to be a distinct change from the past," Kaufmann said in an interview. "We're going to be in a position to make a difference, perhaps, and likely the biggest difference in the last three elections.
"We'll be in sync with the victory office and the GOTV effort," he said. "And we are actually, for the first time in ages, having in-depth, detailed discussions with all the campaigns so that we're avoiding duplication and so that we are reinforcing exactly where they need reinforcements."
Georgia Democrats
Georgia's State Democratic Committee elected DuBose Porter as chairman in September of 2013, following the departure of then-chair Mike Berlon, who faced distracting ethics complaints regarding his legal career and had his law license suspended.
Porter and national Democrats insist that his team has been able to bridge the gap left during Berlon's tenure. In a quickly changing state where minority voter turnout will be huge for his party, Porter has hired experienced community organizers for a coordinated campaign to reach target groups: labor, African Americans, Hispanics, and white voters.
Compared to 2012, Porter says the party is "light years" different, citing his long-standing relationships with the Democratic National Committee and Democratic Senatorial Campaign Committee. "The relationship with the DNC has been great," Porter said. "As soon as I was elected chair I went to Washington and met with the DSCC. I wanted them to know that they could have the confidence in what we're doing with the party."
North Carolina Democrats
Turmoil in North Carolina's Democratic Party has been no secret, thanks to some salacious details leaked to the press from a staffer's sexual harassment complaint in 2012. The party's then-executive director, Jay Parmley, resigned after accusations from another male staffer but denied any wrongdoing. The party chairman eventually left as well.
In March, current chairman Randy Voller described the party as "broke" and said it was evaluating whether to shut the doors on its Raleigh headquarters. As a result, Sen. Kay Hagan's campaign is running its coordinated efforts with the largest county Democratic Party organization in the state, in Wake County. Republicans in Nevada did a similar thing in 2012 to avoid another Paul-aligned state party leadership.
Oregon Republicans
Republicans hope to run a competitive Senate race here, nominating socially moderate neurosurgeon Monica Wehby to face Democratic Sen. Jeff Merkley. Unfortunately, the party infrastructure hasn't been much of a force in many years, Oregon Republicans say.
"They have not been particularly well-funded the past couple of elections," said Oregon Republican consultant Bob Moore. "The party is not a major force in electing Republicans in the state and it hasn't been in a number of years. I honestly don't remember the last time they were a force to be reckoned with. If anything, they've sometimes been a pass-through for the [Republican National Committee]."
The party is led by Chairman Art Robinson, who is running for office for the third time in the 4th District after two failed bids in 2010 and 2012. He's generated some unwanted headlines for the party by soliciting urine samples from the public for his medical research.
RNC spokeswoman Kirsten Kukowski said the national committee was placing staff and resources in the state who would work alongside the state party — but not around it in any way.
Alaska Republicans
The Alaska Republican Party is also rebuilding after a change in leadership. In April 2013, former chairwoman Debbie Brown was the second of two Paul-aligned party leaders to be ousted from the position; she was replaced by current chairman Peter Goldberg.
The committee had planned to remove Brown for failing to raise money, but in the meantime, she changed the locks on the party headquarters during a snowstorm and threatened to arrest anyone who attempted to enter. She was voted out from an Anchorage office complex.
Kukowski said the RNC had established a good working relationship with Goldberg leading up to the state's big Senate race and had sent a communications director up specifically to work with the state party ahead of its late primary.
Alaska Republican political consultant Art Hackney agreed that progress had been made within the state party, but said national groups' help was limited because of the extensive ground game required to compete in Alaska. He credited national Democrats for contributing to their side's sophisticated targeting operations rather than just pouring money into generic national TV ads.
Kukowski said the ground game for Alaska Republicans was still in the works. She pointed to a new precinct program with hundreds of precinct leaders armed with new technology. She said the RNC has been working to build out a field program over the last year with offices and a growing staff presence.