Running Against Obamacare More Challenging With Hardened Voters
The president's health care law is still an issue in the midterms, but polls show little change in attitudes among those both for and against it.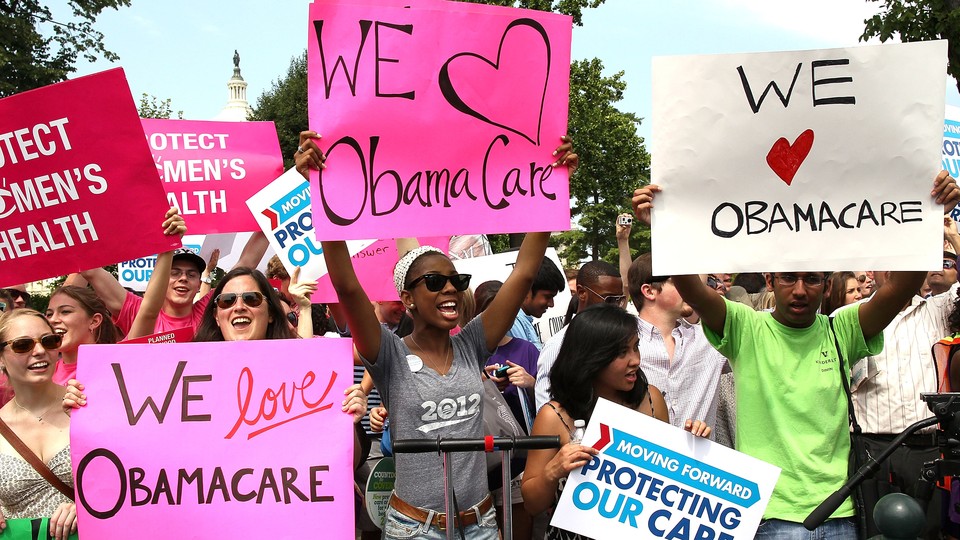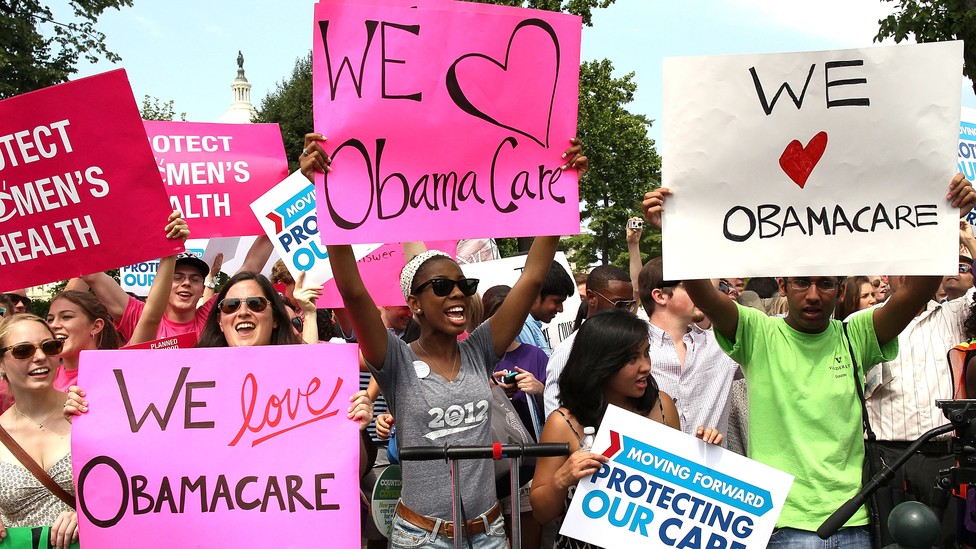 There's little dispute that one of the midterm elections' most consequential issues has been Obamacare, a law whose problem-plagued rollout might have single-handedly given Republicans an upper hand to retake the Senate. The more important question now, however, is whether Republican candidates are actually better off talking to voters about something else between now and Election Day.
That might seem strange — after all, why step away from an issue that's already proven so potent? But among Republican pollsters and strategists, it's a very real debate. They worry that the years-long deluge of media coverage and negative ads have pushed Obamacare to something close to a saturation point among voters, who will simply tune out any additional TV ads or candidate speeches on the topic.
Many Republican operatives still believe, despite the challenges, that Obamacare will be a prominent part of GOP campaigns come the fall. But candidates will have to calibrate their messages in new ways to reach a hardened audience. And perhaps more than anything else, they will need to offer voters plenty of other reasons to vote against the Democrats.
"We always felt it was an important issue, even the most important issue," said Tim Phillips, president of the conservative group Americans for Prosperity, which has spent tens of millions of dollars so far this cycle on anti-Obamacare ads. "But it clearly is not the only issue."
After focusing entirely on the Affordable Care Act earlier this year, AFP has already begun airing ads that focus on other topics, like a spot running in Alaska that criticized Democratic Sen. Mark Begich's energy agenda. It's a tactic Phillips says to expect more of in the coming months.
And they're not the only ones aiming their focus elsewhere recently. Candidates and their campaigns are just as likely to mention the scandals at the Veterans Affairs Department or Internal Revenue Service, or weigh in on the Supreme Court's decision exempting some companies' health insurance plans from covering all forms of contraception. The redirection extends to the airwaves: Aside from American Crossroads, the Karl Rove-backed super PAC whose recent ads still dwell on the health care law, most campaigns and outside groups have stopped centering their ads on Obamacare.
"Up through this spring, I would say that Obamacare has been the most mentioned issue in Republican advertising," said Elizabeth Wilner, a senior vice president of Kantar Media Ad Intelligence, a group that tracks political advertising. "Now you see a lot less of the issue mentioned in ads than you used to."
To date, voters have seen the issue plenty in TV ads. Obamacare was the centerpiece of many Republican campaigns in 2010 and 2012, and groups like AFP spent millions more this cycle. The Campaign Media Analysis Group, which Wilner oversees, reported in May that $418 million had been spent on negative Obamacare ads since 2010 — roughly 880,000 separate TV spots in total.
That flood of advertising explains why in most ways, the electorate's opinions about the health care law have hardened. A monthly tracking poll from the Kaiser Family Foundation has found roughly the same approval and disapproval numbers for the law (usually a tick below 40 percent for approve, while disapprove usually registers in the mid-40s) every month. Opinions soured a little during the worst months of the implementation, said Drew Altman, president and CEO of the foundation, but soon rebounded to pre-implementation levels.
The numbers aren't pretty, Altman explained, but they also aren't likely to change. And if people have already made up their minds about Obamacare, why bother talking to them about it anymore?
"We could ask the American people, 'Do you think Obamacare would take us to Mars?' And we would get a perfect split, because it's so polarized," he said. "The lines are hardened like the lines in World War I, and they don't shift."
Few analysts expect more news to emerge about the law — at least the kind that promoted endless media coverage from October through April — between now and Election Day, meaning the issue is unlikely to emerge organically on the campaign trail. And Democrats, for their part, have managed to carve out a politically feasible defense for their support for the ACA, telling voters that they want to improve the law while Republicans want to repeal even the parts of the law that people overwhelmingly like (such as forcing insurance companies to cover people with preexisting conditions). GOP operatives mock the suggestion that a candidate's position on repeal is anything more than ephemeral to the larger debate, but they also concede it's not an argument they're likely to win.
But Republicans, though mindful of the challenges, aren't ready to let Obamacare go, not yet. Phillips, for one, says the candidates and groups like his have to be sure to introduce new information about Obamacare when they talk about the issue. (AFP ran an ad against Democratic Sen. Jeanne Shaheen in April criticizing the law for limiting the numbers of doctors patients can see, a line of attack largely ignored in most negative ads.) Others argue candidates must do more to demonstrate the real-world impact of the legislation.
"The simple 'I'm for it, I'm against it,' that kind of messaging, most of those people have made up their minds," said Rob Jesmer, the former executive director of the National Republican Senatorial Committee. "It's not just you're against it or you're for it, it's about how it's affecting people."