Red-State Democrats Turn to Their Families for Campaign Help
Vulnerable Democratic senators realize their last names may be their biggest assets.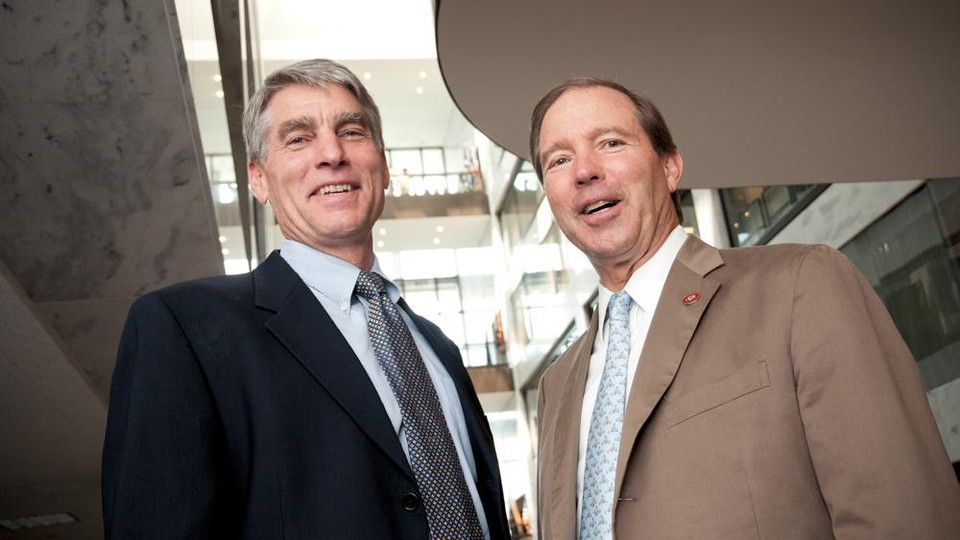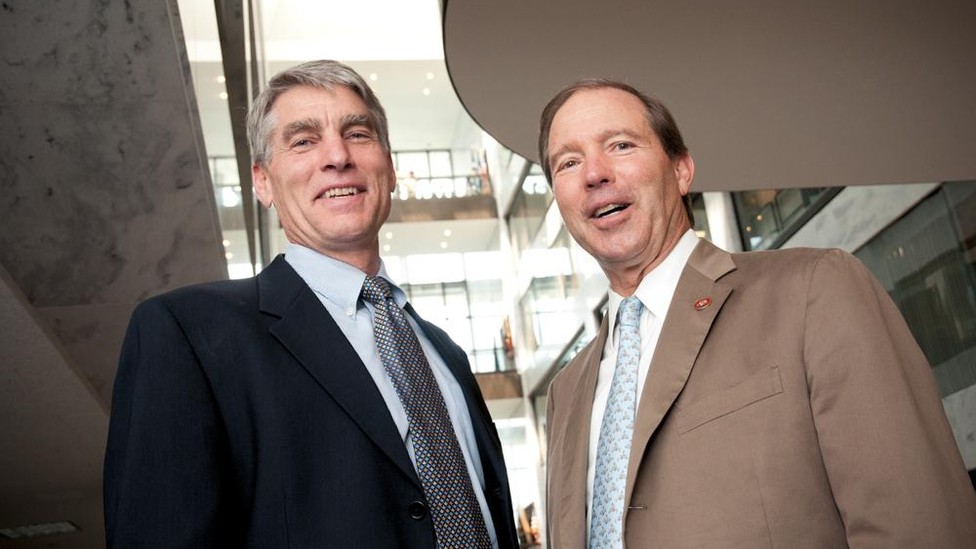 With President Obama's approval weak and Congress gridlocked, many red-state Democratic senators seeking reelection have struggled to come up with issues to run on. But one common theme has emerged from their campaign messaging: They're turning to their own families to help save their seats.
Democrats in almost all of 2014's crucial Senate battlegrounds — in seven of the nine Senate races rated as "Toss-ups" by The Cook Political Report — come from families with a history in state or federal politics. That includes all four senators who are up in states Mitt Romney carried in the last presidential election.
Sen. Mary Landrieu's father, Moon Landrieu, served as mayor of New Orleans, a post her brother Mitch holds today; Sen. Mark Begich's father, Nick Begich, represented Alaska in Congress for two years before being killed in a plane crash; Sen. Mark Pryor's father, David Pryor, served Arkansas for 16 years in the U.S. Senate.
And it's a testament to how much political lineage is present in these races that the least connected of the four is Sen. Kay Hagan of North Carolina, whose uncle, Lawton Chiles, served as the governor and U.S. senator for Florida.
The political-dynasty dynamic also applies to the two Democrats running in red-state races considered potential pickup opportunities for the party: Alison Lundergan Grimes's father, Jerry Lundergan, is a former Kentucky Democratic Party chairman and longtime political scion in the Bluegrass State; and Michelle Nunn is the daughter of longtime Sen. Sam Nunn of Georgia. (Not to mention Georgia state Sen. Jason Carter in the governor's race, whose grandfather is former President Jimmy Carter.)
There's also Sen. Mark Udall, facing a tough reelection battle in the more competitive state of Colorado: He's the son of Mo Udall, a congressman from Arizona and a 1976 presidential candidate.
Those family ties can be a big boon to candidates and incumbents in politically tough states. In addition to the high name identification that comes with a political last name, candidates from dynasty families inherit political connections and a fundraising network, and they often benefit from positive memories of and feelings toward their elected family members.
Being part of a political dynasty also reinforces these candidates' ties to the state, which is particularly helpful in races where residency and roots are an issue. In the Alaska Senate race, GOP front-runner Dan Sullivan was born in Ohio and is being attacked by Democratic incumbent Begich as an "outsider." Begich's long family history in the state provides a helpful contrast.
Utilizing family ties is clearly part of these Democrats' 2014 playbooks: Political parents have already shown up in ads across the map, some of them to great effect.
One of Begich's first ads of the cycle, "Alaska's Son," featured footage of his late father. "Begich goes to the people, wherever they are," the narrator from the old clip says, showing Nick Begich getting into a small propeller plane followed by coverage of his plane's 1972 disappearance.
"Mark was 10 when he lost his father," Begich's wife, Deborah Bonito, says in the ad. "We've lost too many Alaskans this way. But Mark is clearly his father's son, and there's nowhere he won't go to listen and stand up for Alaskans."
Landrieu and Nunn have also featured their famous fathers in TV ads this cycle. In Landrieu's, Moon Landrieu calls his daughter "hardheaded" — "Dad, you're one to talk," she replies — and says she's used that trait to help Louisiana in the Senate.
Nunn's ad begins with a mention of her father, saying she tries to "follow in his footsteps" into playing basketball, but not into a career in politics. The elder Nunn comes on-screen at the end, holding a basketball: "I think you've got a pretty good shot," he says.
Republicans have their own crop of dynasty candidates on the ballot this year, too: Shelley Moore Capito, daughter of former West Virginia Gov. Arch Moore Jr., is the Mountain State's GOP nominee for Senate; and George P. Bush, son of Jeb Bush, is running for land commissioner in Texas.
A political last name certainly doesn't guarantee victory, particularly when your political relative isn't very popular. In 2010, for example, Rory Reid — son of Senate Majority Leader Harry Reid — ran and lost his race for Nevada governor, an outcome that was influenced by his unpopular father's presence on the ballot that year.
CORRECTION: An earlier version of the story misreported the name of Sen. Begich's wife. It is Deborah Bonito.