One Hour and 57 Minutes in Arizona
Joseph Wood's death Wednesday is the fourth botched execution in the United States this year.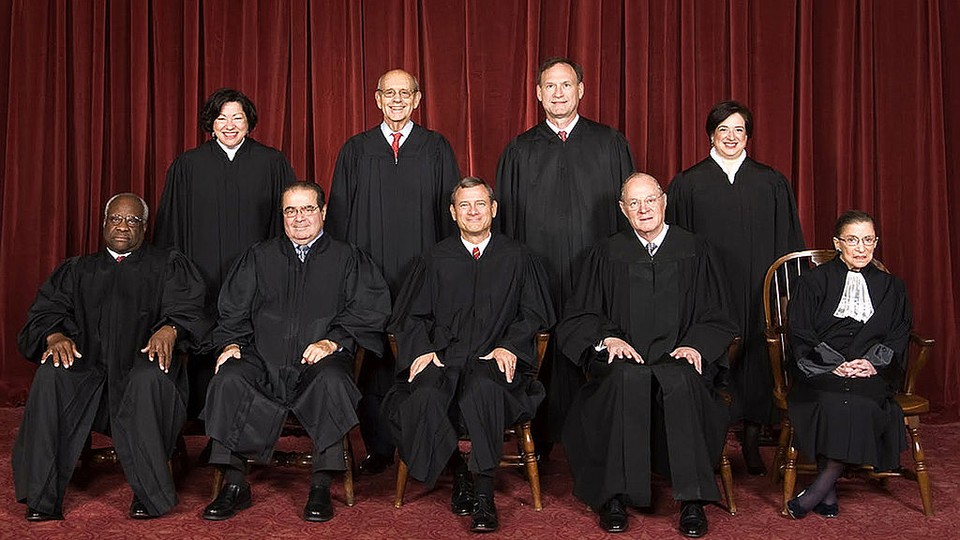 Arizona had never tried the two-drug cocktail of midazolam and hydromorphone before it injected an unknown dose into Joseph Wood's veins Wednesday afternoon. Most executions by lethal injection take between 10 and 20 minutes once the drugs are injected, if performed properly. This experimental cocktail took almost two hours to end Wood's life, so long that his lawyer had time to file an emergency stay of execution in federal court, claiming that Wood had been "coughing and snorting for over an hour" by then. "I counted about 660 times he gasped," reported an Arizona Republic reporter who witnessed the execution. Arizona Governor Jan Brewer said in a statement that Wood "died in a lawful manner and by eyewitness and medical accounts he did not suffer."
This is only the latest in a string of recent botched executions. On January 10, the state of Oklahoma executed Michael Lee Wilson using a cocktail of lethal-injection drugs including pentobarbital. The state had to purchase the drugs from a compounding pharmacy because U.S. pharmaceutical companies and the European Union refused to provide standard (and increasingly scarce) lethal-injection drugs on ethical grounds. Human-rights groups warned that drugs made by compounding pharmacies could contain impurities that would inflict pain on Wilson as he died. As the drugs coursed through his veins, Wilson's last words were "I can feel my whole body burning."
On January 16, Ohio executed Dennis McGuire. Corrections used a new, unproven drug cocktail: the sedative midazolam and the painkiller hydromorphone—the same one used to execute Wood in Arizona Wednesday. Similar complications occurred. A pastor who watched the execution later wrote that McGuire had visibly and inhumanely suffered while dying in the execution chamber, "gasping for air." A Columbus Dispatch reporter described it as a "kind of a rattling, guttural sound. There was kind of a snorting through his nose. A couple of times, he definitely appeared to be choking."
On April 29, the state of Oklahoma strapped Clayton Lockett to a gurney. Phlebotomists, who weren't required to be certified in IV insertion, attempted to insert an IV into his arms and legs before finally inserting a catheter into a vein in his groin. Lockett's vein almost immediately collapsed, however, and the lethal-injection drugs began to absorb into the surrounding tissue. He died of a massive heart attack 43 minutes after the execution began. A member of the European Parliament told me the next day that Oklahoma's use of untested drugs to execute prisoners amounted to "crude experimentation on human beings." One of Lockett's lawyers who was present said it looked like torture.
Whatever we know about these executions, the known unknowns are greater. Because the states will not share them, we don't know the dosages of the drugs administered. We don't know the drugs' manufacturers or their quality-control procedures. We mostly don't know the credentials of those administering the drugs. More importantly, the defendants don't know any of this, either. Without this information, those sentenced to execution cannot challenge the execution procedures in court nor check for possible medical complications. State execution-secrecy laws, routinely upheld by lower courts but untested before the Supreme Court, prevent this basic level of prophylactic Eighth Amendment protection. If death by torture is not cruel, defendants contend, what is?
Defense attorneys have repeatedly begged the courts to compel corrections officials to at least reveal the source of the drugs that would end their clients' lives. They have repeatedly been refused. This time, Wood and his lawyers tried a First Amendment challenge to execution-secrecy laws, arguing that the public has a right to know how their government puts their fellow citizens to death. This would also give the inmates the facts needed to pursue Eighth Amendment challenges.
But so far, lower courts have deferred to the states' claimed need for secrecy. "The information already released by the state enables informed debate about the lawfulness and propriety of Arizona's two-drug cocktail," replied federal Judge Jay Bybee of the Ninth Circuit. Wood appealed that decision to the Supreme Court; last night, the justices denied his petition without further comment or dissent. Less than 24 hours later, Wood died choking.
There are two executions scheduled for August 6. Missouri will put Michael Worthington to death and Texas will put Manuel Vasquez to death, both by lethal injection. The Supreme Court will likely get another chance to consider the procedures very soon.