Obamacare Premiums Aren't Living Up to Doomsayers' Predictions
Early results suggest single-digit increases, not a price apocalypse.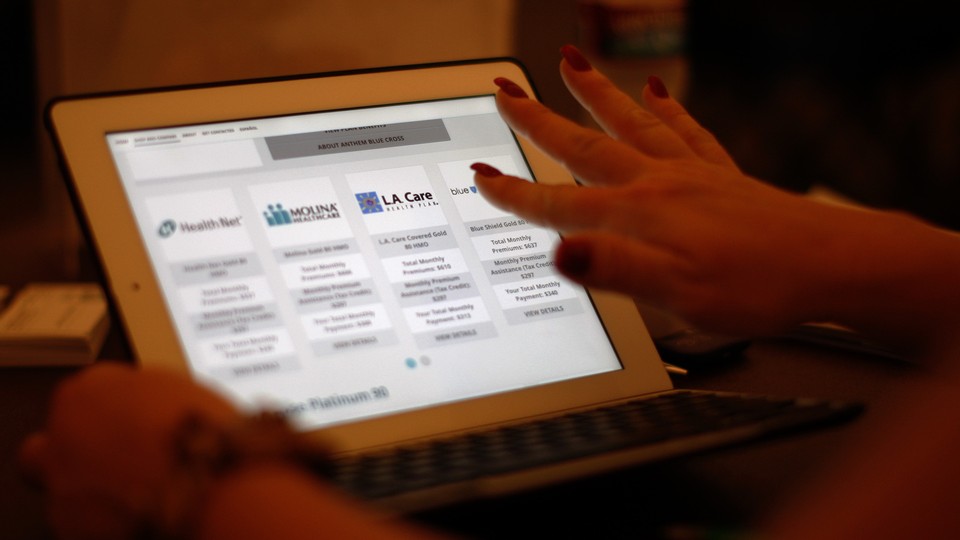 Obamacare's critics promised the law would send insurance premiums skyrocketing. They were wrong.
Or, if they're not wrong, they're at least not right yet.
Nearly 20 states have released preliminary information about premiums for insurance policies sold on their insurance exchanges, and the nightmare scenarios have not come to pass. In most of those states, the average increase across all exchange plans is in the single digits.
According to a PricewaterhouseCoopers analysis of 18 states' initial filings, 10 states will see average premium increases of less than 10 percent—nominal hikes in line with the standard increases that have happened every year with or without Obamacare.
The outliers so far are Indiana, with an average increase of 15 percent, and Rhode Island, where the average premium will fall by about 1 percent.
Initial rates could still change; several states have the power to review proposed increases and bargain for a better deal. But the early look at states' 2015 rates helps shed some light on whether Obamacare's second year will bring steep cost hikes.
There are wild variations among different insurance plans. In Oregon alone, one plan wants to cut its premiums by 21 percent, while another wants to raise its rates by 28 percent. The extremes make for easy talking points ("Look how much premiums are going up!" "No, they're going down!"), but they don't reflect the experience most people will have when it's time to pony up for plans: The average Oregon insurance premium will rise by 2.2 percent.
Larry Levitt, vice president for special initiatives at the Kaiser Family Foundation, said he's surprised by the variation in proposed changes but that on average, premiums are working out to about what he expected: hikes of 7 percent to 8 percent in most places.
Premiums go up every year, and Levitt said increases of about 8 percent were to be expected based on rising medical spending and adjustments based on the first year of enrollment.
Insurers had to set their 2014 premiums based on their best guesses about who would sign up, and they don't have much more information as they head into 2015.
"Insurers were flying pretty blind when they put together their 2014 premiums and, frankly, they're still flying pretty blind," Levitt said.
Because so many of Obamacare's 2014 enrollees signed up at the very end of the enrollment window, they haven't filed a ton of medical claims for insurers to work from as they try to figure out how much their new customers will cost them.
That helps explain some of the biggest changes in 2015 premiums—big cuts are most likely from insurers that were especially cautious about 2014 and ended up doing better than they expected, while big increases are most likely from plans that thought they'd end up with healthier customers than they did.
An influx of new insurers is also helping to keep premium increases in check, according to health care analysts. Major insurers, including UnitedHealthcare, are entering more states' exchanges next year after sitting on the sidelines for 2014.