Obama Upends Politics in Yet Another State by Taking Julian Castro
The president fills his Washington team with elected officials, altering the course of local politics.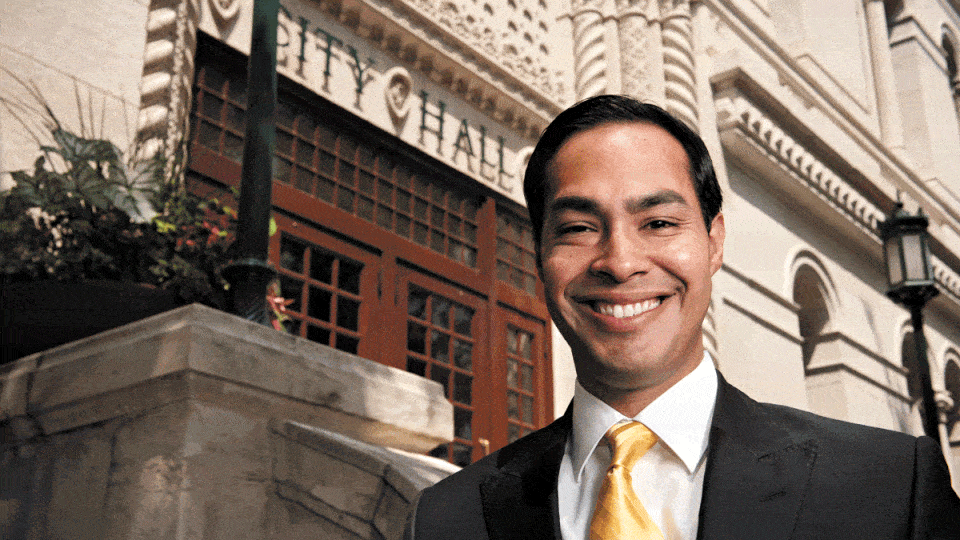 With San Antonio Mayor Julian Castro's confirmation to head the Housing and Urban Development Department, another one of President Obama's Cabinet choices has upended yet another state's political future.
By picking current elected officials for his team, Obama has helped make Kirsten Gillibrand a national figure, handed Republicans the keys to government in Arizona, and indirectly put a felon in charge of Charlotte, N.C.
Tapping elected politicians for the Cabinet is nothing new, but Obama has done it at a notable pace, plucking three senators, two governors, a House member, and two mayors from their posts since 2009. By adding Castro—one of Texas and Hispanic Democrats' leading lights—to that list, Obama has once again inserted himself into a state's political evolution, with unknowable consequences.
So far, the biggest results have come from Obama's selection of Hillary Clinton to head his State Department in 2009. Not only did that move set up the contours of the nascent 2016 presidential election, it created a new Democratic star. Before then-Gov. David Paterson of New York appointed Kirsten Gillibrand to succeed Clinton in the Senate, Gillibrand was a Blue Dog Democrat in the House with an "A" rating from the National Rifle Association, a hard-line position on immigration, and a purple upstate district that she could well have lost the next year, in the 2010 Republican wave election.
Now, Gillibrand is popular with the party base, a reliable progressive, and one of the top names on the list of non-Clinton Democratic women whom people discuss as potential presidential material.
The Clinton decision may have been the glitziest one, but it's far from the only Obama Cabinet appointment that had cascading, and sometimes controversial, political consequences. By asking then-Gov. Janet Napolitano of Arizona to take over the Homeland Security Department in 2009, Obama handed the governorship to Republican Jan Brewer, then the state's No. 2. That gave the GOP unified control of Arizona's government; the party already had both chambers of the state Legislature, but most everything still had to get through Napolitano. One Democratic state senator criticized Napolitano for abandoning the state by taking the Cabinet post.
The next year, Brewer signed the harshest immigration law in the country, Senate Bill 1070, which Obama called "irresponsible" and said "undermine[d] basic notions of fairness." That's just the best-known of many pieces of conservative legislation the state GOP pushed with Brewer in the governor's office. Napolitano's successor also slowed the advance of other ambitious state Republicans, who may have been eyeing the planned open governor's race in 2010.
By contrast, former Sen. John Kerry's move to the State Department in 2013 opened doors for several Democrats in Massachusetts' static political hierarchy to move up.
Then there's Colorado, from which Obama poached former Sen. Ken Salazar to be his first Interior secretary. The Democratic governor in turn appointed little-known Denver Public Schools Superintendent Michael Bennet to the Senate, kicking off a Democratic civil war in the 2010 primaries, a hard-fought general election that Obama's political advisers saw as a model for what they had to do in 2012. Now, as chairman of the Democratic Senatorial Campaign Committee, Bennet has become one of the Senate's more powerful Democrats.
The big political question about Obama's latest Cabinet picks is how joining up will affect Castro's prospects and those of another bright former Democratic mayor, Transportation Secretary Anthony Foxx. Castro has long been seen as one of Texas Democrats' most promising rising stars, with a potential run for statewide office somewhere in the not-too-distant future. But even though the state's demographic trends look promising, Texas is inhospitable territory for Democrats right now. There is risk attached to an ambitious politician removing himself from politics, but Castro's near-term options in his state looked limited. Now that he's joined the Cabinet, some say he could be a vice presidential pick for Democrats in 2016.
"I think there's nothing but upside here for Mayor Castro," said Matt Angle, a Texas Democratic strategist.
Foxx, the former mayor of Charlotte, N.C., is another major Democratic prospect in his state. Foxx's Cabinet appointment has already had one big effect: It opened the door of the mayor's office to Patrick Cannon, who resigned in March after only four months in office, following his arrest for taking bribes. (Cannon has since pleaded guilty.) But Democratic strategist Thomas Mills said Foxx's Washington role could give him an additional boost toward an eventual statewide run, should Foxx want it.
"There's this perception that Charlotte is a little out of tune with the rest of the state," said Mills, who noted that mayors there have don't have much governing power (like in San Antonio), and political figures from there haven't always had the best statewide track records. "I think being a part-time mayor of a big Southern city doesn't necessarily prepare you for politics writ large. Being plucked from the mayor's office and going on the national stage gives him a certain amount of credibility to make the leap toward higher office."
North Carolina Democrats are already dreaming about Foxx potentially running for the Senate against Republican Sen. Richard Burr in 2016. Foxx "would be a perfect foil," Mills said.
If that is the eventual goal, Mel Martinez may be an instructive example. George W. Bush appointed relatively few current elected officeholders to his Cabinet, but one of them was Martinez, who was the mayor of Orange County, Fla., before Bush selected him to run HUD. Three years later, Martinez resigned from his Cabinet post to run in Florida's open Senate election in 2004, where his combination of Central Florida elected experience and Washington connections helped him win a crowded GOP primary and then a close general election in the fall.
As Obama's presidency winds toward its end, the effects of many of his decisions are in the rearview mirror. But Castro's and Foxx's political fates still lie ahead, along with many other consequences of the president's Cabinet picks.
Obama Cabinet Secretaries Selected From Elected Office
Julian Castro: mayor of San Antonio, Texas, then secretary of Housing and Urban Development
Hillary Clinton: senator from New York, then secretary of State
Anthony Foxx: mayor of Charlotte, N.C., then secretary of Transportation
John Kerry: senator from Massachusetts, then secretary of State
Janet Napolitano: governor of Arizona, then secretary of Homeland Security
Ken Salazar: senator from Colorado, then secretary of the Interior
Kathleen Sebelius: governor of Kansas, then secretary of Health and Human Services
Hilda Solis: representative from California, then secretary of Labor
CORRECTION: A previous version of this list misstated Castro's Cabinet post.