Obama on Border-Crisis Fix: 'This Can Get Done Next Week'
The president on Wednesday urged Texas leaders and Congress to quickly approve a $3.7 billion plan for border security.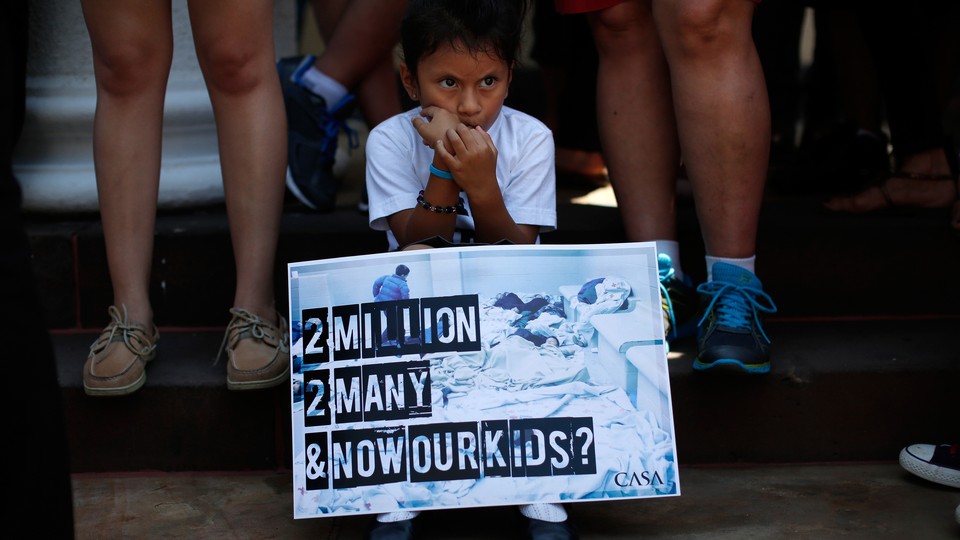 President Obama called on congressional leaders Wednesday night to quickly pass an emergency measure that would ease the border crisis, where tens of thousands of unaccompanied minors have created a logjam.
Speaking from Dallas, the president called on Congress to approve a $3.7 billion plan announced Tuesday that would confront the influx of unaccompanied minors from Central America at the Texas border.
"If the Texas delegation is now prepared to move," Obama said, "this thing can get done next week."
The money would go toward new detention facilities, more immigration judges and Border Patrol personnel, and increased aerial surveillance in the region. "About half of the resources would go to border security," Obama said Wednesday. The other half would be for resources to help the children.
Per a law passed unanimously by the House and Senate in 2008, Border Patrol agents must place unaccompanied minors from noncontiguous countries under the care of the Health and Human Services Department within 72 hours of their detainment. The supplemental measure would speed up the process.
"While we intend to do the right thing by these children, their parents need to know that this is an incredibly dangerous situation," Obama said. "And it is unlikely that their children will be able to stay."
The president is in Texas this week to raise money for Democratic candidates in the state. His decision not to visit the border during the trip has drawn criticism from people on both the right and left who say his administration has been too passive in its response to the crisis.
"I'm not interested in photo ops, I'm interested in solving the problem," Obama said when asked about why he was not planning on actually visiting the border.
Republican lawmakers have expressed some support for increased law enforcement along the border, but are skeptical of the White House plan. Part of the skepticism arises from what Republicans consider a lack of trust with the White House on immigration policy.
Obama said he doesn't want this temporary immigration fix to fall down a partisan hole. "If I sponsored a bill declaring apple pie American, it might fall victim to partisan politics. I get that," he said. "On the other hand this is an issue in which my Republican friends have said it's urgent, that we need to fix it."
The president met with Texas Gov. Rick Perry, who has been critical of Obama's response, before the remarks. And the president said he agreed with several of the governor's recommendations. "He was concerned about how many patrol agents were directly at the border," Obama said. "He was concerned that some of the positioning of Border Patrol agents is too far from border to be effective in deterring folks from coming in as opposed to simply apprehending them. I indicated to him that what he said sounded like it made sense."
White House press secretary Josh Earnest said Wednesday that in addition to increased border control, the administration is focused on reducing the backlog of minors under HHS care. The problem that is "most acute right now," Earnest told reporters, "is less about the number of Border Patrol officers and more about the kinds of immigration judges and ICE prosecutors and others who can process the cases."
Obama elaborated Wednesday night: "The issue is not that people are evading our enforcement officials," he said. "The issue is that we're apprehending them in large numbers — and we're working to make sure that we have sufficient facilities to detain, house, and process them appropriately."
In 2012, there were just 5,200 unaccompanied children at the border. That number is now at least 52,000 and is projected to swell to 90,000 by year's end. The majority of minors are from three troubled Central American countries — El Salvador, Honduras, and Guatemala — which are facing extreme levels of violence.
The United Nations High Commission on Refugees released a statement Wednesday urging "all countries in the region to adopt a robust humanitarian response that is based on fundamental protection principles," which may include granting asylum to children who meet international protection concerns. A U.N. study conducted earlier this year found that, in a sample of 404 children, 58 percent raised such concerns.
Obama said Wednesday that Perry advised the president to act quickly, and that strong leadership "might convince Republicans that they should go ahead and pass the supplemental." "And I had to remind him, I'm getting sued right now by [House Speaker John Boehner] apparently for going ahead and acting instead of going through Congress," Obama said. "Well, here's a good test case."