Obama Meets With Central American Leaders, Proposes New Refugee-Screening Program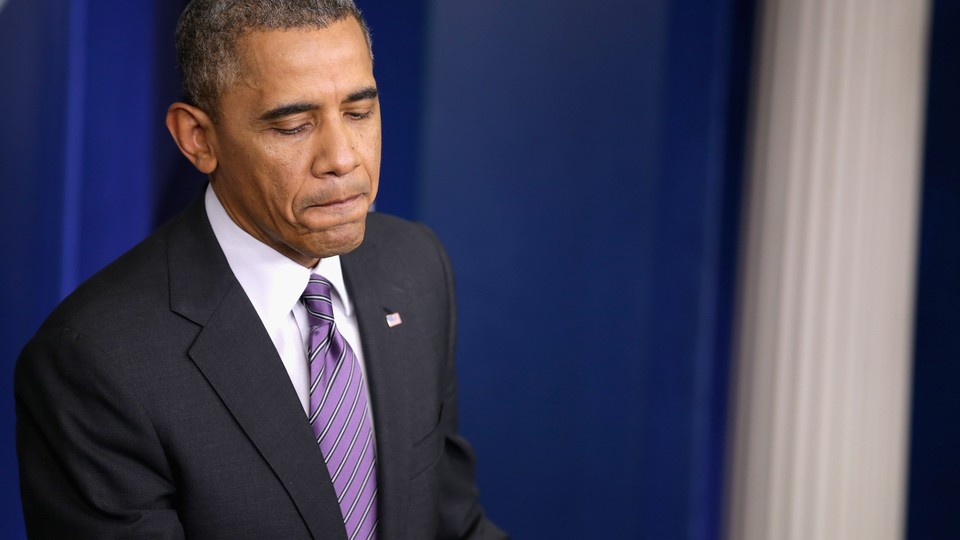 President Obama fought the battle of the border on two fronts Friday, meeting with the leaders of the three Central American countries that have sent the most children into the United States while the White House continued to press Congress to approve the money he said he needs to send the kids back home.
The president met for about two hours with Guatemalan President Otto Perez Molina, Honduran President Juan Orlando Hernandez, and El Salvador President Salvador Sanchez Ceren, a day after they had talked to leaders on Capitol Hill. At the meeting, Obama proposed a pilot program that would begin in Honduras before being expanded to other countries. In it, those applying for refugee status would be screened in their own countries before making the dangerous trek to the United States, rather than after arriving here.
White House press secretary Josh Earnest cast this pilot program as one way to stem the flow of children. "We want to try to find a way that we can meet the humanitarian needs of these individuals," he said. "And working with host governments to establish repatriation centers is an important step in that process."
The White House was vague on the specifics of the program, however. "At this stage it's too early for me to say what those numbers would look like," Earnest said. "But our broader intent here is as a broad message of deterrence, that people would see that there is an organized process if they feel like they have a legitimate asylum claim, that they don't need to make the dangerous journey to the U.S. to make that asylum claim, that they can be processed in their own country. And that would, we hope, serve as a pretty effective deterrent."
The White House meeting was designed to complement an education offensive mounted in Central America by the United States, with advertisements urging parents not to subject their children to the journey northward and warning them that their kids would not be allowed to remain in this country.
The focus has been on these three countries because the administration contends that more than 57,000 children have been smuggled across the border from there since October. All three are beset by violence and drug-related gangs and all three leaders insist the United States shares blame for the border crisis because of this country's appetite for drugs.
In the brief part of the meeting when reporters were present, Obama said, "Children who do not have proper claims "¦ will at some point be subject to repatriation to their home countries." But he said he agreed with the three visiting presidents on the need to address the poverty and violence that had led so many to send their children to the United States.
"I emphasized that the American people and my administration have great compassion for these children," he said, adding, "But I also emphasized to my friends that we have to deter a continuing influx of children putting themselves at risk."
Even while the meeting was underway, the White House maintained the pressure on Congress to act on the administration's request for money to deal with the crisis before breaking for August next week. Earnest acknowledged that the president has not personally phoned Speaker John Boehner to get the bill through, insisting that Boehner first needs to work out differences in his own Republican caucus. Boehner "said that he was still discussing among his members what they felt like they could do. It doesn't sound to me like they're in a position to begin negotiating, at least begin negotiating with the White House. It still appears that "¦ three weeks after we've made our request, the House Republicans are still negotiating among themselves what to do."
But Earnest said time is running out. "We're concerned about this because there's only one week left before they depart Washington, D.C., for their annual five-week recess in August. And that means that this is a pivotal week that's coming up. There are a lot of priorities that remain undone and we're pretty concerned about that."
He added, "What we've seen from Congress is a lot of talk but not really any action. And that is a disappointment "¦ that they're not willing to live up to their own rhetoric when it comes to dealing with this issue."
In a letter to Obama this week, Boehner said "House Republicans have been clear that we want to work with you to help the victims of the terrible humanitarian crisis at our southern border—particularly the children, who have been cruelly duped into making a perilous journey." He challenged Obama to show more leadership on the issue.
House Republicans met in a closed-door meeting Friday to hash out a plan within their own caucus, and a bill will likely be presented Monday.
Many members are staunch in their resistance to change a 2008 anti-trafficking law to allow Central American children to be returned voluntarily—a notion many Democrats oppose and Obama's emergency supplemental request does not include.
But it's imperative to pass some legislation aimed at curbing the crisis at the border before the August recess or members shouldn't leave for their summer reprieve, said Rep. Kay Granger, R-Texas. Though distrust of the president to enforce the law is palpable within the Republican Party, there could be political fallout if the House fails to act, Rep. Bill Flores said Friday morning.
"I think we have a big political risk if we leave without doing anything," the Texas Republican said.
Discussions will continue next week. And the Senate and the House have much to hash out, including wide gaps in how much they're willing to spend to address the crisis at the border.
---
Rachel Roubein contributed to this article