Obama and Netanyahu Have Put Aside Their 'Dysfunction.' For Now.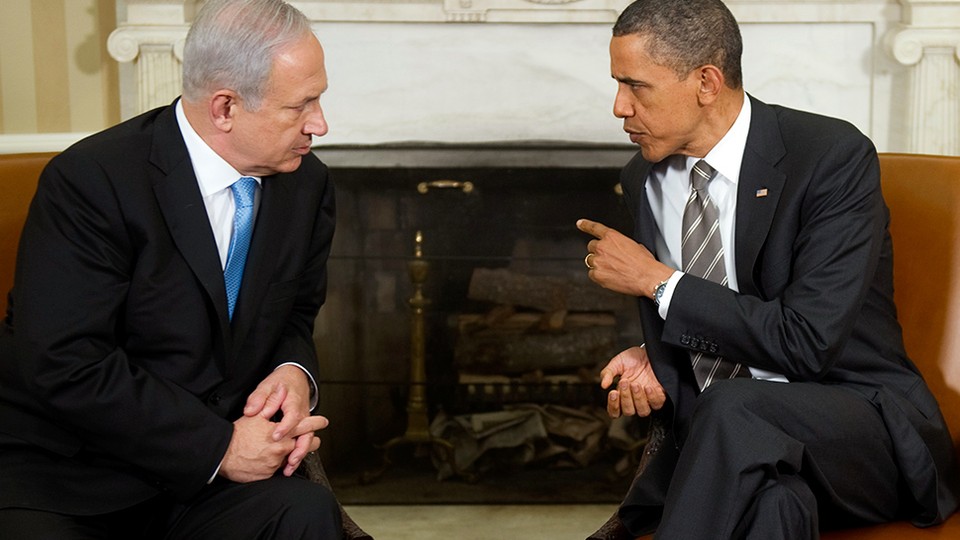 The current crisis in Gaza has featured close collaboration between President Obama and Israeli Prime Minister Benjamin Netanyahu, a united front that is a triumph of national interest over personal pique and that is all the more remarkable given the six-year history of animosity between the two leaders.
These men really don't like each other and have done little to hide their enmity since Obama took office in 2009. In the past week, they seem to have put that on hold, conferred frequently, and allowed little daylight between the American and Israeli positions.
But don't think the hard feelings have gone away. This remains one of the most openly dysfunctional relationships between two major allies anywhere in the world. "Actually, I'm not sure 'dysfunction' is quite the right word," said Mitchell Bard, director of the nonprofit American-Israeli Cooperative Enterprise. "They despise each other."
Interestingly—even refreshingly—neither side really tries very hard to deny the tension in the Obama-Netanyahu personal relationship. Instead, White House press secretary Josh Earnest stressed the big picture. "The U.S.-Israel alliance is built upon decades of close security cooperation and deep ties between our people," he told National Journal. "Any differences in opinion pale in comparison to the priority the president places on maintaining this strong relationship."
Israeli Ambassador to the United States Ron Dermer gently chided NJ for asking about this at a press breakfast this week hosted by The Christian Science Monitor. "The press focuses all the time on the differences that exist," he complained. "We know that you are always going to focus on tension, and there have been times when we have not seen eye to eye with the administration on different issues."
Even for a diplomat, though, that is a remarkable understatement. Almost from the day of Obama's inauguration in 2009, he and Netanyahu have clashed on policy and demonstrated how very different they are in style and temperament. In 2010, the tensions surfaced during the prime minister's visit to the White House. In 2011, Netanyahu publicly scolded and lectured Obama at the White House. Also in 2011, an open microphone at the G-20 summit in Cannes captured French President Nicolas Sarkozy and Obama discussing Netanyahu. "I can't stand him. He's a liar," said Sarkozy. "You're tired of him—what about me? I have to deal with him every day," responded Obama. In 2012, Netanyahu did everything but wear a Mitt Romney pin, leaving no doubt he would prefer that the Republican nominee beat Obama. And the president returned the favor when he gave an interview a week before the Israeli election, in which he was highly critical of the prime minister. Jeffrey Goldberg, who interviewed Obama for the article for Bloomberg, reported that the president viewed Netanyahu as a "political coward."
Despite the verbal shots, both men were reelected. Both were angry. But both came to realize that they would have to rise above their mutual enmity, that the alliance was more important. "Both of them reacted to the election results," said Bard, who formerly edited the Near East Report, the weekly newsletter of the influential American Israel Public Affairs Committee. "Netanyahu recognized he was going to have to deal with Obama four more years, and Obama recognized there is not much chance that Netanyahu would be unseated. And that has forced them to work together and to be a little more sensitive to each other's concerns and to try not to take measures or make statements that would inflame the relationship."
That approach has been on display this week as the Obama administration has been solidly behind Israel's military operation in Gaza, mostly keeping out of public view any horror at the rising civilian casualties inside Gaza. Both sides also point to the Iron Dome defense system that has kept the toll down inside Israel. "As the success of Iron Dome in saving Israeli lives has demonstrated, our security cooperation under this administration has been unprecedented," said Earnest.
And Israel has noticed.
"On security cooperation, we are talking about unprecedented security cooperation.... And we are appreciative of the fact that we have been able to have the Iron Dome system that has been working so well. Intelligence-sharing is very good," said Derner. The ambassador stressed that these matters are more important than bruised personal feelings.
"For me, in the relationship between the U.S. and Israel, the rubber meets the road when Israel is forced to defend itself and then the question becomes, where is the president of the United States? And I will tell you now that this is the second time ... where the president has been backing Israel's right to defend itself in the strongest possible terms.... I don't think that support could have been any better than it was." The other time cited by Derner was Obama's support for the Pillar of Defense operation, a military strike into Gaza in November 2012.
In the current crisis, Derner said he has talked "basically every day with either the White House or the State Department, a lot of times with both." He said Israel sees "very broad support for Israel's right to defend itself."
No one finds that level of support more striking than Aaron David Miller, a key State Department adviser on the Middle East from 1978 to 2003. Working closely with three Republican presidents and two Democratic presidents, Miller has called the Obama-Netanyahu relationship "the most dysfunctional" ever. What has changed is that the two leaders have found a way to overcome the hard feelings. "It's clearly," Miller told NJ, "a dysfunctional relationship on a personal level, which has become very functional in large part because of the nature of the U.S.-Israel relationship and a set of common perceptions of challenges and threats even though there are different approaches to remedy them."
He said the Obama administration has been "incredibly supportive of Israeli actions over the course of the last 12 days." But that does not mean differences do not remain between the two governments. Ambassador Dermer acknowledged differences on nuclear talks with Iran and the Middle East peace process. On neither issue is either side budging, although the White House holds out hope that progress in the P5+1 talks with Iran may win over a skeptical Netanyahu. The Israelis remain highly skeptical. But even as negotiators try to hammer out the disagreements, the approach taken this month by Obama and Netanyahu backs up Bard's assessment: "These men know now they are stuck with each other, and they are now looking for ways to cooperate on the issues."