Nigeria's Girls Have Been Held Captive for Three Months
The Nigerian government is practically telling them, "You're on your own."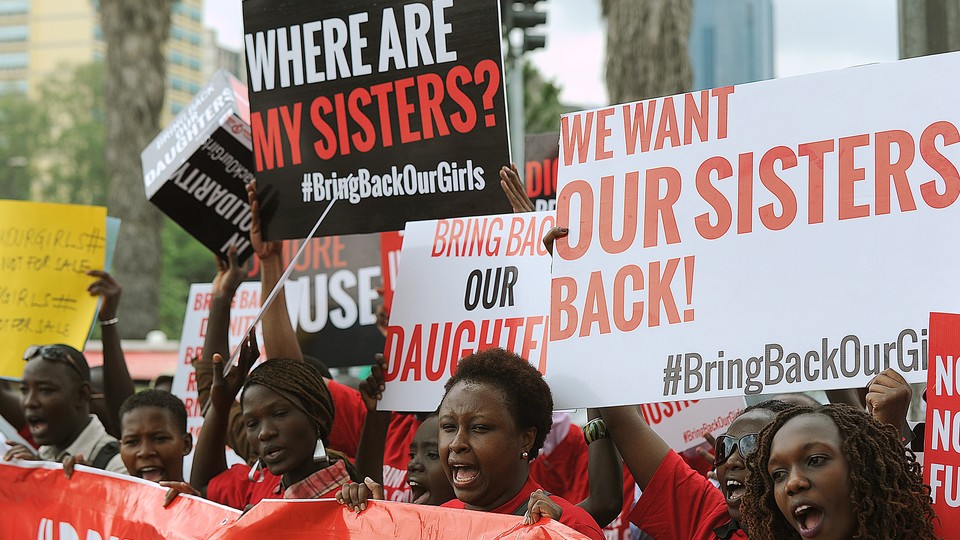 It's been 91 days since nearly 300 Nigerian girls were forced out of their beds at gunpoint and loaded onto trucks by members of the terrorist group Boko Haram. And, honestly, there hasn't been much news to report since last month. But that's the point.
This is going the way of Kony 2012 — a hashtag, flash-in-the-pan international coverage, then radio silence anywhere outside of the country. Boko Haram continues to openly taunt the Nigerian government's about its inaction. Aside from the U.S. pledge to send advisory troops, the only congressional support it's gotten is a stray tweet here and there.
However, there has been some good news. Last week, Agence France-Presse reported that 63 of the girls were able to escape their captors and return home. And the girls' families have found an ally in Malala Yousafzai, the Pakistani teenager who survived being shot in the head by Taliban terrorists. Malala visited Nigeria over the weekend to draw attention to the kidnappings and ask Nigerian President Goodluck Jonathan to take action. "They are my sisters, and I'm going to speak up for them until they are released," she told the girls' families.
Of course, Jonathan's government has claimed it's doing as much as it can to bring back the girls. An anonymous source told CBS that "backdoor channels remain open," and said rescue efforts were aborted at the last second on three separate occasions. A Boko Haram leader has also offered to negotiate a prisoner swap, but the Nigerian government has been unreceptive to the idea.
All these promises for action have failed to console Nigeria's citizens. In the three months since the girls' abduction, Jonathan did not met with their families — though he is expected to do so later on Monday. But, for now, as the days, weeks, and months tick on, the Nigerian government is telling these girls and their families that if they want to regain their freedom from violent extremists, they'll have to go it alone.