Meet the Republican Who Could Take Hawaii Away From Democrats
A three-way race and an unpopular incumbent are giving the state's GOP a real chance of winning the Governor's Mansion.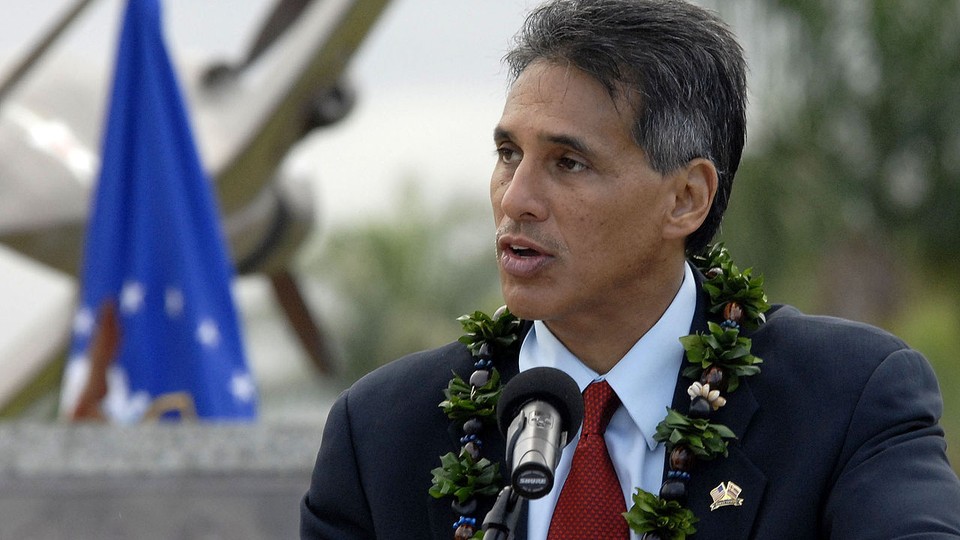 HALEIWA, Hawaii—"Duke! Duke! Duke!"
The Republican nominee for governor of Hawaii stepped to the podium at a fundraiser for the state GOP, greeted by cheers and a standing ovation. Duke Aiona is the man who "will win, can win," a state senator insisted as he introduced the nominee. And the 200 donors and supporters in the audience apparently agreed.
"I feel so confident right now," Aiona said in a pavilion lit by tiki torches, nestled in a valley on Oahu's North Shore. "This is a statement in and of itself, to have so many people here supporting the Republican Party."
It's an odd sentiment from a GOP pol in one of America's most Democratic-leaning states. Indeed, Hawaii Republicans readily admit they're an endangered species these days: Democrats control the Governor's Mansion, both U.S. Senate seats, and both U.S. House seats. Just one Republican serves in the 25-member state Senate. What's more, this is not Aiona's first try at the governorship: He lost to sitting Gov. Neil Abercrombie by double digits in 2010.
But this year, Abercrombie's unpopularity and a three-way general-election race have combined to open a rare, if narrow, path to a Republican gubernatorial win. Add to the mix that Aiona is a top-tier recruit and has high name ID across the state, and even some Democrats reluctantly acknowledge their problem.
"In the normal course of events, a Republican really shouldn't win," said one Democratic strategist. "But this is decidedly not the normal course of events."
While there's been little general-election polling in the governor's race, and polling in Hawaii is notoriously difficult to do, a June Honolulu Civil Beat matchup between the three candidates found Aiona with a 6-point lead over Abercrombie, 33 percent to 27 percent. Former Honolulu Mayor Mufi Hannemann, the independent candidate, trailed at 18 percent.
But that's not the only thing making Republicans hopeful. As a former lieutenant governor under Linda Lingle, a Republican who won two terms here, Aiona is well-known across the state and is a veteran of statewide campaigns. And as a Hawaii native, he's got a good story to tell—born in Pearl City, son of a Portuguese-Hawaiian father and a Chinese mother; went to college in California but returned home to go to law school and start his career.
In contrast, Abercrombie has real problems this year, and not just with Republican voters. He's in a serious primary contest against David Ige, a longtime state senator who's been pulling ahead of the incumbent. Indeed, Democrats know Abercrombie is vulnerable in the Aug. 9 primary.
He has a distinctive political style, with lofty rhetoric that critics even inside his party say often doesn't match his results. "You either like him or you don't—so he's been very polarizing during his four years," said Randy Perreira, executive director of the Hawaii Government Employees Association, Hawaii's largest union. (Polarizing not least with HGEA itself, which endorsed Abercrombie in 2010 but has stayed neutral this year, after the governor angered labor by introducing pay cuts for government employees.)
Abercrombie defended his tenure at a Democratic forum in Honolulu in June, saying it's impossible to get things done without making a few people angry along the way. "My sole purpose was to give and to give back to Hawaii," he said. "Leadership requires action—leadership and action have gone together."
But it's not just Abercrombie's record or his unpopularity that are creating opportunity for Aiona. Indeed, Democrats face a messy general election whether their nominee is the current governor or Ige, thanks to the entry of Hannemann, the former Democrat now running as an independent who threatens to play spoiler in November.
The three-way race means the threshold for victory will be lower—and, depending on how well Hannemann does, it could be much lower. Consider Maine, another generally blue state, in 2010: Republican Paul LePage won the Governor's Mansion with just 38 percent of the vote; independent candidate Eliot Cutler took 36.5 percent of the vote, beating out even the Democrat.
For a Republican in a state like Hawaii, getting to 35 or 40 percent is a far easier task than getting a full majority—and Aiona's campaign is betting on that very phenomenon.
The GOP candidate's team has hit the ground running, with field offices on the islands of Maui and Hawaii (the Big Island) and an informal canvassing group on Kauai.
And while he'll most certainly be outspent by Abercrombie—assuming the governor makes it through the primary—Aiona says he's better prepared to respond to Democratic attacks than he was in 2010.
"I let them define me as being that [career] politician also," Aiona told National Journal in an interview at his campaign headquarters in Honolulu, adding that Democrats primarily—and effectively—worked to tie him to every controversial decision of the Lingle administration. "The governor and I had some disagreements, but it was her administration, I'm a part of her team, I support her."
Defining himself as separate from Lingle, who ended her two terms in office fairly unpopular and then lost the 2012 Senate race by more than 20 points, is critical for Aiona—as is making it clear he doesn't toe the line with the national party in a state where that national party isn't particularly popular.
"The national brand of the Republicans at this time is angry white people—and Hawaii is heavily minority-based," said David Chang, a former Hawaii GOP chairman who said he is helping Aiona. "What we have to be able to explain is, it's not a race thing, it's not a culture thing, it's about values: equality of opportunity, giving our children the ability to achieve the American Dream."
Aiona too stresses that he's not in lockstep with the Republican Party nationally. "I am a part of the Republican Party because the fundamental values I have are the fundamental values the party has," he said. "But I am not a party person."
Certainly, it's still an uphill battle for Aiona. But his climb has already started, and momentum appears to be on the GOP's side.
"It's always a challenge for Republicans to get elected in a statewide race in Hawaii, but when you have a good candidate like we have now with Duke Aiona, we have a good chance," said Lingle, the Republican who was elected governor here twice. "I'm very excited about [Aiona's] chances."