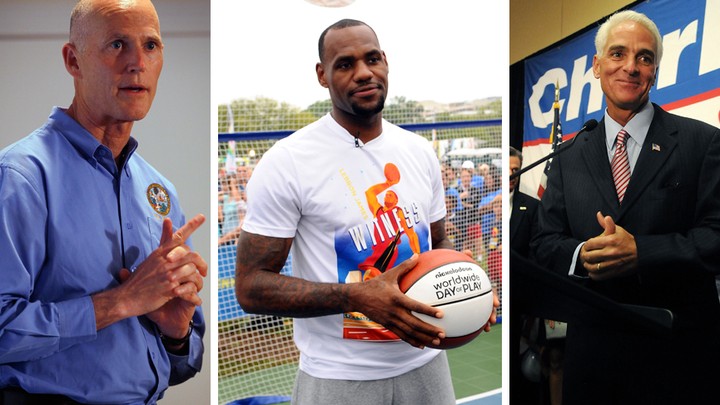 NBA star LeBron James's decision to leave the Miami Heat and rejoin the Cleveland Cavaliers is surfacing — of all places — on the campaign trail.
A spokesman for Florida Gov. Rick Scott's campaign blasted an email Friday afternoon of a photo featuring his opponent, Republican-turned-Democrat Charlie Crist, and James with a caption at thetop reading: "What do these guys have in common? They both ran away."
(Republican Party of Florida)
Prior to James's announcement, the Scott campaign had repeatedly hammered Crist for opting to run for Senate in 2010 rather than reelection as governor, arguing that it shows he is more concerned with his advancing his own career than the well-being of Floridians.
Crist, then a Republican, ended up running for the Senate seat as an independent after he was confronted with a tough primary battle courtesy of Marco Rubio, who ultimately went on to win the general election.
We want to hear what you think about this article. Submit a letter to the editor or write to letters@theatlantic.com.
Adam Wollner is an analyst for National Journal Hotline. Previously, he covered politics as an intern for NPR and the Center for Public Integrity. A native Wisconsinite, Wollner graduated from the University of Wisconsin-Madison in 2013 with a bachelor degree in journalism and political science.