John Kerry Still Has a Chance in the Middle East
In engaging with Afghanistan and Iran, the secretary of State is looking to break a losing streak.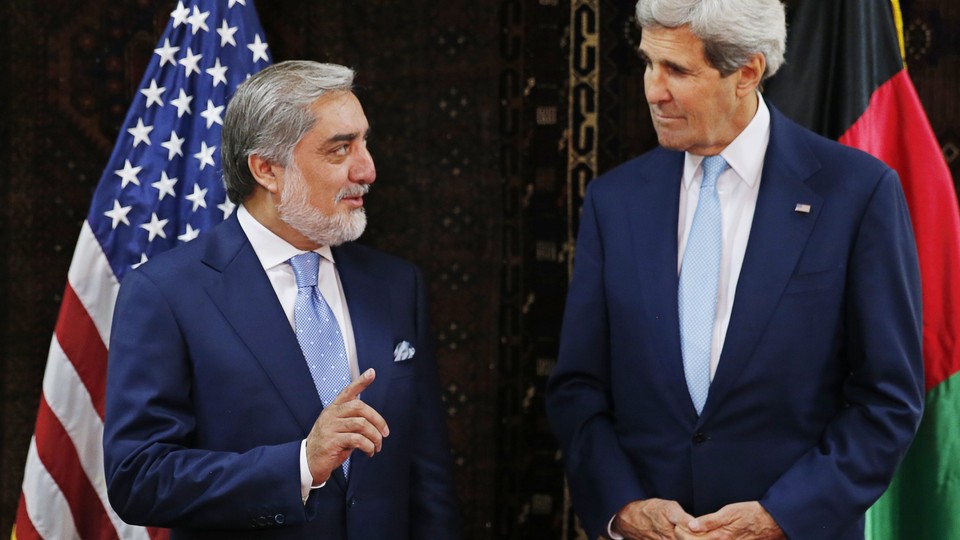 The security situations in Iraq and Gaza continue to deteriorate, the war in Syria shows no signs of abating, and Libya slips nearer and nearer to civil conflict — but Secretary of State John Kerry has trained his eye on two separate crises in the region. Resolving an elections dispute in Afghanistan and reaching a landmark nuclear deal with Iran offer Kerry a chance to save face in the Middle East.
Kerry alighted in Kabul on Friday, hoping to settle a dispute between two candidates vying for the Afghan presidency, a disagreement that threatened to derail the first democratic transition of power in 10 years. The two candidates, Abdullah Abdullah and Ashraf Ghani, both claimed to have won an election that was marked by widespread fraud and rigging. Both candidates acknowledged the widespread irregularities, but Abdullah threatened to break off and form a "parallel government" if his allegations are not addressed. Kerry arrived in Afghanistan just hours after a U.N. proposal failed to bring the two sides together.
Before meeting with Kerry, Ghani committed to an "intensive and extensive" audit of results to restore Afghans' faith in the election process. And his opponent lauded Kerry for his visit after emerging from a meeting with the secretary of State. "At a very critical time you have proved your commitment to Afghanistan, to saving Afghanistan, and saving the democratic process here," Abdullah said. Meetings continue in Kabul today.
After his business in Afghanistan, Kerry will fly to Vienna, where he will dive into talks with Iran on its nuclear program. As the deadline for an agreement draws near, the U.S. secretary will be joined by some foreign ministers of the other participating states — Britain, China, France, Germany, and Russia — in a push to either hammer out an agreement before July 20 or further extend the talks.
Many obstacles remain in the way of a deal in Vienna. As unresolved disagreements over the number of centrifuges Iran would be allowed to operate continue to dominate talks, conservative voices back home tie negotiators' hands. Both Kerry and Iranian Foreign Minister Javad Zarif are constrained by hard-line politics in their home countries: Zarif must satisfy Iranian conservatives who are wary of dealing with the United States and are pushing for unchecked nuclear capabilities; Kerry is faced with a belligerent Congress that on Wednesday demanded to be included in any decision to lift long-standing economic sanctions on Iran.
Neither of Kerry's missions will be easily completed, but he'll be looking for a win to end a streak of failed or unpopular attempts to intervene in the region. After what appears to be a complete breakdown in the peace process between Israel and Palestine — far from the grand reconciliation the State Department hoped for, the U.S.'s offer to broker a cease-fire in an increasingly bloody Gaza was rebuffed by Israel today — the deal with Iran, especially, offers him a chance to leave his mark on his office.