Jay Rockefeller Wants to Revolutionize How You Watch TV
On his way to retirement, the West Virginia Democrat looks to overhaul the video industry.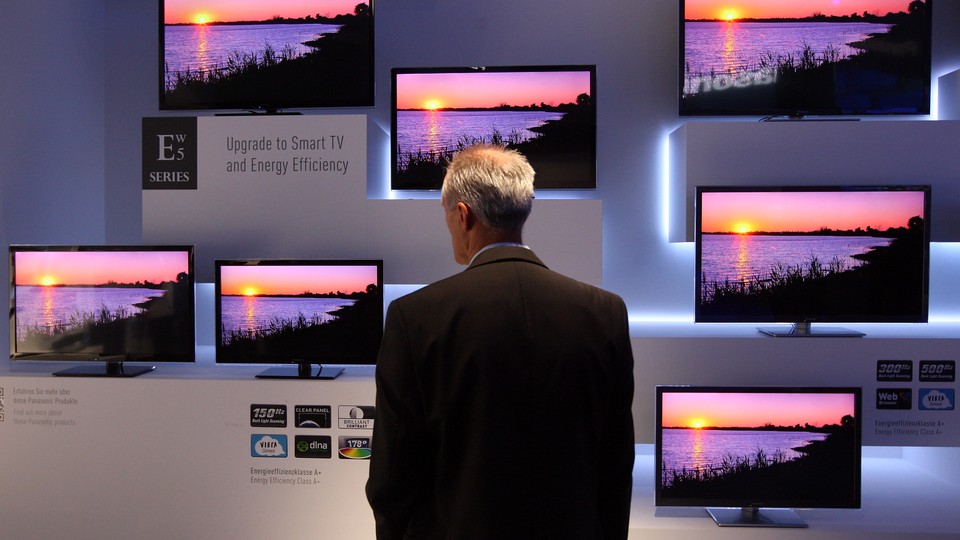 Sen. Jay Rockefeller is getting ready to settle into retirement. But before he does, he'd like to upend the entire television industry.
Although his ambitious gambit is unlikely to pay off in the final few months of his 30-year career, it could lay the groundwork for future congressional action that could change how Americans watch TV.
Rockefeller's goal is to boost online video services like Netflix to allow them to become full-fledged competitors to cable giants like Comcast. In his view, consumers are paying too much for too many channels they don't watch.
"Do people really want to see 500 channels when all they really want to look at are eight, like me?" asked Rockefeller, the chairman of the powerful Senate Commerce Committee, during a hearing last week on the future of the video marketplace.
And things are only going to get worse, Rockefeller fears, with Comcast planning to buy Time Warner Cable and AT&T set to takeover DirecTV.
It's a twist of history for Rockefeller to be standing against the mega-mergers of our era. He is, after all, the great grandson and benefactor of John D. Rockefeller, a man whose company dominated the oil industry to the point of inspiring Congress's first antitrust laws more than a century ago.
But it's not a new position for the West Virginia Democrat, who has been a longtime critic of industry consolidation.
Now, with months left in his last term, the senator is gearing up for one last battle: He argues that providing regulatory protections to online video companies would inject much-needed competition into the TV industry, driving down prices and opening up new choices.
So what would your television experience look like if Rockefeller reigned supreme?
Online video services would be able to offer even more programming options than cable and satellite companies could. And with many TVs now hooked up to the Internet, your experience could be the same as it is with today's giant providers — or you could watch on your phone, tablet, or laptop. You could also watch more shows when you want, not when the channels decide they should air.
An explosion of online options could give you more leverage to pay for what you actually want. It would be harder for a cable company to force you into buying a massive package of hundreds of channels you don't watch if there's an array of online choices at your fingertips.
To that end, Rockefeller last year introduced the Consumer Choice in Online Video Act, which would overhaul the complex web of TV regulations to bolster the online video industry.
His bill would bar cable companies, which provide both Internet access and TV programming, from discriminating against online video competitors. It would also limit the ability of companies to use contractual agreements to block websites from buying access to video content.
At last week's video hearing, Rockefeller put it mildly when he said his bill "caused some angst on K Street."
Cable companies argue that their industry is already plenty competitive, while the broadcast TV networks are aghast at a provision that would protect the video site Aereo (the networks claim the site was stealing their content, and the Supreme Court agreed in a ruling earlier this year).
Rockefeller's bill has gone nowhere. But he is now eyeing a legislative vehicle to push through his reforms.
The Satellite Television Extension and Localism Act, or STELA, is set to expire at the end of the year. The law allows about 1.5 million satellite TV subscribers in rural areas to access broadcast channels, and many lawmakers consider the reauthorization bill "must pass" legislation.
The Judiciary and Commerce committees in both chambers share jurisdiction over STELA. The Senate Judiciary Committee already approved a "clean" update that doesn't make any other changes to the video industry.
The House passed a reauthorization bill Tuesday that makes certain minor tweaks to give cable companies more leverage in negotiations with broadcasters.
But Rockefeller has bigger ambitions. He is working with Sen. John Thune, the Senate Commerce Committee's top Republican, to attach other regulatory reforms to the bill. They plan to unveil their legislation in September.
Industry lobbyists are anxious about what the committee will produce, but Rockefeller and his aides have been tight-lipped.
Speaking off the Senate floor Tuesday, Thune said Rockefeller "recognizes some of the limitations that we have right now just from a time standpoint."
He said aides are still "batting around ideas" but that many of the provisions in Rockefeller's online video bill would be a "heavy lift" in the waning weeks of the Congress. The South Dakota Republican was reluctant to discuss specifics, but he said the language in the House version of STELA is "in play" in the Senate, as well as some broader regulatory changes.
But even if Rockefeller isn't able to jam through his online video bill as an attachment to STELA, his bill is likely to shape discussions for years to come. Lawmakers are expected to begin work next year on the first major rewrite of communications law since 1996.
"My guess is that [online video] is something that we probably will discuss a lot, but probably in the context of a bigger telecom reauthorization," Thune said. "It'll be interesting to see if someone picks that mantle up."