Jack Kingston's Insider Advantage
The Georgia Republican is making 20-plus years in Congress an asset in a race against D.C. outsiders.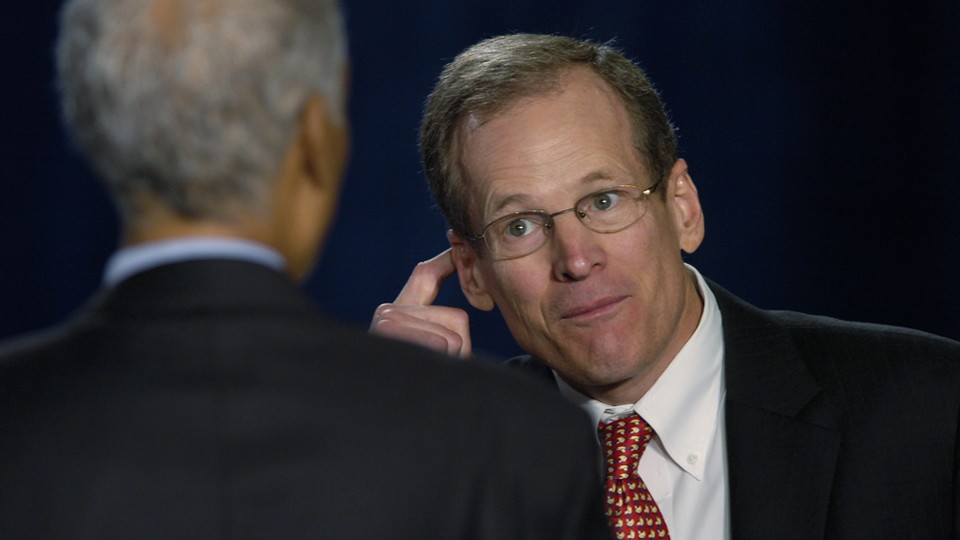 In an election year when Congress is less popular than lice and anti-incumbent sentiment runs hot, two-decade Rep. Jack Kingston has turned what should have been his biggest liability into an asset.
There are few labels more unsavory for a red-state Republican Senate candidate in a tough primary than "Washington insider." But thanks to Kingston's voting record littered with conservative accomplishments, his long-term connections to fellow Republicans with tea-party cred, and a folksy campaign style, both Republicans and Democrats in the state say he has managed to make that experience work to his advantage in the primary.
And if Kingston wins Tuesday's Republican runoff against businessman David Perdue, he'll have the chance to do it again in the fall, when he would meet a Democrat with a famous political name and no legislative record.
"It would be impossible to convince folks that he hasn't been in Congress for [22] years, but he's shaken the negative part," said Randy Evans, a Republican National Committee member from Georgia. "What Kingston's been able to do is convert that insider argument into a positive for him, pointing to a conservative track record, where his opponent doesn't have that."
His opponent, the self-funded cousin of former Gov. Sonny Perdue, has run a consummate "outsider" campaign, chock full of ads hitting Kingston as "part of the problem" and the "king" of earmarks. But since the first primary election, in which Perdue won with more than 30 percent of the vote, Kingston has gathered support from the very people who made "outsider" popular in recent years: the tea party.
Soon after the primary, Kingston, who is backed by the U.S. Chamber of Commerce, received endorsements from a former candidate with tea-party support, Karen Handel, and from Atlanta Tea Party Cochair Julianne Thompson. Kingston also slowly gathered support from his conservative colleagues in the House, including Reps. Rob Woodall, Phil Gingrey, and Lynn Westmoreland.
Even Rep. Michele Bachmann filmed a video endorsement on his behalf. "In Washington, I've fought every day to protect our conservative values. If there's one thing that I can always count on in this fight, it's the support of my friend Jack Kingston," she says in the video.
Gathering endorsements is a classic insider's game. On top of his long relationships, Kingston was also helped by the fact that Perdue doesn't fit the traditional definition of an "outsider." The former Fortune 500 CEO lives in a gated community, touts his relationship to a former governor, and has donated millions of dollars to his own campaign.
"Perdue is wide open to the rich-guy attack, living as he does on rarefied Sea Island," said Georgia public-affairs expert Jeff Dickerson. "His elitism is probably more of a turnoff to a historically populist Georgia than being an insider."
That "elitism" surfaced for Perdue during the primary race, when he said, on video, that Handel wasn't up to being a senator because she doesn't have a college degree. That stray comment from Perdue may have done as much for Kingston as anything he did for himself, framing an inside-outside argument in a way an 11-term member of Congress can't always do. Kingston's experience and comfort in dealing with constituents also helped.
"Even though he's been a member of Congress for 20-plus years, [he] feels more accessible," said GOP political consultant Todd Rehm. "If you've met a guy and he returned your phone call, or his staff helped with an issue, it's hard to think of that person as one of those evil insiders. David Perdue might be the most warm and friendly personality "¦ but I wouldn't know, because he's never acknowledged me."
Should Kingston win his party's nomination on Tuesday, he would face another insider-versus-outsider matchup, this time in the general election against Democratic nominee Michelle Nunn.
On the surface, Nunn would present Kingston with many of the same features he has already been facing. She comes from a political family—her father, former Sen. Sam Nunn, was a Nobel Peace Prize nominee for his work on nuclear disarmament—but she can reap the benefits of that recognition without a voting record of her own.
"If Kingston prevails, I think the dynamics change significantly," Dickerson said. "Nunn will paint Kingston an insider and an example of all that ails Washington, and his incumbency will continue to be a challenge to his campaign."
Democrats are already preparing to execute such a strategy.
"Kingston's campaign has done an OK job of talking about how his experience will better serve him if he's victorious," Democratic strategist Tharon Johnson said. "But if Kingston is successful in the runoff, then Michelle Nunn will be able to present a contrast between her vision of going to Washington and getting things done, compared to Kingston, who won't bring anything new to the table."