Israeli Ground Assault Begins in Gaza
Israeli troops will target cross-border tunnels; navy began shelling harbor.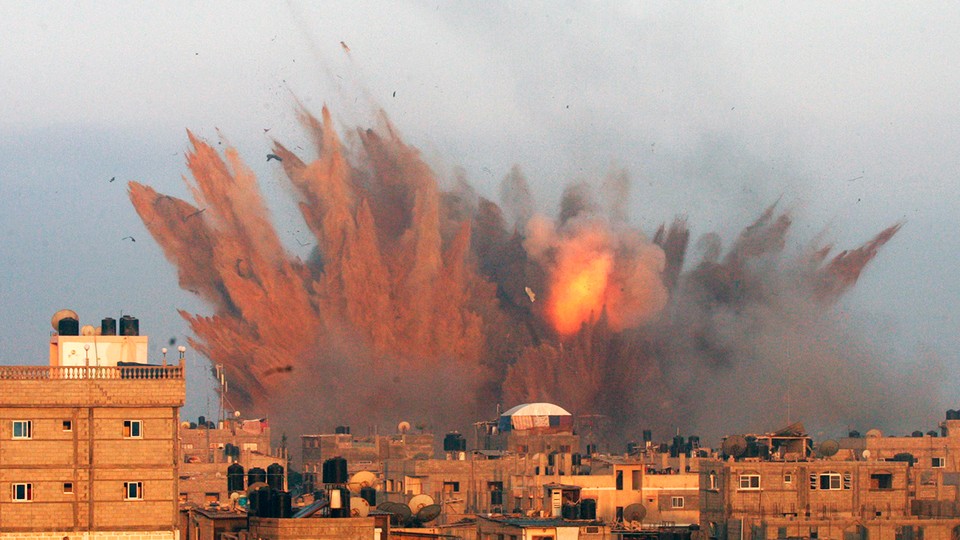 Israeli forces have launched a ground assault in Gaza, according to the Israeli government. Forces have been instructed to target and destroy cross-border tunnels used to smuggle weapons and supplies to and from Gaza. Israeli Prime Minister Benjamin Netanyahu confirmed the assault in a statement.
"The prime minister and defense minister have instructed the IDF to begin a ground operation tonight in order to hit the terror tunnels from Gaza into Israel," the statement read. The objective of the operation is to strike a "significant blow to Hamas' terror infrastructure," according to a separate statement from the Israeli Army.
Journalists staying in hotels on the Gaza beach were asked to evacuate the area. The Israeli navy began shelling the Gaza harbor soon thereafter. The harbor is on the side of the Gaza Strip opposite the eastern tunnels being targeted by ground troops.
Earlier on Thursday, Palestinian fighters used a tunnel to enter Israel. At least one was killed when Israeli forces bombed the group.
Secretary of State John Kerry spoke on the phone with Netanyahu soon after the ground invasion was announced.
The ground invasion is the most recent development in a 10-day long conflict that has killed hundreds of Palestinians in Gaza and one Israeli. Militants in Gaza have sent barrages of rockets into Israel on a daily basis as Israeli air strikes targeted Gaza.
Israel committed to a five-hour pause in air strikes that ended at 3 p.m. local time Thursday. Hostilities resumed after the end of the ceasefire: Israeli air strikes killed at least four Palestinian children in Gaza City as militants launched more than 50 rockets into Israel from Gaza after the ceasefire was up.
A ceasefire proposal put forward by Egypt failed earlier this week after Israel agreed to it. Hamas did not acknowledge the agreement and continued to fire rockets into Israel. After the failure, negotiations continued in Cairo, where Egyptian President Abdel Fattah el-Sisi met with President Mahmoud Abbas and Israeli negotiators on Wednesday.