Is It Time to Declare the Death of Emergency Unemployment Insurance?
The odds of a UI extension happening took a serious hit this week.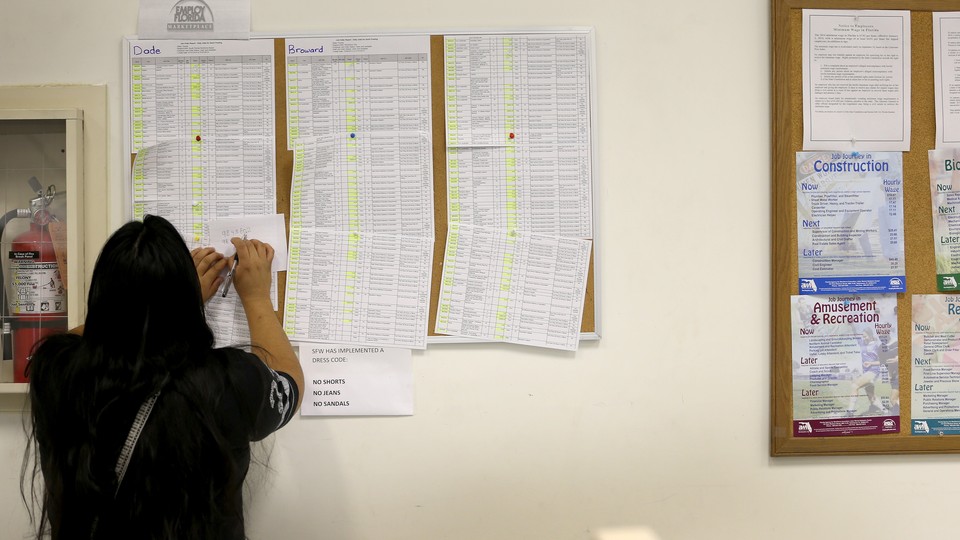 Democrats in Congress and a handful of Republican senators have strived over the last seven months to renew emergency unemployment benefits for the millions of American workers who have been living without a job for more than six months. But this week, once again, House Republicans pulled the rug out from under them, leaving prospects for the program's continuation at an all-time low.
Sens. Jack Reed of Rhode Island and Dean Heller of Nevada, who hail from the states with the highest unemployment rates in the country, released their second draft unemployment-insurance proposal last month. As with previous iterations of the renewal plan, this legislation was paid for — fulfilling a major requirement passed down by House Republicans.
Unfortunately for UI advocates, the House just used those same offsets — which Republicans called "gimmicks" when they were attached to the unemployment-insurance legislation — to pay for another bill, for the Highway Trust Fund. That move sent Reed and Heller back to the drawing board. Again.
"I think it's very revealing that, you know, now [the pay-fors are] not a gimmick [to House Republicans], but it's a very prudent way to respond to the fiscal issues of the Highway Trust Fund," said Reed, a Democrat.
Asked about the House's apparent evolution of opinion, House Speaker John Boehner's spokesman Michael Steel said: "These are bipartisan pay-fors that have been supported by both parties in the past." He also added that the Highway Trust Fund included a third offset, taking money from the Leaking Underground Storage Tank fund (or LUST).
Heller, a Republican who has been working to get his former colleagues in the GOP-led House behind an extension and met with incoming House Majority Whip Kevin McCarthy to discuss the issue last month, expressed frustration Wednesday. But, he added: "This is Congress. So some things just don't surprise me. And this one didn't."
"You know, it's nice to sort of be copied, in some respects, but then it's not nice," Reed said of the pay-fors.
Prospects for passage of a new unemployment-insurance bill appear dim. It's been seven months since the emergency unemployment-insurance program expired and, so far, no progress has been made in the House. Boehner continues to insist that he will not bring up legislation without a separate jobs provision attached to it, and that's a no-go in the Democratic Senate. And with August recess on the horizon and an election in November, the House is scheduled to work for just 35 more days in Washington this year.
But Reed and Heller insist that they haven't — and won't — give up. The two senators plan to sit down and find new offsets for the legislation that garner sufficient support from both parties — no easy task, particularly in the House, where new spending isn't often greeted with "yea" votes.
Aside from Reed and Heller, however, there appears to be little appetite in Congress to deal with the issue. Even advocates for the program say that Reed and Heller's work is unlikely to get them anywhere this year. "Given where we are in the calendar, I think it is highly unlikely," Sen. Lisa Murkowski, R-Alaska, who has voted for an extension of the program several times this year, said Thursday.
Sen. Susan Collins, R-Maine, who has also voted to extend unemployment insurance, wasn't very optimistic about the program's chances of renewal in this Congress either. "I think it's going to be extremely difficult to come up with a bill that could pass the House. I was hoping that our earlier effort, which was bipartisan, would have done it. But it didn't," she said.
If Republicans take over the Senate in November, the path for unemployment insurance becomes even steeper. But even if Democrats manage to hold onto the upper chamber, it's not clear that there will be an appetite for renewing the program in the next Congress. "It's difficult to say. I mean, how do we forecast the strength of the economy, the unemployment numbers?" Murkowski said, of trying to bring the program back in the future. "I think you never say never. But I think probably for the time being we're not going in that direction."
Even if emergency unemployment benefits are not renewed, the underlying program — which was passed under Franklin Delano Roosevelt as a safety net in the Great Depression — remains untouched. In most states, it provides compensation for 26 weeks for unemployed workers who are seeking a new job, though some states cut off the benefits much earlier — as in North Carolina, which provides just 20 total weeks of benefits.
It's after that deadline that emergency unemployment benefits kick in — or they did, until the federally-funded program expired in December. Although the unemployment rate is declining nationally, the rate for the long-term unemployed remains stubbornly high. That's why, Heller and Reed say, they're still fighting.
Although he acknowledges that many believe his task is nearly impossible, Reed says he's heard that before. "Frankly, no one thought it was possible — or very few thought it was possible — to get a bill through the Senate with bipartisan support. We did. In fact, we hoped that would encourage the House to act responsibly, and it didn't. So we're not going to give up," he said.
"We won't give up. We'll just keep trying. I think we've made that clear now for months where we've tried, we've succeeded, we've been rebuffed, we've tried again."