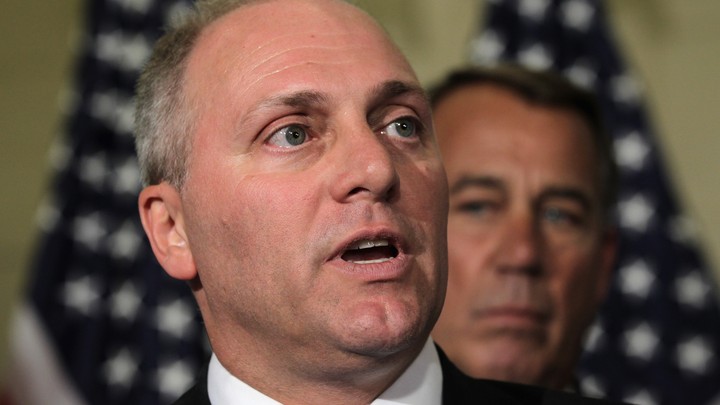 A donation to a member of Congress? $1,000. A donation to the future majority whip of the House of Representatives? Priceless.
That appears to be the calculation MasterCard made in June. The credit-card company's political action committee had never given money to Rep. Steve Scalise before this summer. But MasterCard's PAC was one of more than 60 donors that gave thousands of dollars to Scalise's congressional campaign in the days after the Louisiana Republican was elected as the next House majority whip, according to federal campaign finance records.
House Majority Leader Eric Cantor's surprising primary loss on June 10 opened up a slot in GOP leadership for Scalise, who will take over as majority whip on July 31 when the current whip, Rep. Kevin McCarthy of California, replaces Cantor as majority leader. Suddenly and not coincidentally, groups and individual donors are lining up to add themselves to Scalise's supporter rolls.
The nearly $150,000 that Scalise brought in at the very end of June included campaign cash from nearly three dozen new donors, MasterCard's PAC included, that had never appeared on the three-term congressman's campaign finance reports before he ascended to the No. 3 spot among House Republicans. The new donors range from senior executives at Washington lobbying firms to committees representing the defense, financial, and medical industries.
Scalise doesn't need the money for reelection; like most members of congressional leadership, his seat is safe. Scalise won reelection in November 2012 with two-thirds of the vote.
One new donor, Squire Patton Boggs's Emanuel Rossman, comes from the top-billing lobby shop in Washington so far this year, according to the Center for Responsive Politics. Another, U.S. Chamber of Commerce lobbyist John Howard, hails from the highest-spending lobbying client of 2014, also per CRP.
In the PAC category, the defense firm General Dynamics and the financial firm McGraw Hill also gave to Scalise for the first time.
With the help of his new supporters, whose donations were processed on the last day of June, Scalise raised more money for his campaign committee in the second quarter of 2014 than in any three-month period since the year he was first elected to Congress. In the short term, that helped recoup expenses from his pricey race for majority whip, during which Scalise donated $30,000 to House Republican colleagues, including Cantor, and racked up bills in the $10,000 range at restaurants where he had dinner with his campaign team.
In the long term, this could be the beginning of Scalise's transformation into a fundraising force. The trend of new donors should only grow in the next quarter for two reasons. First, as a new member of leadership, Scalise has greater responsibilities to the rest of the caucus, which includes redoubled fundraising efforts.
On the other side of the fundraising equation, it's also the job of some PACs and individuals to have relationships with the majority whip. "So industries will be lining up to support him," said Ron Bonjean, a GOP strategist and former spokesman for House and Senate leadership.
We want to hear what you think about this article. Submit a letter to the editor or write to letters@theatlantic.com.
Scott Bland
is the editor of
National Journal
's House Race Hotline.