How to Separate Truth From Falsehood in Conflict-Zone Footage
Not sure if that video from a conflict zone is real? There's an app for that.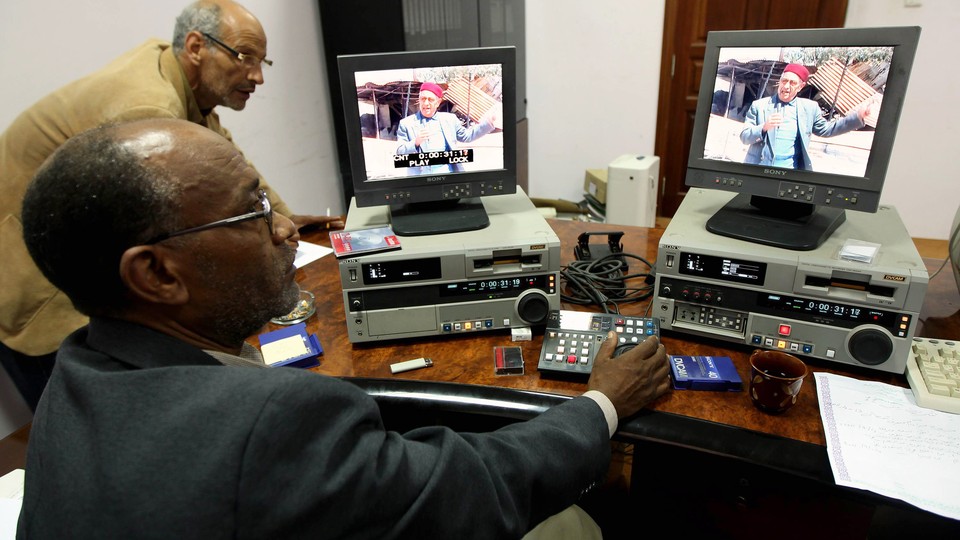 Footage uploaded to YouTube is a boon for human-rights watchers, journalists, and others who need to know what's going on in parts of the world they can't access. Videos of massive protests, natural disasters, or brutal killings have brought citizen journalism into the mainstream, making grainy cell-phone videos an essential way to convey the truth on the ground to those abroad. But recording and sharing these videos is just as easy as faking them.
A new website run by Amnesty International is designed to help online users distinguish between real video and misleading footage. The site, called the Citizen Evidence Lab, shows users how to verify the authenticity of an online video with a step-by-step walkthrough. The interactive tutorial prompts users to extract metadata from the video and compare parts of its content to existing footage on the Internet.
Take this example from the site. The Washington Post linked to a YouTube video in August 2013 that shows an armored police van fall off a Cairo bridge, apparently pushed by Egyptian protesters. Christoph Koettl, Amnesty International's emergency response manager, took a closer look at the incident. He conducted a detailed search and found a second video of the same incident, filmed from a higher vantage point, revealing that the police vehicle that tumbled from the bridge first collided with another vehicle — nobody pushed it. By comparing landmarks visible in the video with satellite imagery from Google Maps and photos from the incident, Koettl was able to pinpoint where the van fell from the bridge, confirming that the footages was indeed taken in Cairo. The Post, which posted the original video with the claim that the van had been pushed, later issued a correction with the second video.
But this kind of debunking isn't new. A company called Storyful has been verifying Internet videos since 2010, helping the press sift through the massive amounts of information and media available on the social web. To authenticate videos coming out of Syria, the company relies on experts on the ground and tricks like Koettl's. Storyful then distributes videos it has determined to be genuine to newsrooms around the world.
Earlier this month, a British blogger known online as Brown Moses (real name: Eliot Higgins) announced he will be launching a site called Bellingcat. Higgins became known in 2012 for his independent work verifying and collating hundreds of YouTube videos a day coming out of the the civil war in Syria. He has become an oft-cited source for Western journalists covering the conflict.
The work that Citizen Evidence Lab users, Storyful, and Higgins do — separating truth from falsehood in user-generated video — will become more important as video takes on a larger role in conflicts. As in Iraq, for example, where ISIS relies on images and videos disseminated on social media for propaganda and scare tactics, journalists and activists will always need tools with which they can understand and contextualize user-generated media.