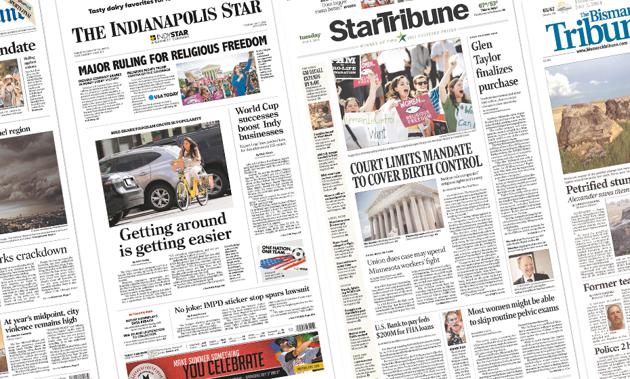 How local newspapers handle major national stories can tell a lot about the area they represent. That was especially true in the aftermath of Monday's Supreme Court ruling to limit the Affordable Care Act's contraception mandate.
Front pages from across the country either proclaimed "A Major Victory for Religious Rights" or "Court Limits Birth Control Rule." The subtleties in the headlines speak to the political leanings across the country and how different people interpret the Court's decision.
See the differences between 12 front pages from across the United States:
Wall Street Journal vs. New York Times
The more conservative Journal writes "Grants," while the left-leaning Times says, "Limits."
Indiana's Journal & Courier vs. San Francisco Chronicle
Displayed prominently in an Indiana newspaper, while nearly ignored in the San Francisco paper.
Chicago Tribune vs. The Bismarck Tribune
The Chicago paper focused on contraception, while the North Dakota paper focused on "religious rights."
Indianapolis Star vs. Minneapolis Star-Tribune
Again, "religious freedom" versus "birth control."
The Des Moines Register vs. The Anniston Star
Some newspapers make a point to focus on local issues. The lead headline in The Des Moines Register is about the upcoming Iowa Caucuses, while the Alabama paper focuses on Southern Baptists.