How Car Ownership Helps the Working Poor Get Ahead
Access to public transit helps, but it's not enough to connect some workers with economic opportunity.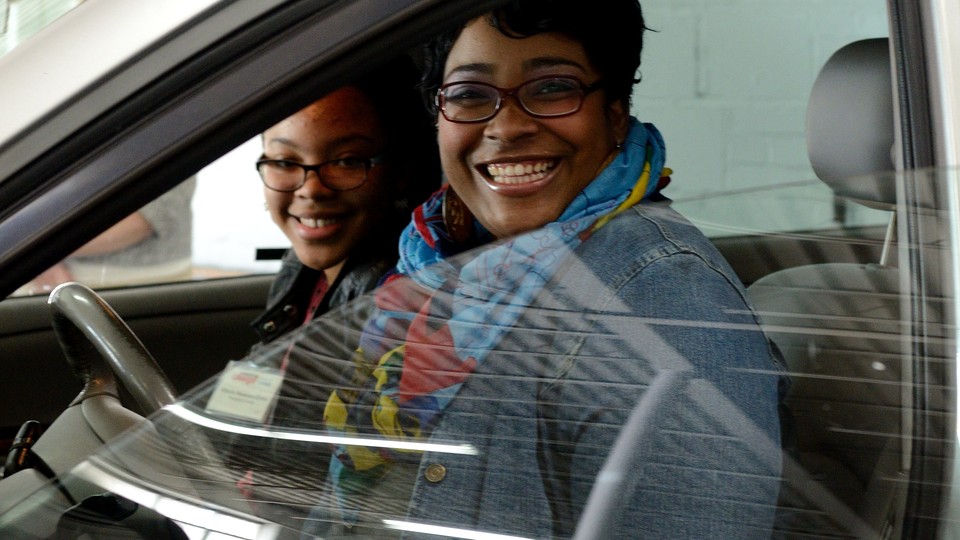 Buses stop right outside LaToyia Newman-Gross's apartment in suburban Columbia, Md. That doesn't mean it's easy to get around by public transit. "They run every hour," says Newman-Gross, 32. If you miss a bus, you're stuck. Waiting out in the sun or snow with her four children beside her usually isn't a great option.
Americans are driving shorter distances, buying fewer cars, and are less likely to apply for a driver's license than just a few years ago. This might be due to the recession—owning a car is expensive—or it might be due to a cultural shift in favor of urban living.
But almost all households, regardless of socioeconomic status, own at least one vehicle. In 2009, more than three-quarters of workers commuted by driving alone. Recent research suggests that, particularly for single moms like Newman-Gross, owning a car can mean access to better jobs and safer neighborhoods.
"There've been times when I've been standing on the bus stop with my kids, watching other people drive by with their cars, and you just feel less-than, when you can't do something so simple, that most people take for granted," Newman-Gross says.
About 7.5 million households in the 100 largest U.S. metropolitan areas don't have access to a privately owned vehicle, according to a 2011 study from the Brookings Institution. Roughly 60 percent of those households are low income, and about 60 percent are nonwhite. The vast majority have access to public transit.
This March, the Urban Institute released a statistical analysis of federal data that found a link between car ownership and employment. Researchers took a look at federal data collected on two groups of low-income people who received housing vouchers in the 1990s and early 2000s.
"The families who had cars were more likely to get access to high-quality neighborhoods—and they were more likely to get jobs if they didn't have jobs already, and keep jobs if they already had jobs, than those households who did not have cars," says Rolf Pendall, director of the Urban Institute's Metropolitan Housing and Communities Policy Center. Access to public transit was associated with keeping a job but not with getting one.
It's unclear to what extent economic benefits outweigh the costs of car ownership—paying for the car, plus insurance, gas, car repairs, and so on. But in areas with little transit, having a car clearly helps. The suburbs are home to many low- and middle-income jobs that can be hard to reach without a car. Accessing these workplaces is at best time-consuming and at worst impossible for low-income residents of urban neighborhoods.
For single, working moms like Newman-Gross, there's an additional benefit to having a car: managing a family's schedule. "When you're by yourself, you know—your kids have got to pretty much go wherever you go," she says.
Newman-Gross runs a day-care business out of her apartment. She doesn't commute. But she has young children, and that means doctor's appointments, meetings with teachers, and travel to stores where she can get a good deal on food and clothing for a family of five. She used to spend a lot of money on taxis, sometimes as much as $60 to get to one doctor's appointment.
That changed three months ago, when Newman-Gross received a used 2002 Mazda minivan from a Maryland-based nonprofit called Vehicles for Change. The organization, founded by an auto-parts company in 1999, fixes up donated cars and awards them to people living close to the poverty level. Clients pay a fee of about $750 for a car (they often end up paying far more in car insurance).
Most families are referred to Vehicles for Change by state social-service agencies or other nonprofits. Clients come from across Maryland, Virginia, and the District of Columbia, and the vast majority are single mothers. To receive a car, clients must be employed or have a verifiable job offer.
Marty Schwartz, president of Vehicles for Change, says that about three-quarters of clients who acquire a car through the organization get a better job within a year, and see an income boost of about $7,000. Maryland plans to expand transit options, but those projects take time, and the families Vehicles for Change serves need transportation now.
"It just seemed almost too good to be true," Newman-Gross says. She doesn't expect her twelve-year-old Mazda to run perfectly all the time, but she has a six-month warranty and can take the car to Vehicles for Change's garage to get it repaired at a low rate.
Getting a new car may not have immediately altered Newman-Gross's income, but it has made life easier. She's been able to expose her kids to new experiences, like trips to the petting zoo, and travel has become less stressful. "My 1-year-old, she just had surgery, and I was able to take her home in our own car," Newman-Gross says. "As a parent, you just feel better about those kinds of things."