House Republicans Prepare Vote for Next Week on Border Package
McCarthy, Scalise face first big leadership test.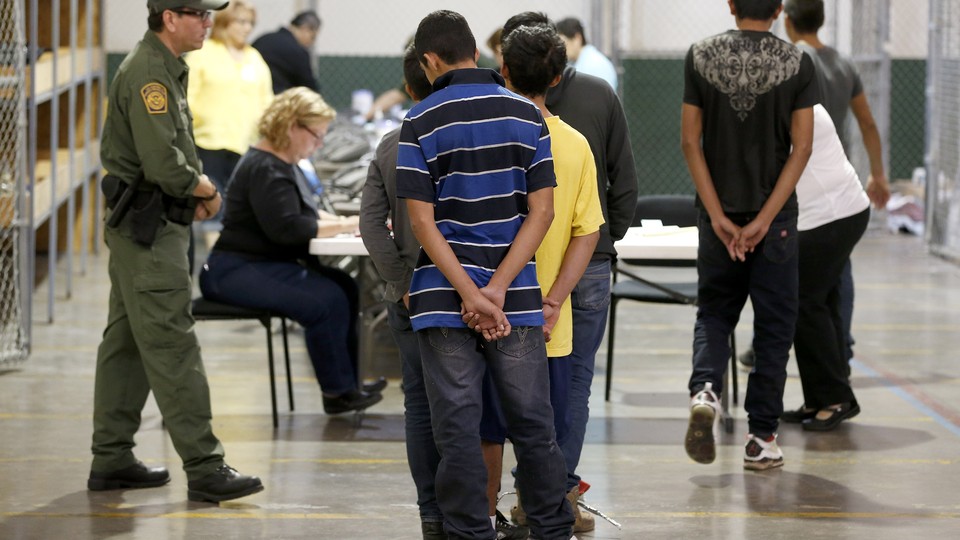 Fearing a potential backlash if the House starts its August recess Thursday without first addressing the border crisis, GOP leaders plan to unveil their own legislation no later than Monday for a vote next week.
A closed-door GOP Conference meeting Friday did not feature precise details about what would be in the bill — or package of bills — to respond to President Obama's call for $3.7 billion to deal with the influx of unaccompanied minors at the U.S.-Mexico border.
"There will be a package given to us this afternoon [Friday] — or no later than Monday," said Dennis Ross, R-Fla., a member of Majority Whip-elect Steve Scalise's new whip team.
While the package has not yet been released, Rep. Kay Granger, R-Texas, said the package's policy side will keep the most important recommendations from a House Republican working group that she led to address the border crisis. This includes deploying the National Guard to the border, adding more immigration judges, changing components of a 2008 anti-trafficking law, helping the countries improve their repatriation efforts, and returning children home on planes.
"'We should not leave for an August break unless we have it done," she told reporters after exiting the private GOP meeting. "So I think we're down to really bare-bones suggestions that can be done — and can be done really quickly."
Both policy and funding will likely be coupled together to create one bill, House Appropriations Committee Chairman Harold Rogers said Friday morning. Originally, he had recommended $1.5 billion, but Granger said that figure may be lower, with some members saying it could be less than $1 billion. This would represent a stark difference from the $2.7 billion laid out by the Senate and the $3.7 billion request from Obama.
As an aside, Ross said the border package will represent a sort of shakedown cruise for Scalise and his team, the first legislation that they will be fully engaged in as "vote-whippers." It also will represent the first real test for Majority Leader-elect Kevin McCarthy.
The likely scaled-down version of the working group's recommendations is a policy Granger said she believes can pass — at least in the House.
"I think we have those votes, I really do," Granger said.
But, according to several members, this first test for McCarthy and Scalise could be a tough one.
During the closed-door conference, a long line of GOP members came up to the microphone to give a wide range of opinions about what the party should do, according to those in the room. Some feared that the party would not do enough, and others were apprehensive that the leaders were preparing to do too much.
"A lot of people are worried, either way," said Rep. Bill Flores, R-Texas.
But Flores said he is among House Republicans who believe they can't simply leave Washington next week to begin a summer recess without doing something. Flores say he is among members hearing from constituents that they want Washington to take action to deal with the crisis. And he said the White House and others would seize on that if they do not, to deflect blame on themselves and score political points.
The House needs to pass something, he said, even if that might require members staying in Washington past their planned Thursday adjournment.
"The president is a master of projecting his failure onto the Congress," Flores said. "I don't know if that would stick, but why put ourselves through that?"
Yet, the Senate and the House's proposals to curb the border crisis might be headed toward a collision course.
First, there's a political divide on whether changes should be made to a 2008 anti-trafficking law. Republicans want Central Americans to be allowed to return home voluntarily, similar to Mexican and Canadian children. Many Democrats and immigration advocates argue this doesn't allow the child's case to be heard adequately or fairly.
"I very firmly believe that it would be a mistake for us to do immigration law in a supplemental bill. We're not supposed to be legislating on an appropriations bill," House Minority Leader Nancy Pelosi said at a Friday press conference. "Are we going to live up to our responsibility for humanitarianism, due process, and the rest? Or are we going to take a cheap shot at kids? We'll see."
Second, House Republicans have a deep distrust for President Obama.
"So we could pass the most perfect law in the world in dealing with this situation," Flores told reporters Friday. "And the president would ignore it, and so that is a frustration."
---
Sarah Mimms contributed. contributed to this article