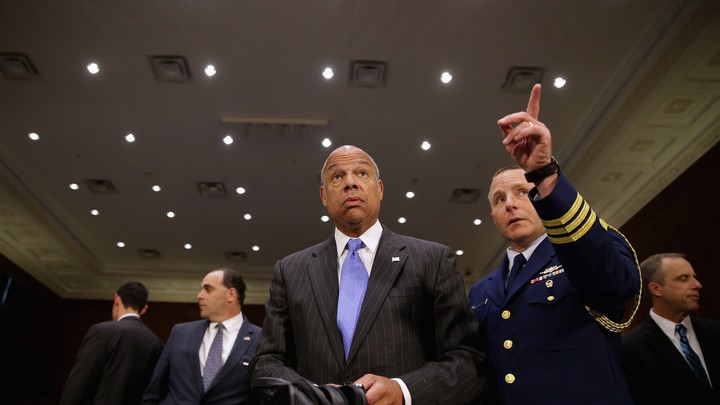 In 2008, both chambers of Congress unanimously approved a law that intentionally slowed down the removal process for unaccompanied child migrants. But it was written with 5,000 children a year in mind. This year, it's possible that 90,000 kids will arrive at the border, and the system is absolutely crushed.
At a Senate hearing today, Homeland Security Secretary Jeh Johnson said that at current funding, Immigration could run out of money to deal with the crisis next month. The Obama administration has asked Congress for nearly $4 billion in additional resources to combat the crisis.
During the hearing, Johnson said that the 2008 law should be amended.
"In terms of changing the law," he said, "we're asking for the ability to treat unaccompanied kids from a Central American country in the same way as from a contiguous country."
Currently, children from noncontiguous countries are treated with extra precaution compared with children from Mexico. With unaccompanied Mexican minors, DHS is not required to hand them over to the Health and Human Services Department within 72 hours. Instead, after an interview, border control agents can make determinations on the spot if a child flags concerns for fear of persecution or fear of return. If no concerns are raised, they can turn the child around right away, rather then have the youngster travel through the long and complicated U.S. immigration system and through HHS facilities and care. Children who go through HHS, could stay in the country for months, or even years, if the backlog is long enough.
"People in Central America need to see illegal migrants coming back," Johnson said. "The children accompanied by their parents, and the unaccompanied adults. We're doing it, and lessening the time it takes to happen. So, we're asking for additional resources to turn those people around quicker."
But, at the same time, changing the law means going back to a system that Congress felt compelled enough to change. One of the drafters of the law said the provision was included because there was a feeling that these children were being dealt with in too summary a fashion. According to the United Nations, more than half of these children flag international-protection concerns. Changing the law won't change their risk of return.
We want to hear what you think about this article. Submit a letter to the editor or write to letters@theatlantic.com.
Brian Resnick
is a former staff correspondent at
National Journal
and a former producer of
The Atlantic
's National channel.