Hobby Lobby Is Already Creating New Religious Demands on Obama
Faith leaders friendly to the administration are asking for an exemption from a forthcoming gay-rights order.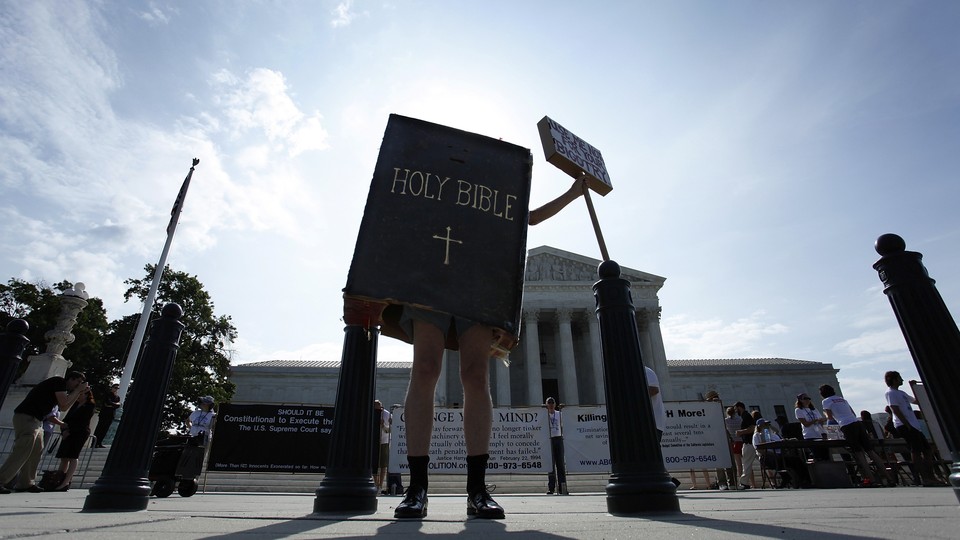 This week, in the Hobby Lobby case, the Supreme Court ruled that a religious employer could not be required to provide employees with certain types of contraception. That decision is beginning to reverberate: A group of faith leaders is urging the Obama administration to include a religious exemption in a forthcoming LGBT anti-discrimination action.
Their call, in a letter sent to the White House Tuesday, attempts to capitalize on the Supreme Court case by arguing that it shows the administration must show more deference to the prerogatives of religion.
"We are asking that an extension of protection for one group not come at the expense of faith communities whose religious identity and beliefs motivate them to serve those in need," the letter states.
The Hobby Lobby decision has been welcomed by religious-right groups who accuse Obama of waging a war on religion. But Tuesday's letter is different: It comes from a group of faith leaders who are generally friendly to the administration, many of whom have closely advised the White House on issues like immigration reform. The letter was organized by Michael Wear, who worked in the Obama White House and directed faith outreach for the president's 2012 campaign. Signers include two members of Catholics for Obama and three former members of the President's Advisory Council on Faith-Based and Neighborhood Partnerships.
"This is not an antagonistic letter by any means," Wear told me. But in the wake of Hobby Lobby, he said, "the administration does have a decision to make whether they want to recalibrate their approach to some of these issues."
Last week, the administration announced it would issue an executive order banning federal contractors from discriminating on the basis of sexual orientation or gender identity, a reform long sought by gay-rights groups. Such an order would essentially impose on contractors the provisions of the proposed Employment Non-Discrimination Act, which passed the Senate but hasn't been taken up by the House.
But the text of the order has not yet been released, so it is not known whether it will include a religious exemption. (A White House spokesman declined to discuss the order.) ENDA, the proposed federal legislation, does include such an exemption: It specifically does not apply to a broad array of faith-based organizations, from churches to religious-service groups to religious newspapers, meaning those groups could still decline to hire gay or transgender people if they believe it conflicts with their faith. The exemption was included despite fears from some LGBT activists that it could constitute a license to discriminate.
Balancing religious freedom with other concerns, be they gay rights or health-care mandates, is difficult, said Stephen Schneck, director of the Institute for Policy Research and Catholic Studies at Catholic University and a signatory to the letter. The faith community simply wants to make sure its side is heard and respected as the administration tries to thread this delicate needle.
"It would be nice if we had just a little bit more leverage," said Schneck, a onetime cochair of Catholics for Obama. "I am a very strong supporter of LGBT rights, and I am really excited about the prospect of extending provisions against discrimination in federal contracts. But I am also aware that this is an issue that provokes real differences among some of the most important religious organization on the front lines of providing care for the poorest and most vulnerable." Those groups, he said, need to be allowed to work with the government while following the dictates of their faith.
To these religious leaders, Hobby Lobby ought to prompt the White House to reexamine the way it weights religious rights against other priorities. Liberals opposed to the decision, on the other hand, argue it creates a slippery slope to more and more carve-outs from important legislation for claims based on faith. This executive order could be the next battleground for those competing points of view.