Here Are Some Possible Solutions to America's Border Crisis
Major immigration reform is dead, but ideas are cropping up to deal with the thousands of children who have arrived unaccompanied at the border.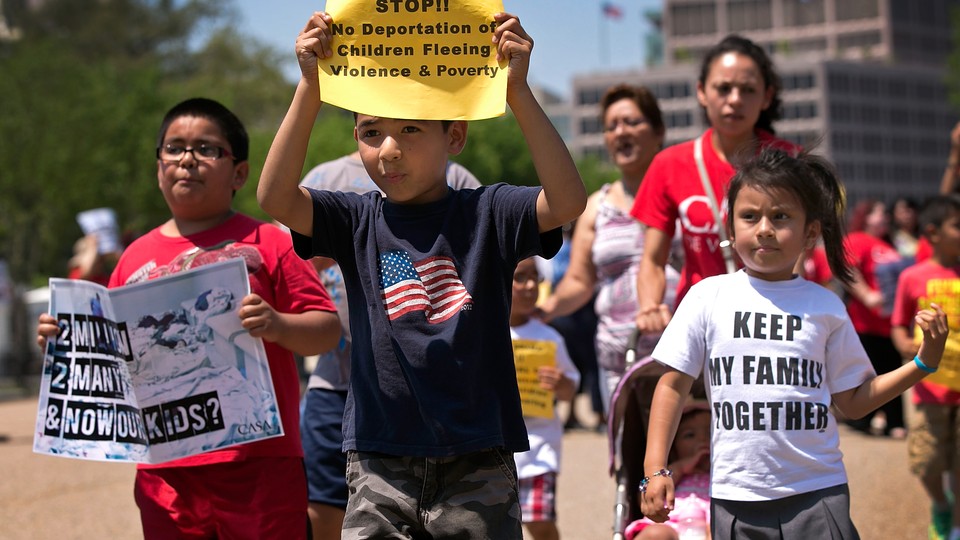 Thousands of children have flocked to America's southern border, drawing cries of crisis from lawmakers and border-state officials even as the Republican-run House insists that immigration legislation will not move through Congress this election year.
Homeland Security Secretary Jeh Johnson said the department is taking "special considerations" when it comes to the record numbers of unaccompanied minors, placed by their parents in smugglers' hands to flee the violence terrorizing Central America's Northern Triangle. Though Johnson stopped short of saying whether the majority of these kids will be deported, White House press secretary Josh Earnest said Monday that most unaccompanied minors will not qualify for humanitarian relief and will likely be sent back to their home country.
While both the Right and the Left agree that an overhaul to the immigration system is needed, House Speaker John Boehner said distrust of the president makes it impossible to move forward on legislation this session.
That hasn't stopped members of Congress, and others, from floating proposals. Here are a few of the ideas raised in recent weeks to grapple with what's now being called a humanitarian crisis.
CUTTING OFF AID. A bill introduced last week by Rep. Randy Weber, R-Texas, would suspend foreign aid to El Salvador, Guatemala, Honduras, and Mexico until those countries have taken action deemed sufficient to mitigate the number of children illegally entering the United States. It's an effort to "hold our southern neighbors accountable," the lawmaker said in a statement. In a similar vein, Rep. Ted Yoho, R-Fla., introduced legislation Thursday to halt nonsecurity assistance to Mexico until the border is secure.
ENHANCING BORDER SECURITY. Legislation offered by Rep. Trent Franks, R-Ariz., would add 6,000 full-time border-patrol agents by October 2017, complete the 700-mile southwest border fence by Dec. 31, 2015, and increase the number of U.S. Customs and Border Protection officers.
DEPLOYING THE NATIONAL GUARD. Another proposal is based on bolstering border security by deploying the National Guard. About 110 National Guard members currently serve on the southwest border, according to Capt. John Fesler, a National Guard spokesman, and a new bill could increase that number dramatically.
Introduced by Rep. David Schweikert, R-Ariz., on June 17, the Southwest Border Protection Act of 2014 would allow National Guard members to be deployed to a given state's U.S.-Mexico border upon the governor's request and Defense Secretary Chuck Hagel's approval. The bill's intent is to fill security gaps that occur when border-patrol agents are pulled from the border to process unaccompanied minors attempting to enter the U.S. illegally, Schweikert said in an emailed statement.
MASS DEPORTATION. Outside Congress, conservative radio talk-show host Laura Ingraham advocates deportation of entire families by the thousands. She raised this idea on conservative commentator Bill O'Reilly's show, but he called it a "draconian idea" that would destroy the Republican Party, ensuring a win for Democrats in 2016.
EXECUTIVE ACTION. Since Congress isn't going to pass legislation this election year, President Obama announced June 30 that he would go at reform solo through administrative action. He directed DHS and Attorney General Eric Holder to move available resources from the interior to the border to ramp up security measures and to identify additional actions the president can legally take on his own. Their report is due by the end of the summer.