Americans Are No Longer Optimists
A survey reveals deep uncertainty the country's future—but also growing consensus on issues like same-sex marriage and marijuana.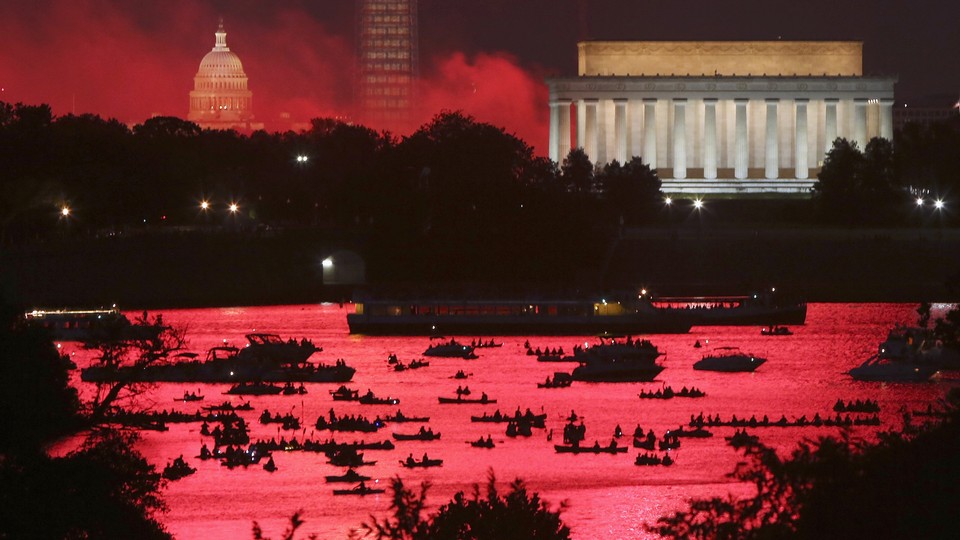 Historically, Americans have been optimistic about the future and confident about our leadership in the world, while at the same time being deeply divided on so-called social issues like same-sex marriage and marijuana use. That trend appears to be reversing, giving way to what might be called an age of impossibility, where Americans are deeply uncertain about our country's future, according to a special survey commissioned for The Atlantic and the Aspen Institute for the tenth Aspen Ideas Festival. The survey, an online poll of more than 2,000 Americans, was conducted by Penn Schoen Berland, working with Burson-Marsteller, from May 28 to 31, 2014.
The poll is a jarring wake-up call to anyone who still believes America is a country of optimists. Nearly two-thirds of Americans—65 percent—question whether America will be on the right track in 10 years. They are also split on whether the country will be a "land of opportunity" (33 percent say yes, 42 percent say no, and 24 percent say they don't know). In their view, the American Dream itself seems to be fading. Seven in 10 Americans have real doubts about whether working hard and playing by the rules will bring success in the future. They are also concerned about their children's futures. Despite falling unemployment in many states, 64 percent of parents believe it will be difficult for their children to find good jobs in 10 years.
Notably, two groups that are less likely to subscribe to this gloomy forecast are African Americans and Hispanics; they tend to believe America is on the right track and will remain a land of opportunity. Women, however, tend to be more pessimistic than men. They are less likely to believe they will be better off financially or heading towards a secure retirement in 10 years. They are also less likely to believe their children will be better off in 10 years or that they'll be able to afford their children's college education.
Their concerns reflect a broader trend. While 56 percent of parents believe college will be increasingly important in the coming years, less than one third—29 percent—believe they will be able to afford to pay for their children to go. The prognosis is equally dire for secondary education. Not only do most Americans doubt whether our students will improve in science and math over the coming years—widely seen as key elements of national progress—but they also seem to be giving up on the idea of public education itself. Somewhat amazingly for a country that has long built its national identity on universal public education, fully one third of Americans say private not public education will be the best option for their children in 10 years.
To borrow an old line about politics, pessimism does not stop at the water's edge. While America was once considered the indispensable nation, only three in 10 Americans now believe our global standing will be rising in 10 years; 43 percent think it will be declining. There is, however, general agreement about China's rise to global preeminence. In fact, when asked to name a country that will be a superpower in 10 years, Americans were more likely to name China than the United States. Americans also foresee a less peaceful world. By 2024, 19 percent of Americans foresee armed conflict with China, 31 percent foresee it with Russia, and nearly half—45 percent—of all Americans foresee armed conflict with Iran.
Americans' pessimism and uncertainty also extends to our ability to govern ourselves. Two-thirds of Americans doubt we will be more unified in the coming years. And while Americans are split on whether government as a whole will be any more effective in the future than it is today, there is more agreement that Congress itself will be less effective. Fifty-four percent of Americans also believe government will grow bigger in 10 years, with 38 percent of Americans believing America will have government-run health care. Just 18 percent of Americans believe Obamacare will exist with only minor changes in a decade. Two-thirds—67 percent—believe it will either exist with major changes or cease to exist at all. And two-thirds also believe a female president will be elected in the next 10 years.
Despite uncertainty on many fronts, social issues that were once wedge issues are now the foundation of an emerging consensus about the direction our country will take. An overwhelming majority of Americans believes same-sex marriage and marijuana will be legal in most states in 10 years (the survey did not cover whether Americans want them to be legal). Most Americans (54 percent) also believe the effects of climate change—extreme temperatures, severe storms and droughts—will be more obvious. In fact, Americans are more likely to foresee progress on issues related to energy than other issues. Forty-one percent think we will make progress on alternate energy sources and 37 percent on energy independence.
There is also more agreement on the way we will live in the coming decade. More than half of Americans—52 percent—expect to attend religious services more frequently and roughly the same percentage—56 percent—expect Americans to marry less frequently. Sixty-nine percent expect gas prices to rise by more than $2 per gallon in 10 years, and 20 percent expect to own an electric car. There's little expectation that air travel will improve. Nearly half—47 percent—expect longer airline delays. And while printed books have a brighter future than printed magazines and newspapers, movie theater owners have reason to worry: Americans are twice as likely to say they will go to the movies less, not more in 10 years.
One of the few bright spots in the poll is technology. Sixty-three percent of Americans believe technology has made their lives better over the past decade and roughly the same proportion—60 percent—believe it will continue to improve their lives over the next decade. Indeed, the group of Americans most likely to be considered future leaders are not political figures or business leaders, but tech entrepreneurs. Surprisingly, more than half—53 percent—of Americans ages 65 and older see tech entrepreneurs as future leaders of society, compared to one third of Millennials. The poll also foresees an era of ubiquitous computing where technology is all around us—from robots to drones to life-saving medical technologies. At the same time, most people – 56 percent—are troubled by the increasing amount of information they expect companies to collect about them in the coming years.
After reading this poll, it would be easy to be pessimistic about the future. But it's important to remember this is a survey of Americans' views, not an analysis of American society. Had the poll told a story of unbridled optimism, it might have been equally disconcerting, signaling Americans' unrealistic expectations or a bubble about to burst. In fact, at the dawn of the new millennium, before September 11, a decade of war, and the financial crisis, a Pew poll showed an "overwhelming" 81 percent of Americans feeling optimistic about the future. All we can say, then, is that Americans are full of uncertainty and pessimism about the next 10 years. Whether that pessimism is justified will depend on the decisions we make as individuals and as a country.
---
Don Baer, worldwide chair and CEO of Burson-Marsteller, and Mark Penn, executive vice president and chief strategy officer of Microsoft, presented these findings at the Aspen Ideas Festival on July 1, 2014.