Forget LeBron, It's Free Agency Season for Greens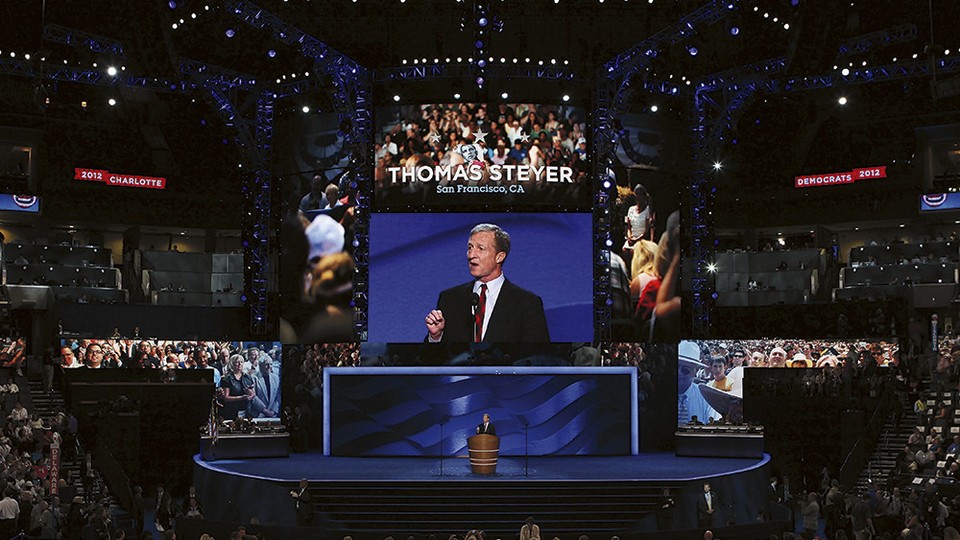 Much of the world may have its eyes on the NBA to see where LeBron James or Carmelo Anthony end up. But there's a different — granted, cheaper and less exciting — free agency shuffle going on among the country's environmental groups.
Green groups are staffing up to boost their influence ahead of the midterm elections, hoping to capitalize on renewed interest in climate change. And the introduction of millions in new money thanks to Tom Steyer's $100 million spending pledge means the stakes are suddenly higher.
It's not unusual to see a lot of hiring and movement before an election, since the two-year cycle requires new investments and efforts. But this isn't a typical cycle for environmentalists: Steyer's cash has made climate a wedge issue in tight races, and groups across the spectrum have said they'll up their spending.
And protecting President Obama's Climate Action Plan — headlined by rules cracking down on carbon emissions from power plants — from congressional attacks has added urgency for greens working to build a pro-climate majority.
Nobody is getting a LeBron-sized $85 million max contract, but signing season is heating up.
The League of Conservation Voters made a splash last week when it hired Daniel J. Weiss, a three-decade climate veteran most recently with the Center for American Progress. As the LCV's new senior vice president of campaigns, Weiss will oversee the group's efforts to spend more than the $14 million it poured out in the 2012 cycle.
It's likely that won't be the only big-name hire to come in the next few months. The Natural Resources Defense Council Action Fund is in the process of hiring a director of strategic partnerships, with the responsibility of raising $5 million for the group's PAC as part of a partnership with LCV. The group will also retain outside consultants for its races.
A spokesman said that Steyer's NextGen Action — already flush with an experienced roster — will be doing additional hiring at its national office and in individual states where the group is active. And LCV spokesman Jeff Gohringer said the group was "continuing to grow for the long term," but would continue with a traditionally smaller staff that would remain after the elections.
Environmental Defense Fund Action Fund, however, said it will remain a "small shop" throughout the midterms.
The spree is unlikely to stop; greens are spending heavily to boost pro-climate Senate candidates in Iowa, Colorado, New Hampshire, and elsewhere, not to mention a myriad of House and gubernatorial races. More money is being spent earlier in those races, requiring more federal- and state-level staff.
Already this spring has seen some shuffling of staff. CAP brought on Greg Dotson, a former aide to Rep. Henry Waxman, the top Democrat on the Energy and Commerce Committee. Steyer's NextGen Climate America Inc hired the NRDC's Dan Lashof as its chief operating officer. There have been changes — not related to the midterms — at the top in groups like Greenpeace and the BlueGreen Alliance, and NRDC President Frances Beinecke will retire at the end of the year, causing more roster-shifting.
With Waxman and other energy veterans leaving Congress — fellow Energy and Commerce member and former chairman John Dingell is stepping down — there is the chance for plenty of staffers to head to environmental groups.
LCV's spending plans for 2014 demonstrate the premium that green groups are willing to pay to influence the midterm elections. In 2012, with the nation's highest office at stake, the group spent $14 million. This cycle, the group says it will spend even more, with the hope that the upward trajectory continues.
But the first test comes in November, when they'll see if all that money — and the team — is worthy of raising a championship banner.