End of Life Care Advocate Never Talked With Her Own Dad About His Wishes
Unlike many of the other health disparities that impact the African-American community, this is one over which we have some control.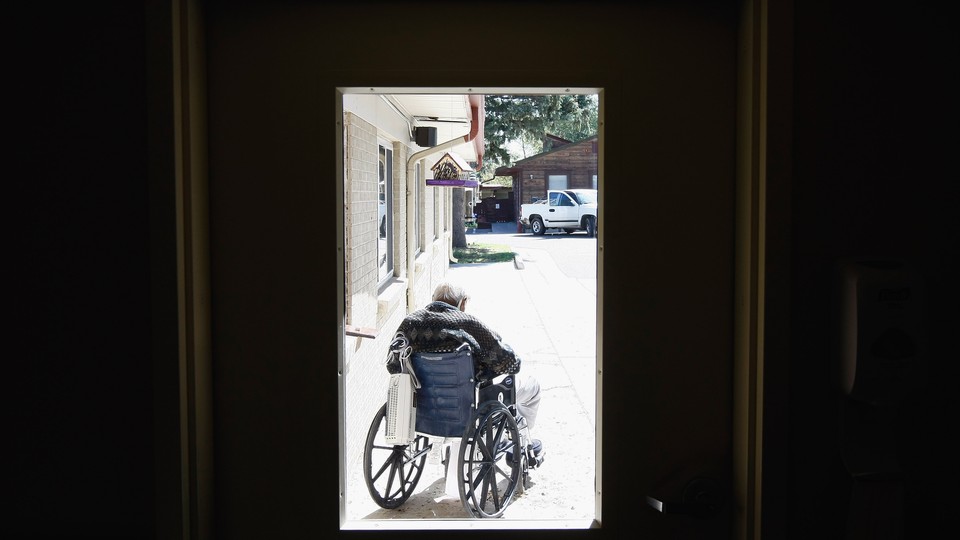 Brandi Alexander is the regional campaign and outreach manager for Compassion & Choices, the nation's leading, non-profit end-of-life choice advocacy organization. (Courtesy photo)
The day my father died from prostate cancer -- Jan 11, 2011 -- is the day I decided that no family should ever experience the same pain. That day everything changed for me. I had worked for seven years at an organization whose sole focus is end-of-life care, yet I had not had even one conversation with my father about his end-of-life wishes. It was truly a wake-up call, an eye-opening experience I hope I never have to repeat.
Imagine sitting in a hospital room with your unresponsive father, your five siblings on one side of the bed, and his new wife and her five children on the other side. It was like a stare-down session before a big competitive match. People on both sides thought they were best equipped to speak on my father's behalf. The sad reality is that none of us -- not one of the 11 people in that room -- had a clue about what he wanted. He had no advance directive, had never had a serious conversation about his end-of-life wishes, not even with me: an end-of-life care advocate.
Since that fateful day three-and-a-half years ago, I have learned that horrible situations at the end of life are far too common in this country, especially among people of color, and the African-American community in particular. In fact, according to the 2002 Institute of Medicine Report, "Unequal Treatment: Confronting Racial and Ethnic Disparities in Health Care," African Americans are "dying from treatable and preventable illnesses with more frequency than other ethnic groups. The research indicates that racial and ethnic minorities are less likely to receive even routine medical procedures and experience a lower quality of health services," even when insured. Experts also say this disparity means patients are more likely to distrust terminal and otherwise grim diagnoses, endure unwanted medical treatments, and experience unnecessary pain and family strife.
Unlike many of the other disparities that impact the African-American community, this is one we have more control over. It starts with having a conversation. Only 50 percent of African Americans have talked with family members about their wishes for end-of-life care, and 20 percent have not talked to anyone about this inevitable issue, according to research conducted in 2003 by the Duke Divinity School and the National Hospice and Palliative Care Organization (NHPCO).
African Americans and other minorities underuse palliative and hospice care even when they have access to it. African Americans, for example, make up about 13 percent of the population and represent only eight percent of patients who participate in hospice care. At the same time, white Americans make up about 78 percent of the total population and 83 percent of hospice care patients, according to NHPCO.
Education about available resources is a must. Far too often, people associate hospice with "giving up" and "the place one goes to die." That is just not the case; hospice actually fosters good end-of-life care, and the earlier the patient accesses these services, the better off he or she is. For example, patients with non-small-cell lung cancer who received palliative care lived nearly three months longer on average than those who did not receive palliative care, according to a 2010 study published in The New England Journal of Medicine. Palliative and hospice care are one of the best ways to ensure a good death, whatever that may mean to each individual.
People of color have a long history of poor access to healthcare and lower quality healthcare in this country. Therefore, it's not surprising that studies published in the Journal of Clinical Ethics in 1993, the Journal of American Geriatric Society in 1999, Journal of Transcultural Nursing in 2000 and Journal of Health & Aging in 2000 all concluded that more African-American patients and physicians favor aggressive life-prolonging treatment in the face of terminal illness than their white peers.
The medical community could increase the receptiveness of people of color to engaging in end-of-life discussions just by changing the nature of the conversation. Inquiring about all of the treatment options patients want -- whether they are life-sustaining or not -- is a good way to start the conversation. That would engender greater levels of trust in healthcare providers than a conversation framed around when and how to discontinue care or turn off life-sustaining equipment.
African Americans' end-of-life choices are also influenced by shared cultural beliefs in the role of family and others in decision-making, and the importance of spirituality. As the New Living Translation of the Bible (Proverbs 27:12) says, "A prudent person foresees danger and takes precautions. The simpleton goes blindly on and suffers the consequences."
Being prepared is not disrespectful to one's religious faith and personal beliefs. It does not affect the ability to be cured or to be blessed with a miracle, if that's what one believes. For example, Rev. Madison Shockley, an African-American United Church of Christ pastor and vocal supporter of Compassion & Choices, recently discussed losing his father in a blog post: "The moment of death is a sacred moment, and it's often painful emotionally, physically and spiritually. But when it can be right, it's a real blessing to everyone. A person can be faithful and also welcome death."
These are complex issues, ones with which Americans do not wrestle alone. On Sunday, one of the world's preeminent religious leaders, the retired Archbishop Desmond Tutu, reversed his public position on end-of-life care and decision-making. In one of Britain's largest newspapers, The [London] Observer, he announced his support for a British bill modeled after Oregon's Death With Dignity Act. It would allow terminally ill, mentally competent adults with a prognosis of less than six months to live to request a doctor's prescription that they could self-administer to end their dying process if their suffering becomes unbearable. Tutu described himself as an advocate of dignity for the living and the dying.
At the end of life, African Americans are no different than anyone else in this country. We die too. We also want autonomy, choice and peaceful life endings. We must step up as a community and start thinking and talking about end-of-life decisions, because without it we suffer.
Death is inevitable, so whether you want every treatment option available or none at all, it's imperative to make sure it is clear to those who matter and to pick a healthcare proxy that you know will ensure that your end-of-life wishes are honored. Anyone can start this process by calling Compassion & Choices' toll-free end-of-life consultation service, 800.247.7421, and visiting our website, www.CompassionAndChoices.org, where one can access state-specific advance directives and the Good-to-Go Tool Kit, all free of charge.
The most loving thing you can do is to make your wishes known to your loved ones, officially in writing as well as through candid discussions. Unfortunately, because our family failed to take these steps, we watched my father die a horrible and painful death.
If I had the foresight to discuss my father's choices with him, we could have spent his last days honoring his life instead of fighting over his death.
Brandi Alexander is the regional campaign & outreach manager for Compassion & Choices, the nation's leading, non-profit end-of-life choice advocacy organization.
HAVE AN OPINION ON POLICY AND CHANGING DEMOGRAPHICS? The Next America welcomes op-ed pieces that explore the political, economic, and social impacts of the profound racial and cultural changes facing our nation, particularly relevant to education, economy, the workforce and health. Interested in submitting a piece? Email Janell Ross at jross@nationaljournal.com with a brief pitch. Please follow us onTwitter andFacebook.