Ellison: NSA's Targeting of Muslim-Americans Is 'Wrong'
The first Muslim-American elected to Congress says he's requesting more information on why five men were "targeted because of their faith."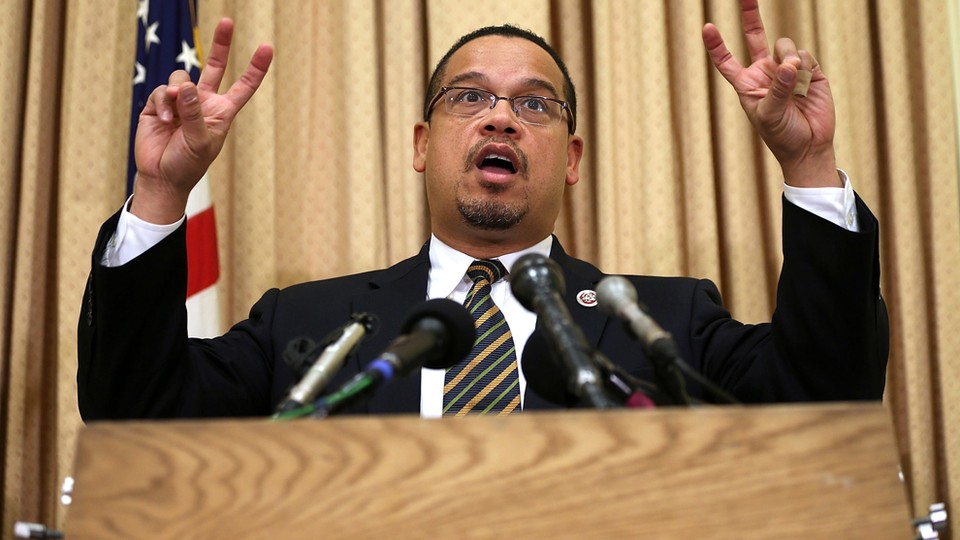 Rep. Keith Ellison, the first Muslim-American member of Congress, responded to a new report Wednesday that the federal government spied on five American citizens who are Muslim and have apparently committed no acts of wrongdoing, calling such actions "troubling" and "wrong."
"Suspicious behavior indicating criminal behavior should be the basis for attracting law enforcement surveillance — not a person's religion. Profiling based on religion breeds distrust and resentment in communities that are potential partners in the fight against crime," the Minnesota Democrat said in a statement.
Ellison also responded to an ethnic slur that security officials used as a placeholder for a potential Muslim target, which was included in The Intercept's report: "Mohammed Raghead." Ellison called the "use of hateful anti-Muslim training materials" evidence of religious profiling by the U.S. government and warned of severe consequences. "Undue surveillance has a chilling effect in all communities. It tells young boys and girls who want to serve their country in the military or in elected office to stay out of the public space. This is wrong. We cannot allow fear and hatred to drown the inclusive promise of our nation," he wrote.
In response, Ellison said he would request a "full explanation" as to why the five Americans were targeted. It wasn't immediately clear who Ellison would appeal to for further information, but a letter is expected to be drafted in the next few days.
The National Security Agency and the FBI targeted email accounts belonging to the five American citizens between 2002 and 2008. The targeted Americans are Faisal Gill, a Republican operative who worked at the Homeland Security Department under President George W. Bush; Asim Ghafoor, an attorney who has worked on terrorism cases; Hooshang Amirahmadi, an Iranian-American professor; Agha Saeed, a former professor; and Nihad Awad, the executive director of the Council on American-Islamic Relations. All five men have denied any ties to terrorist organizations, have clean records (as far as is publicly known), and have not advocated for "violent jihad," according to the original Intercept report.
Aside from Ellison's statement, response to the report on Capitol Hill has been almost nonexistent. Even members who are typically highly critical of the NSA's activities have not yet issued statements on the report, which confirms that the agency spied on American citizens with no apparent ties to terrorism.