Did Edwin Edwards Learn Anything in Jail?
After serving time for corruption, the 86-year-old former Louisiana governor is running for Congress. But his political style hasn't changed a bit.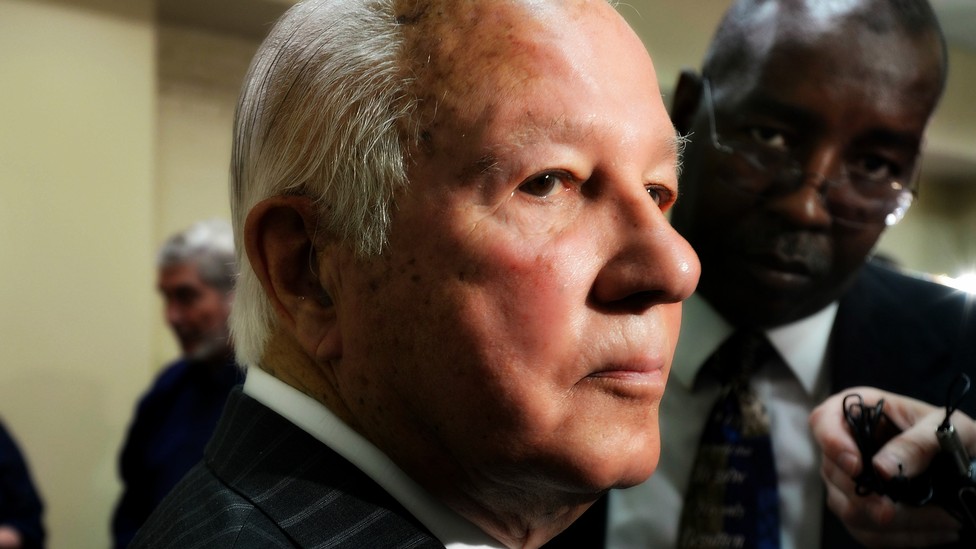 Thirteen green-and-yellow Harley-Davidsons and a single black Cadillac Escalade roared down the old Airline Highway between New Orleans and Baton Rouge, passing the ruins of an abandoned sugar factory and the plumes of still-operating oil refineries. The bikers—scruffy middle-aged guys representing the Shriners Masonic charity organization—paid traffic rules no mind; they took up both lanes, weaved in and out of each other's paths, and ushered the Escalade through red lights at 60 mph, sirens blaring.
Whenever the motorcade blew through a light, an elderly man in the Escalade's front passenger seat—dressed in a blue-and-white-striped Ralph Lauren button-down and gray slacks—would bend down, hiding beneath his window like a boy playing peek-a-boo. He was 86-year-old Edwin Washington Edwards: ex-governor of Louisiana, former Federal Bureau of Prisons inmate No. 03128-095, father of a 10-month-old son, and recently announced candidate for U.S. Congress.
"Look at the governor!" exclaimed Darren Labat, Edwards's neighbor and driver.
"You don't want anyone to see you?" teased Edwards's wife, Trina, 51 years his junior, from the back seat. "You scaaaaaared?"
"When I was governor, I wouldn't let them do that," Edwards said with a shake of his head. "I had a police escort, but I wouldn't let them block traffic."
Edwards was on his way to the St. Charles Parish Crawfish Cook-Off Festival, a benefit for the Shriners where he would serve as a celebrity judge along with heavyweight boxing great Evander Holyfield and New Orleans Saints defensive coordinator Rob Ryan, among others. First, however, the former governor would have to contend with the law. As his motorcade continued south through the town of LaPlace in St. John the Baptist Parish, Labat spotted a white Ford police interceptor whipping around from the northbound lanes. After the motorcade ran some more red lights, the police car maneuvered its way through the motorcycles, and soon it was flanking the Escalade, lights flashing. "Get over!" the deputy inside mouthed.
It turned out that the Shriners had neglected to notify local law enforcement of their procession, and two more squad cars soon arrived on the scene. But the Shriners managed to plead their case. Most of them were deputized by their local sheriff's office, and, after all, they represented a charity. No one would be cited. Edwards bounced up and down in his seat as the conversation between the Shriners and the cops seemed to lapse from official business into small talk. "OK, fella, don't be talking to him. All you gotta be saying is good-bye," he said looking into the rearview mirror.
Just as the motorcade was finally ready to depart, a bald African-American deputy slowly sidled up to the Escalade, approaching from the passenger's side. Edwards rolled down the window.
"Hey, I just wanted to let you know, my man."
"Yes?" Edwards said, a little unsure.
"I sure wish it was you still here. I haven't seen it ran any better since you left."
The former governor smiled. "Well, I appreciate you saying that."
"I'm serious, all right?" the deputy continued. "I haven't seen one better since. I haven't seen one better, baby. I haven't."
Edwards smiled. "I'll tell the sheriff you're a nice fella," he said.
Edwin Edwards is loosely a New Deal Democrat, but he doesn't believe so much in any grand vision of America; he believes in doing favors. His version of politics is much more personal than ideological. Edwards is running for Congress in a district that Mitt Romney won by 34 percentage points—enemy territory for a Democrat—but he believes he can prevail by peeling off Republicans one by one, with a promise that he'll do right by each and every one of them. Sure, Edwards is competing in an era of micro-targeting and ideological purity, when retail political skills are much less central to congressional elections than they once were. But so what, his thinking seems to go. Who can resist the sly smile, the Cajun lilt, and the mischievous wink of the man they call the Silver Fox?
"It's more than a passing of the guard; it's a passing of a way of campaigning," former Louisiana Governor Buddy Roemer told me. "I grew up on a cotton farm, and I remember Earl Long coming by to ask my father for his vote. I think of Edwards that same way—stopping by the farm."
Beginning in 1954, with a bid for City Council in Crowley, Louisiana, Edwards won his first 22 races, and between 1972 and 1996, he served four terms as governor. He was powerful, effective, and pretty much always in some kind of trouble. By his own count, Edwards was the subject of more than two dozen criminal investigations during his career, and in all but one of those instances, he managed to successfully parry the accusations, often going on the counterattack with humor. In the 1970s, he said of allegations that he had gotten unlawful campaign contributions: "It was illegal for them to give, but not for me to receive." On the eve of his 1983 election, he told a young New Orleans Times-Picayune reporter named Dean Baquet: "The only way I could lose the election is if I'm caught in bed with a dead girl or a live boy." In 1991, he pointed out his only similarity with his gubernatorial opponent, former Ku Klux Klansman David Duke: "We are both wizards under the sheets."
Eventually, however, Edwards's charm couldn't save him. In 2000, he was convicted of 17 counts of racketeering, extortion, fraud, and conspiracy in a wide-ranging case involving the granting of state casino licenses. He ended up serving eight and a half years of a 10-year sentence.
Edwards's post-prison life has been anything but sedentary. He married 32-year-old Trina Scott—a blond Republican whom he'd met as a prison pen pal—in a lavish ceremony at the Hotel Monteleone in the French Quarter. Two years later, they had a son together. (Edwards had discovered that he'd had sperm frozen following a vasectomy in the mid-1990s.) He crisscrossed the state promoting his autobiography. He attended scores of dinners and charitable events, unveiling a new crop of zingers. ("I finally found a good use for Republicans," he said repeatedly. "You sleep with them.") And he and Trina starred in a poorly reviewed A&E reality show, The Governor's Wife.
Today, he lives in a ritzy subdivision south of Baton Rouge. The living room of Edwards's McMansion is decorated with four portraits of him, from various points in his political career. Inside his office are photographs of him with Elvis Presley and John F. Kennedy ("I was going to run for vice president with Teddy Kennedy, but then he got into that problem at Chappaquiddick") and matching prints by the artist George Rodrigue of him and his two great Louisiana populist forbears, Huey and Earl Long.
Edwards announced in March that he was running for Congress, and he frequently justifies his candidacy with an honest if not particularly inspiring declaration: "I'm running for Congress 'cause that's what I feel like doing." His platform is pragmatic: He wants to build a high-speed rail line between Baton Rouge and New Orleans, as well as an elevated expressway to relieve congestion on Interstate 10. He wants to dredge the Mississippi properly so that ships can continue to access local factories. He would have voted against Obamacare, but he supports its most popular provisions.
The only Democrat in a race packed with Republicans, Edwards will almost certainly advance to the second round. (Louisiana's "jungle primary" system, which Edwards himself installed as governor in 1975, dictates that all candidates enter an open election in November and, if no one surpasses 50 percent of the vote, the top two compete in a December runoff.) But once he makes it to the second round, he is almost unanimously considered a lock to lose. "He will get crushed … and the only person who really gets anything out of it is Edwards, because he doesn't really want to win, he just wants the attention," longtime Louisiana Democratic political operative Robert Mann wrote me in an email.
Still, Edwards retains a kind of mystique that makes him impossible to ignore. "He's hard to beat, man, I'm telling you," says Roemer, the only person ever to defeat Edwards in an election. (Edwards avenged the loss by defeating Roemer four years later.) "He's not going to be a pushover this time. It would surprise me if he didn't have a battle plan. I haven't seen it yet, and I don't know what it is, but I wouldn't assume just because I was a new face and a Republican in a conservative district that he would be an easy opponent."
After the delay on the highway, Edwards arrived at the crawfish festival to a hero's welcome. One woman asked him to sign a matted copy of an April 2000 Times-Picayune article on his trial. "It's been in a den just waiting for the opportunity," she said. "It hurt when he went down."
As Edwards entered the fenced-off judging area, a tall, well-built man greeted the former governor with a handshake and a warm smile. I followed him back to his table and asked him how he knew Edwards. "We did time together," he said. I wasn't sure if he was joking.
It turned out he was Oliver Thomas, former president of the New Orleans City Council, who, having pleaded guilty to bribery charges, joined Edwards at the Oakdale Federal Correctional Institution in 2009. He and everyone else in prison called Edwards "Guv."
"Poverty in prison is a big issue, and it doesn't get talked about," Thomas told me. "Anytime anyone new came to the prison, Guv always put together a care package—hygiene products. It was, if you need deodorant, soap, shower sandals—here it is. Some guys in prison didn't come in with anything. Guv's humanity was always bigger than his politics." (Edwards: "I wasn't supposed to do that, but I did it. They had nothing.")
"I'll never forget a conversation he had with some muckety-muck white-collar guys," Thomas continued. "They said, 'Guv, you ought to hang with us, not those guys,' and he said, basically, 'Shut up,' but his language was harsher. He would hang out with white, black, Hispanic, some of the Vietnamese gang members from New Orleans .… I wish everyone in politics would go to prison—they'd be much closer to the people, not so removed. What do we know about a lot of politicians who shine their halo? Guv's been there, done that."
After greeting Thomas, Edwards continued to make the rounds. He introduced himself to Holyfield—Edwards had been at the infamous fight where Mike Tyson bit his ear—and got the boxer to crack up. He made small talk with dignitaries from St. Charles Parish. He peeled his crawfish with lithe and dexterous fingers that seemed more befitting of a young surgeon. But he was especially excited about meeting a dyed-in-the-wool Republican, a heavyset blond woman who stopped him as he was walking back to his car. "That lady was down on Democrats," Edwards said as we drove away. "She's a Republican. She hates Democrats. But she's for me."