Disgraced Congressman Randy 'Duke' Cunningham Is a Free Man Again
Federal judge in San Diego lifts all remaining restrictions on the 72-year-old convicted felon.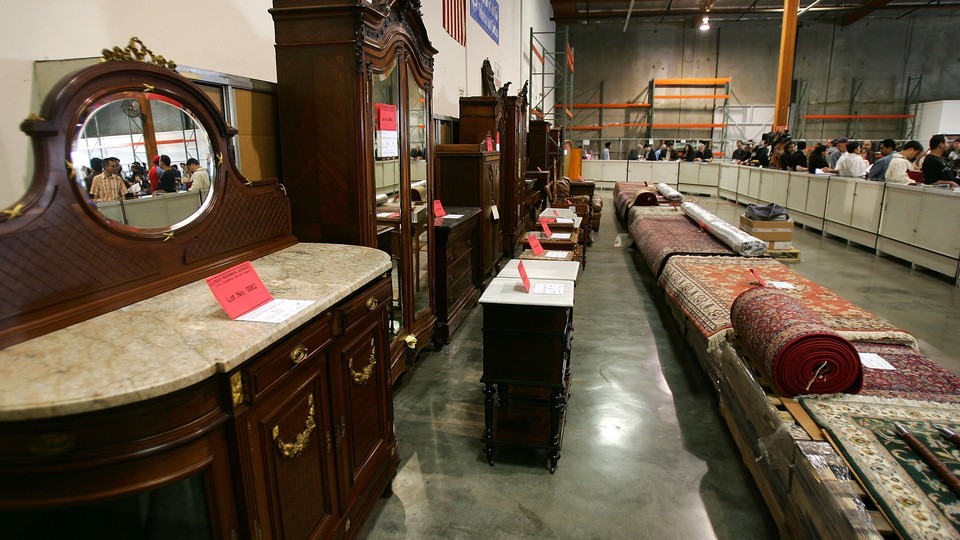 A federal judge says it is time to forgive Randy "Duke" Cunningham, the most corrupt member of Congress ever if measured by the amount of bribes he admitted accepting.
U.S. District Judge Larry Alan Burns, in a ruling issued July 1 in San Diego, has granted Cunningham's request to have his postprison supervision ended early, writing a final legal chapter on the sordid tale of the flamboyant ace fighter pilot who went to Congress as a hero in 1991 and left in 2005 as a disgraced felon.
The California Republican spent more than seven years in prison after pleading guilty in November 2005 to charges of tax evasion and conspiracy to commit bribery, mail fraud, and wire fraud. Cunningham, who was 64 when he was sentenced in March 2006, had used his positions on the House Appropriations and Intelligence committees to steer lucrative contracts to those who would help him finance an extravagant lifestyle featuring 19th-century French antiques, yachts, Persian rugs, hunting trips, a Rolls Royce, and a $2.55 million home in an exclusive community in San Diego County.
It all unraveled in 2005 when The San Diego Union-Tribune wrote about the corruption, triggering a federal probe that found, among many other things, that Cunningham had drawn up a "bribe menu" on congressional notepaper, outlining what bribes he would need to deliver a contract or earmark.
By the end of the year, Cunningham was out of Congress and convicted of accepting at least $2.4 million in bribes. He was sentenced to 100 months in prison, in what was then the longest prison sentence ever given to a member of Congress. (The record was surpassed four years later when Rep. William Jefferson, D-La., was sent away for 13 years.)
Cunningham was released from federal prison in Tucson, Ariz., in February 2013 and then spent nearly four months in a halfway house in New Orleans. Last month, the former House member filed a request to be freed of all remaining restrictions on his freedom.
Burns granted the request last week. "The court believes that the concept of simple forgiveness should be part of the equation here," the judge wrote. "Forgiveness is a moral quality and a social good and is important to a system of restorative justice.... There comes a time to forgive."
He noted that Cunningham had served a long jail sentence and spent time in a halfway house and under house arrest. "Besides these direct consequences that he suffered for his illegal actions, he lost his home, his marriage, and his reputation. At some point, once justice has been served, the system must take care to avoid erecting roadblocks that might prevent an offender from reintegrating into society and becoming a productive and useful citizen again."
Burns did not minimize the severity of Cunningham's crimes. "There is no question that Mr. Cunningham's offenses were aggravated, involving serial corrupt acts and deception," he wrote, adding pointedly, "And the deception didn't end with the sentencing. Mr. Cunningham subsequently attempted to obstruct justice by submitting a false affidavit" in the trial of one of the contractors who had bribed him repeatedly. In the affidavit, Cunningham claimed there had been no bribes. Judge Burns said he "gave short shrift" to the affidavit, but he said Cunningham had "perpetuated his dishonest behavior by submitting it."
Cunningham's request, filed on June 14 in U.S. District Court in the Southern District of California, provides the first real look at the life the former lawmaker has lived since his release from prison. The documents include a personal appeal from Cunningham as well as letters of recommendation from prison guards, a minister, a retired general, and neighbors. It even includes a picture of a beaming Cunningham holding two remarkably cute puppies.
The life he portrays is comfortable but far from his high-flying lifestyle as a member of Congress and a favorite on the Republican speaking circuit when he accepted gifts of tickets to concerts and sporting events from contractors and attended parties where prostitutes were present. After living in a halfway house and then in his brother's house in Little Rock, Ark., he said he has purchased a "modest" house in Hot Springs Village. A gated community in the foothills of the Ouachita Mountains, Hot Springs Village takes up 26,000 acres and boasts of a "fun-filled recreational lifestyle" with nine golf courses, 11 lakes, 24 miles of nature trails, 16 tennis courts, three swimming pools, and a five-star fitness center.
The San Diego Union-Tribune reported that Cunningham paid $265,000 in August last year for the three-bedroom, three-bath, 2,600-square-foot home.
In an interview with the paper, Cunningham, now 72, said the scandal cost him his family. His second wife divorced him after his guilty plea. "I would tell my constituents and my friends that I'm sorry for the actions I took," he told the paper. "There is not a day goes by that I don't ask myself, how the hell did I do what I did? You get caught up in something. I let it happen, and it was wrong."
Cunningham has been fighting prostate cancer for some time and described himself in the court filings as "80 percent military combat disabled." And he notes he continues to pay the court-ordered restitution and fines that were part of his sentence. He was required to pay $1.8 million for back taxes and $1.85 million in restitution for bribes as well as to surrender the proceeds from the sale of his house. In the filing, he said he pays the IRS $23,000 a year while another $3,000 a month is taken from his various government pensions.
In the filing, Cunningham said he is working with a local volunteer fire department and attending Bible school. He told the judge that there are "few days where I do not reflect on my actions that brought so much hurt to so many people that had placed their trust in me." He added, "God forgave David, and I know he has forgiven me.... The rest of my life will be dedicated to helping others." He concluded his letter to the judge, writing, "I pray that my December of live [sic] will allow me to be free to reach out and help others without restriction. I am limited by disabilities but do all that I can. I have lived the past ten years as the man I thought I was, but went astray."