Deval Patrick Hits the 2014 Campaign Trail
As his party searches for campaign surrogates, the Massachusetts governor says he wants to stump for Democratic candidates around the country this year.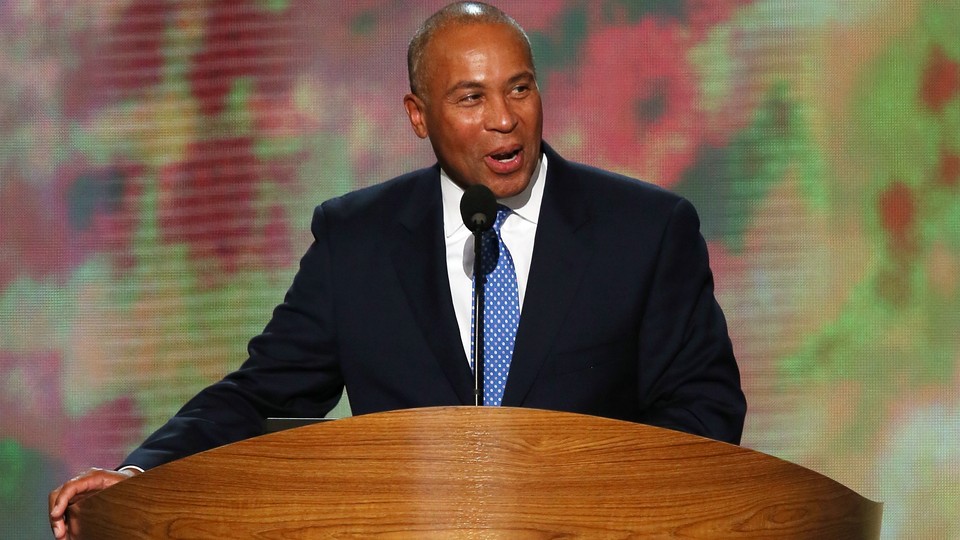 PORTLAND, Maine — Massachusetts Gov. Deval Patrick traveled a couple of hours north Monday to headline a private fundraiser and public campaign rally for Democratic Rep. Michael Michaud in Maine, where he is challenging the governor, Republican Paul LePage. But at a press conference with the candidate, Patrick made it clear he wants to help Democrats both near and far win their elections in 2014.
"I'm going to do as much as I can, consistent with my day job. I'm governing right up until the last day in January," Patrick said, adding: "As and when I can, and where candidates feel I can be helpful, I'm going to show up and campaign with them."
The Democratic, retiring two-term governor rarely travels out of state to campaign and has repeatedly denied speculation that he's considering a presidential run in 2016, although Patrick continues to raise money for his political action committee and did stoke interest when he agreed to headline a county Democratic dinner in New Hampshire in September. Whether or not Patrick is gearing up for something bigger, his oratorical skills and advocacy for a grassroots-focused party could fill a void within a Democratic Party lacking big-name surrogates on the campaign trail in 2014.
With President Obama's approval numbers sagging and Hillary Clinton engaged with her book tour, surrogate help for Democratic candidates can be hard to come by right now. Patrick's in-state colleague, Sen. Elizabeth Warren, is taking on the role in some unexpected places, but there is room for more Democrats who can both raise money and fire up a crowd. Patrick, who gave a well-received Democratic convention speech in 2012, could fit the bill.
An aide previously said Patrick would support New Hampshire's Democratic senator and governor, Jeanne Shaheen and Maggie Hassan, in their reelection bids this year, and his PAC, which Patrick described Monday as "small but mighty" and grassroots-focused, has already given to candidates, including U.S. Senate candidate Michelle Nunn in Georgia and gubernatorial candidate Wendy Davis in Texas.
Lizzy Reinholt, Michaud's communications director, noted it was unusual for an outside elected official to make a stand-alone campaign swing through Maine without doing it as a favor in the middle of a nearby vacation.
Patrick's campaign rally for Michaud in Saco, an old industrial town just south of Portland, highlighted what he would bring to the 2014 trail. In front of a crowd numbering around 100 at a train station in the shadows of a pair of massive, abandoned textile mills, Patrick delivered an aspirational, heavily self-promotional speech, laying out a broad vision for the Democratic Party grounded in his record in Massachusetts.
"We have to be about government that is not solving every problem in everybody's life, but helping people help themselves," Patrick said. "I'm a Democrat because I believe in the American Dream. I've lived the American Dream, having grown up on welfare on the South Side of Chicago, and as my grandma would say, 'Look at me now.' "
At times almost shouting, and pausing frequently because of standing ovations from the crowd, Patrick summarized, "There isn't a single challenge facing Maine, or Massachusetts, or the nation that can't be solved with a sense of renewed community and common destiny." On behalf of Michaud, Patrick said he was asking voters "to invest in a sense of community again."
John Walsh, Patrick's former campaign manager who now runs his PAC, said no campaign trips are currently on the book — but that may change. "I anticipate Governor Patrick may travel to support good candidates," Walsh said.
Patrick's presence in Maine also signified a united front among New England's Democratic governors against Maine's LePage, their lone Republican colleague. Vermont Gov. Peter Shumlin and Patrick joined Michaud in voicing disappointment with LePage's absences from various regional summits hosted to address issues like clean energy, the economy, transportation, and opiate addiction. LePage is a member of neither the New England Governors Conference nor the National Governors Association, having called such gatherings just "chitchat."
"This isn't about Republicans and Democrats; it never has been and it never will be," said Shumlin, who chairs the Democratic Governors Association. "It's about working together as governors, and Governor LePage has shown a remarkable resistance to working together with his neighbors."
Patrick noted when he was first elected in 2006, Rhode Island, Vermont, and Connecticut were home to Republican governors who proved more conciliatory. "Every single one of them showed me how to cooperate and how to work in partnership with everyone. Maybe Governor LePage would be surprised," he said. "We don't sit around the table spouting partisan slogans."