Despite New Rules, Prisoners Still Paying Big to Call Home
Recent reforms were hailed as progress, but advocates say the system is still riddled with problems.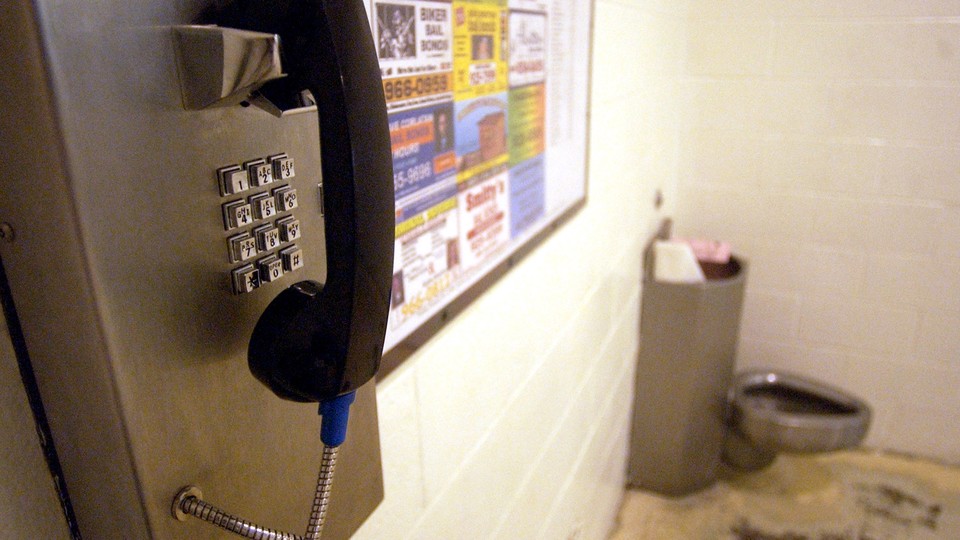 Recent federal reforms aimed at protecting prisoners from exorbitant phone bills still fall short of reining in prices on the the vast majority of inmate calls, federal officials and prisoners' advocates said Wednesday.
The new rules, enacted in February by the Federal Communications Commission, cap prices for out-of-state calls. But most calls from prisoners are in-state communications, which remain unregulated.
Advocates say call fees have long been a problem for inmates and their families. Costly charges can leave prisoners with thousands of dollars in phone bills when they get out. In some cases, people have been forced to choose between phone calls and food. And children who lack regular contact with their incarcerated parents are more likely to miss school, become homeless, or suffer depression.
The FCC, led by interim Chairwoman Mignon Clyburn, took a step toward addressing that problem last year. The agency's ruling capped prices for interstate phone calls at 21 cents per minute for prepaid calls and 25 cents per minute for collect calls. Previous prices had exceeded $1 a minute in some cases.
When the FCC put forth its original ruling in 2013, it expressed a desire to address in-state rates as well, seeking comment on possible proposals to do so. But the telephone companies that challenged the out-of-state caps have threatened opposition to in-state rules as well, and any FCC attempt to reform them would likely trigger a legal battle over the FCC's jurisdiction.
But with in-state calls still unregulated, some prisoners are paying much more for their local calls. In New Jersey, for instance, some in-state calls can run more than $8 for 15 minutes on the phone.
"The reforms thus far, though significant, have had very little impact because the majority of inmate calling is intrastate," said Darrell Baker, an Alabama utility official who has led that state's push to lower its call rates.
"The FCC's decision did a lot, but it certainly didn't help for large numbers of people," said Cheryl Leanza, an advocate with the United Church of Christ.
FCC leaders, including Clyburn, Wheeler, and Commissioner Jessica Rosenworcel, said last year's reforms are a starting point, but agreed that in-state calls still need to be addressed.
"We recognize that more needs to be done," FCC Chairman Tom Wheeler said in his opening remarks at a Wednesday panel at the agency's Washington headquarters.
The FCC, however, is asking states to take the lead on intrastate calling. Some states — including Alabama — have taken steps to protect prisoners from predatory rates.
Similar to the FCC's out-of-state rules, Alabama moved recently to cap in-state call fees at 25 cents per minute.
But with most states still inactive on the issue, some are calling for federal intervention.
"The FCC has both the duty and the authority to act under the statute if states do not," Clyburn said.
Others think the FCC's role should be limited advising state officials.
"Much of the heavy lifting is now left to the states," said Jesse Wiese, who works with the faith-based criminal-justice reform group Justice Fellowship. "We don't think the commission should regulate intrastate calls." Wiese said the agency should focus on working with lawmakers and regulators around the country to enact reforms.
But inmate calling problems aren't limited to high intrastate prices. Many prisoners, said panelists, are frequently plagued by dropped calls. Those are generally the fault of three-way detection systems, which exist to prevent prisoners' calls from being routed to another — unknown — recipient. The problem is that these systems can be overly sensitive, cutting off calls when they pick up background noise like a child or wind. "When the call is dropped, the prisoner has to call back again, which leads to another call-hookup fee," said Paul Wright, who heads the Human Rights Defense Center.
Baker added that dropped calls have been the No. 1 complaint among the prisoners with whom he's talked.
Commissioners also mentioned other priorities in continuing to reform inmate calling services. Wheeler, Clyburn, and Rosenworcel all expressed a desire to make the interstate rate caps permanent. The current figures were set on an interim status as the agency collects more data to set permanent rates.
"The relief for family and friends has been tremendous," said Clyburn, citing the ruling's early success. "Call volumes have increased as much as 30 percent."