Democrats Are Running Out of States to Flip
It's hard to expand the map when white voters in Georgia, Arizona, and Texas are becoming overwhelmingly Republican and Hispanic turnout continues to lag.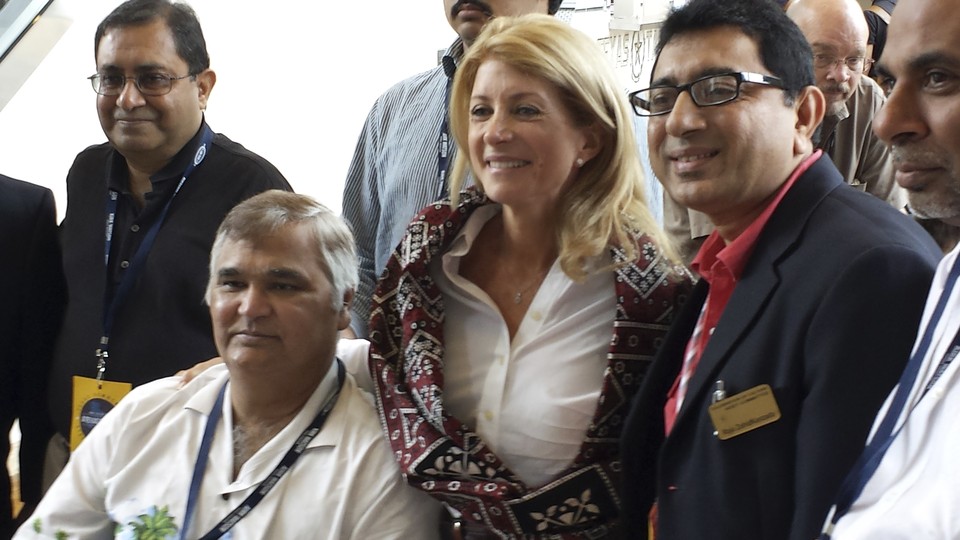 In assessing the future of politics, former Obama campaign manager David Plouffe offered an eye-catching prediction in The Wall Street Journal's op-ed page Monday: The Republican strongholds of Arizona, Georgia, and, yes, Texas, are poised to become swing states over the next couple of decades. His projection shouldn't be too surprising: When looking at the booming minority growth across the country, it's easy to see how the political composition of certain states can change dramatically, even in once-partisan strongholds.
But it's also worth taking a closer look at what's currently happening in those three states, through the prism of the races taking place there this year. If anything, recent elections suggest that the states aren't turning more favorable for Democrats, but instead are becoming more racially polarized. Mitt Romney improved his performance over John McCain in all three states from 2008 to 2012, even in McCain's home state. Since Obama's election in 2008, Republicans won every gubernatorial and Senate race in the trifecta, with a perfect 9-0 record. White voters in these diversifying Southern states are becoming overwhelmingly Republican, while Hispanic turnout continues to lag well behind their racial counterparts.
The gap between expectations and reality quickly came to a head in this year's Texas gubernatorial race, a contest that Democrats believed they could win with a nationally known candidate (state Senator Wendy Davis, of abortion-filibuster fame) and a renewed focus on grassroots organizing. But Davis has found herself badly trailing Republican Attorney General Greg Abbott, recognizing that a conventionally liberal campaign focused on social issues is of limited utility in the Lone Star State, both in persuading Texas moderates and boosting Hispanic turnout.
The numbers for Texas Democrats, despite the Latino growth, are daunting even in the long term. While Hispanics comprised 38 percent of the state's population, according to the 2010 census, they made up only 20 percent of the 2008 electorate. In 2010, Democrats nominated one of their strongest challengers to run against Governor Rick Perry—moderate Houston Mayor Bill White—yet he got only 28 percent of the white vote.
By the time Texas has enough registered Hispanic voters to make a political difference, it's possible that many second-generation Latinos will be assimilated and less reliably Democratic than their parents. Already, researchers are finding that a sizable number of Hispanics later self-identify as white, dampening the trajectory of steady Hispanic growth into the future.
In Arizona, where immigration has played a central role in the state's politics, racial polarization has become more pronounced during Obama's presidency. In 2008, with immigration-reform supporter McCain as the GOP nominee, there was only an 18-point gap between his performance among whites (59 percent) and Hispanics (41 percent). In 2010, with McCain touting his border-security bonafides as he ran for reelection to the Senate, that margin grew to 25 points. Meanwhile, Governor Jan Brewer, who signed one of the most restrictive immigration laws in the country that year, won 61 percent of white voters and just 28 percent of Latinos. By the 2012 presidential election, there was a 41-point gulf between Mitt Romney's standing with whites and Hispanics.
That year's Senate race offered a preview of how Democrats can compete in the future. Democrat Richard Carmona came within 3 points of GOP Senator Jeff Flake, on the heels of overwhelming Hispanic support and running ahead of Obama with white voters. But even that wasn't enough to prevail, despite Carmona's unique appeal to both moderate whites and Hispanics as George W. Bush's surgeon general.
For Democrats, Georgia may offer the best long-term opportunities of the three states that Plouffe cited, but the polarization between the state's significant (and growing) minority population and the conservative white vote is still gaping. In 2008, the last year exit polling was conducted in the state, Obama won 98 percent of the African-American vote and only 23 percent of the white vote. With a just a little more support from white voters and continued minority growth, winning a statewide election is seemingly within reach.
This year's Senate race between Michelle Nunn and a Republican to be nominated in this month's runoff (either Representative Jack Kingston or businessman David Perdue) will offer a test of Democratic competitiveness. Nunn, the daughter of former Senator Sam Nunn, is downplaying her partisan identification, talking about her work leading the Points of Light charity founded by George H.W. Bush and avoiding positions on hot-button issues, such as the president's health care law. Given that profile, she's expected to compete, but if she doesn't come close, it could be a worrisome signal that the Southern white vote is trending in a conservative direction, regardless of the Democratic nominee.
After 2008 and 2012, Democrats have come close to hitting the upper limits of their electoral-vote potential, so strategists are understandably looking for ways to expand the map further. But what's more realistic is that Republicans will be able to contest traditionally Democratic Rust Belt battlegrounds, such as Pennsylvania and Michigan, before additional GOP strongholds flip. Indeed, Republicans picked their 2016 convention site of Cleveland with an eye toward making inroads with traditionally blue-collar Democratic constituencies in the Midwest. Democrats may be wise simply to consolidate their gains from the past two presidential elections.