Crossing Party Lines at the Border
A new poll shows Americans are surprisingly united on how to deal with migrant children—even if their leaders are not.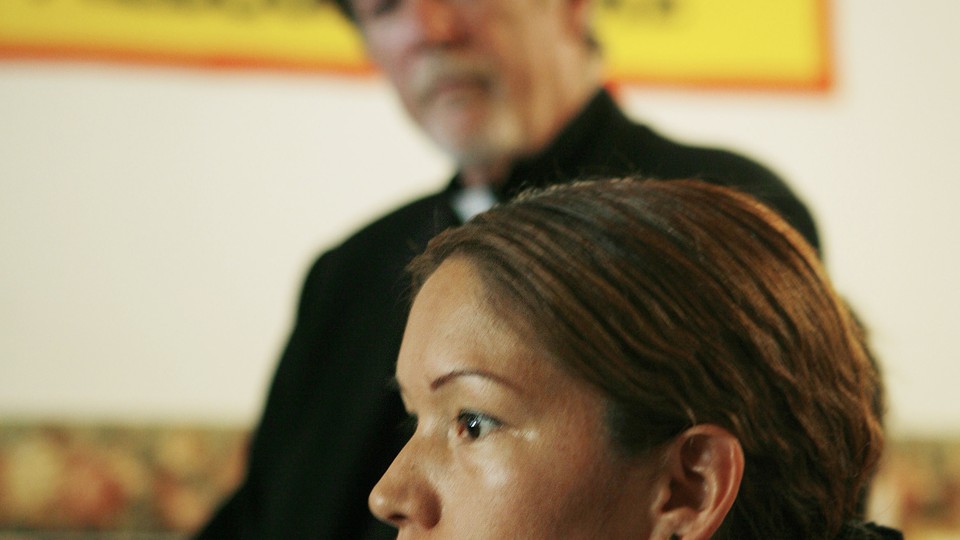 The rhetoric from political leaders about unaccompanied children arriving in the U.S. from Central America has been sharp and, with certain notable exceptions, largely predictable across party lines. But even amid some serious and growing concerns about immigration, Americans are taking a position marked more by compassionate pragmatism than ideology.
A new Public Religion Research Institute poll finds that approximately seven in 10 (69 percent) Americans see the unaccompanied children from Central America as refugees rather than illegal immigrants. Similarly, 70 percent say these children should receive support and shelter while a process is underway to resolve their cases; only about one in four Americans say they should be immediately deported back to their home countries.
Most notably, there is broad bipartisan and cross-religious support for a policy of offering support plus a legal-determination process, including among majorities of more ideologically conservative constituencies such as Republicans (57 percent) and white evangelical Protestants (56 percent).
The broad agreement is not because Americans have been tuned out. Nearly half (49 percent) of Americans report that they have heard a lot about unaccompanied children arriving from Central America, and another 31 percent say the have heard a little. Only one in five say they have heard nothing at all.
One of the most interesting things about the survey is how it illuminates the complex mindset that most Americans bring to immigration issues. The broad policy agreement rests not on a foundation of naïve Pollyannaish assumptions but exists amid a swirl of real concerns, such as questions about the legitimacy of dangers facing these children, the possible future implications of a policy that allows some of these children to stay in the country, and the impact of recent immigrants in general.
In-depth analysis of the survey offers three insights about how these concerns mesh with policy preferences on immigration.
First, Americans are divided about the root causes of the recent influx of children from Central America. Nearly half (45 percent) believe the primary reason more children are coming to the U.S. is to escape violence and serious threats to their own safety in their home countries, but nearly as many (37 percent) believe these migrants are primarily coming to seek better education and economic opportunities in general or for some other reason. Conflicting assessments of the root causes of the situation, however, have only a modest effect on policy preferences. Strong majorities of those who are convinced that the unaccompanied children are primarily coming because of violence in their home countries (78 percent) and those who are less convinced that violence is the primary motivator (60 percent) both favor a policy that provides support while a process of hearing children's cases gets underway.
Second, the survey found that nearly six in 10 (59 percent) Americans worry that allowing these children to stay in the country will encourage others to ignore our laws and increase illegal immigration. Nevertheless, a majority even of those who hold these concerns (56 percent) prefer a policy that offers unaccompanied children support and a legal determination process, compared to about four in 10 (39 percent) who favor immediate deportation.
Third, a PRRI Religion and Politics Tracking Poll finds that the percentage of Americans who say that "immigrants are a burden to society because they take our jobs, housing, and health care" has risen seven points over the past month, from 35 percent in early July to 42 percent today. Yet this uptick in negative sentiments has had no impact on Americans' preferred policy solutions regarding immigrants living in the country illegally. In early July, 58 percent of Americans said they preferred a policy that allows immigrants living in the country illegally to become citizens provided they meet certain requirements, compared to identical support (58 percent) today.
A defining feature of ideology, whether it lives on the right or left, is that there is a close mapping of an established set of fears onto an orthodox set of solutions. Overall, the PRRI survey paints a portrait of an American public that is less governed by its worst worries and less divided about solutions than its leaders are. There are of course intensity differences between rank-and-file Republicans and Democrats and conservatives and liberals. But at least for now, the poll shows that while Americans are wrestling with concerns about immigration, these concerns don't prevent them from coalescing around imperfect but pragmatic solutions.