Congress Thinks This Statue Is a Threat to National Security
The House passed legislation this week to prevent a statue from being erected in front of a federal courthouse in Alabama due to security concerns.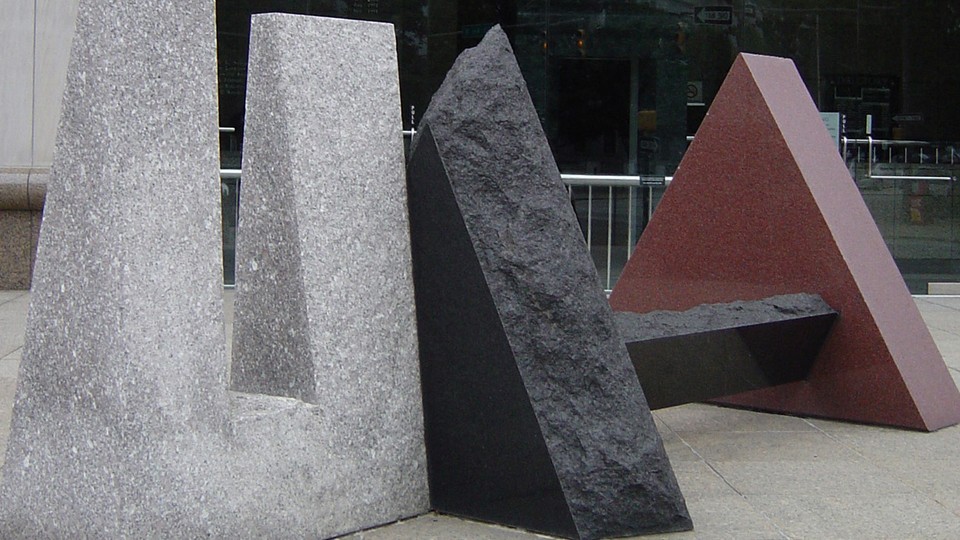 The House on Wednesday boldly stood up to the General Services Administration—once known for its lavish Las Vegas training conference—and said: No, you will not re-erect that statue!
The statue in question, sculpted the late artist Dmitri Hadzi, is called "Red Mountains," and it is, as members argued Tuesday, a threat to national security.
The 5-foot-by-17-foot-by-5-foot abstract structure stood in front of the Hugo L. Black federal courthouse in Birmingham, Ala., from 1991 to 2012, when it was removed to allow workers to repair the entry plaza. Following the construction, GSA—which first commissioned the piece from Hadzi, and several others scattered across the nation—planned to reinstall it and was working with the U.S. District Court to do so.
But Alabama Reps. Spencer Bachus, a Republican, and Terri Sewell, a Democrat, have cosponsored an amendment that would prevent GSA from using any funding to reinstall the statue, warning that it represents a security threat. That amendment was agreed to by a voice vote on Tuesday and attached the Financial Services appropriations bill, which passed the House on Wednesday.
Bachus and Sewell argue that the structure—which sat in the same location for 11 years—poses a serious threat to the courthouse, citing reports from Karon Bowdre, the chief judge for the Northern District of Alabama, and U.S. Marshal Martin Keeley.
"Chief Justice Bowdre noted, in correspondence to GSA, that the location of the statue will be roughly 10 to 12 feet from the only public entrance door, which is completely made of glass and, further, that the monument would create a fatal funnel where someone could hide behind the statue and possibly not be seen and cause a security risk," Sewell noted in remarks on the House floor Tuesday.
Renato Danese, whose gallery controls the estate of the late Hadzi, was shocked Wednesday when informed that Congress was moving to prevent the statue from being reinstalled (though he was also unaware that it had been removed). "That's a tragedy," Danese said, noting that Hadzi was not only a professor at Harvard University and widely respected artist in his time, but also a World War II veteran who fought in the Pacific. He added that it was a particular "shame" because Hadzi was commissioned to create the sculpture and it had already been funded by taxpayers.
"I worked at the National Endowment for the Arts when I was younger," Danese said. "And there were myriad opportunities for public servants and elected officials to object to sculpture that they thought might be too avant-garde, but they would often raise the specter of public safety as an excuse."¦ I'm not proposing that that was the case in this instance."
Bachus spokesman Tim Johnson said that his boss's objections to the statue had nothing to do with its aesthetic appeal, noting that his argument was based solely "on the security concerns" raised by Bowdre and Keeley. Sewell's chief of staff, Nichole Francis, said in a statement that Sewell's amendment also has nothing to do with aesthetics, but that it "stems purely from security concerns" that were presented on behalf of the court.
This story was updated at 4:54 on Thursday with comment from Rep. Sewell's office.