Congress Has Finally Found a Bill to Rally Around
The Able Act, which would allow Americans with disabilities to set up tax-free savings accounts, has broad support and is expected to pass both chambers with ease this fall.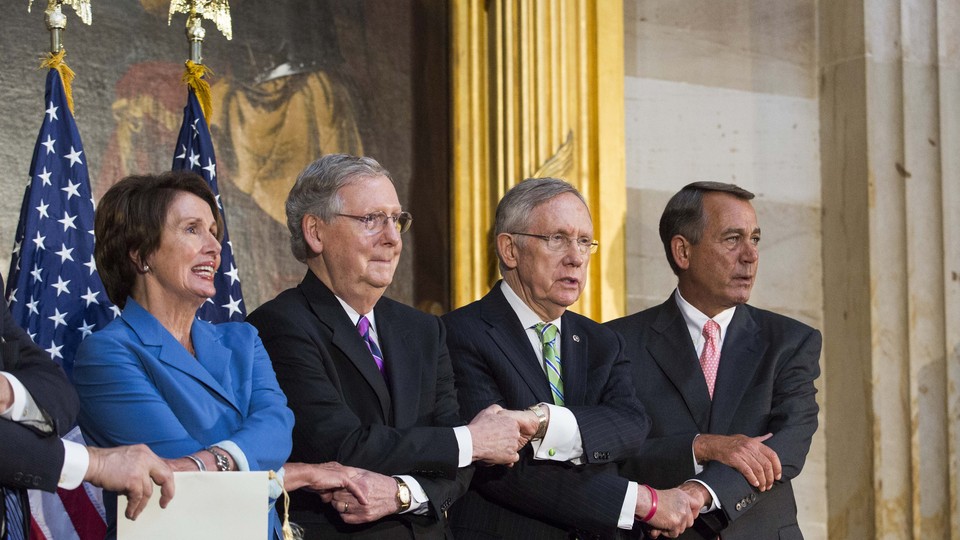 Members of Congress are set to leave town for the "August" recess (which will actually last through Sept. 8) in just over a week's time. When they return they'll have a number of headaches on their hands, including must-pass legislation like a bill to keep the government open past Sept. 30 when the current funding expires, and should-pass legislation, like a still-elusive bipartisan compromise to overhaul the Veterans Affairs Department. With the election less than two months later, none of these battles are likely to be pretty.
But as members prepare to return to Washington with helmets and pitchforks, there is one bright spot on the horizon: a bipartisan, bicameral bill that will solve a major problem for millions of the country's most vulnerable citizens and is likely to glide through Congress with ease. "Do-Nothing" Congress, meet the Able Act.
The Able Act (short for "Achieving a Better Life Experience") would allow Americans with disabilities and their parents to open tax-free savings accounts to pay for such things as housing, education, transportation, and medical care.
While parents can save for their children who will attend college in tax-deferred accounts under current law, there is no such savings mechanism for children whose disabilities would prevent them from attending college. "No longer would parents have to stand aside and watch as others use IRS-sanctioned tools like 529 education savings accounts to lay the groundwork for a brighter future [if the Able Act passes]," Rep. Ander Crenshaw, R-Fla, wrote in a Washington Times op-ed advocating for the bill back in 2010. "They would be able to do so for their children as well."
Although the bill failed to gain traction in past Congresses, it appears to have real legs heading into the fall. A Senate Democratic aide explained that although the concept has always been popular, it has taken years for advocates to get momentum for an issue that isn't particularly timely.
But heading into the August recess, the Able Act now has an astonishing 366 cosponsors in the House and 76 in the Senate and is very likely to pass this fall. Both House and Senate leadership have already committed to bringing the bill to the floor in their respective chambers and are aiming for September votes, according to the Senate Democratic aide. That timeline would provide Congress with one last kumbaya moment before all hell breaks loose in the November midterm elections.
"No other bill in Congress has this level of bipartisan and bicameral support," Sen. Robert Casey, D-Pa., the lead sponsor in the Senate, said Wednesday, during a hearing of the Senate Finance Committee's Subcommittee on Taxation and IRS Oversight, which he chairs.
"That's more than bipartisan, that's outstanding around here," added Sen. Mike Enzi, R-Wyo., the subcommittee's ranking member. Sen. Richard Burr, R-N.C., a fellow subcommittee member and cosponsor of the bill, said he couldn't think of a reason that any member "would want to get in the way of this bill" at this point.
The Able Act could still be held up, however. Fights over amendments have derailed popular legislation in the Senate several times already this Congress. But with Senate Majority Leader Harry Reid and Minority Leader Mitch McConnell already signed on as cosponsors, advocates are optimistic that they'll avoid a floor fight.
The Subcommittee on Taxation and IRS Oversight on Wednesday heard testimony from Sara Wolff, a Pennsylvania resident with Down syndrome, who has been a major advocate for people with the condition. Under current law, Americans with disabilities would lose their federal benefits if they gained more than $2,000 in assets, Wolff testified Wednesday morning. "[That] makes it tough for me to save," she said. "Working two full-time jobs, my employers know that I can't earn more than $700 a month."
The Able Act would allow Wolff and others to save money in tax-free accounts without cutting off their federal benefits. Because the bill would allow individuals or their parents to save their own money, rather than relying solely on federal benefits, the legislation is popular among both Democrats and more fiscally minded Republicans.
Rep. Cathy McMorris Rodgers, R-Wash., who is the fourth-highest ranking member in the House Republican Conference and a chair of the House Down Syndrome Caucus, is a major cosponsor of the legislation. McMorris Rodgers, whose 7-year-old son Cole has Down syndrome, told advocates and members of the subcommittee on Wednesday that the issue is deeply personal for her.
She worries, she said, that the current law forces Americans with disabilities into government dependence, rather than empowering them to save for their own futures. "I want nothing more than for [Cole] to be able to reach his full potential, live his life to the fullest. I am concerned that I see federal policies that potentially place limits on his opportunities. The Able Act will change that. It will help make sure that Sara and Cole and millions like them that have special needs will be able to save for their future and reach their full potential," she testified.
"This is the year we are going to get it on the president's desk," she added.
Rep. Chris Van Hollen, D-Md., who cochairs the Congressional Down Syndrome Caucus alongside McMorris Rodgers and Rep. Pete Sessions, R-Texas, was similarly optimistic. "I think it may be our one really good piece of bipartisan legislation we enact this year," he said.
Sessions, who also has a son with Down syndrome, agreed. "I think the Able Act is virtually an agreement issue right now.... I think it will come to the floor in a bicameral, bipartisan basis and that was pretty much all determined and agreed to. And we're on a glide path," he said.