Congress Fiddles — and Squabbles — as Border Crisis Grows
Chances of a swift solution to the flood of unaccompanied children across the border seem remote.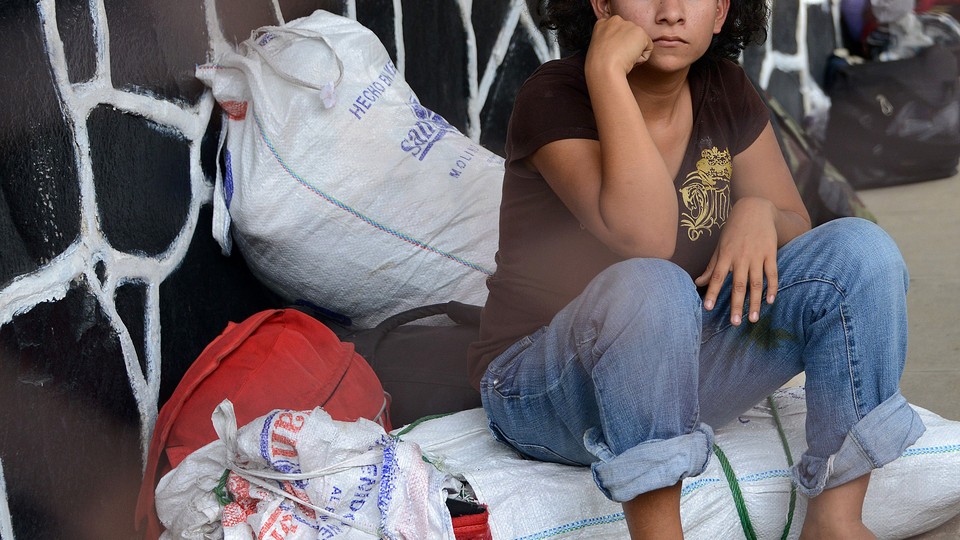 Politics and pessimism on Thursday overtook any possibility of a swift congressional response to the flood of unaccompanied, undocumented children at the U.S.-Mexico border, as the House and Senate continued moving toward dramatically different approaches.
Questions and debate swirl around contentious policies, as well as the amount of emergency funding needed to address the crisis. Many key Senate and House Democrats will go along with President Obama's $3.7 billion request, but House Republicans say they are looking at less than half of that amount.
Meanwhile, other clashes came over recommendations — including some calling for drastic changes to existing laws — from a special House "working group" led by Rep. Kay Granger of Texas. Among the group's "principles" for GOP legislation to deal with the border crisis is putting an end to the so-called "catch-and-release" system for unaccompanied minors.
And more turbulence is on the horizon: Sen. Ted Cruz of Texas said Thursday he wants to require Obama to stop giving special treatment to undocumented immigrants who were brought here as children.
Cruz didn't make clear how he envisioned ending the Deferred Action for Childhood Arrivals program, which ensures that eligible unauthorized immigrants will not be deported and can get driver's licenses and work permits. But he said he wants that as a condition of granting the administration emergency funding to deal with the current crisis — even though the program is not directly related, policy-wise, to the flood of children arriving from Central America.
Cruz said ending DACA would send a clear message to Central American families not to send their children on a dangerous journey by "making clear that we won't give amnesty to those who are here illegally."
As the obstacles to any quick bipartisan response to the crisis mounted, House Speaker John Boehner expressed doubt Thursday that a deal would be possible before lawmakers adjourn at the end of July for their annual summer break.
"I would certainly hope so, but I don't have as much optimism as I would like to have," Boehner said during a news conference. As he spoke, House members were already leaving Washington on Thursday to be in their districts over the weekend.
Boehner explained that his gloomy outlook was based on "some comments made by our colleagues across the aisle that are going to make this much more difficult to deal with." He was referring, specifically, to the rising opposition from Democrats in both chambers to changing a 2008 anti-trafficking law in order to speed up deportations of children from Central America who illegally crossed the border from Mexico.
Many Democrats, including Senate Judiciary Committee Chairman Patrick Leahy of Vermont, House Minority Leader Nancy Pelosi, and the Congressional Hispanic Caucus, now say they would oppose that. The idea of the law was to provide protections to children — although not those from Mexico or Canada — who were entering the U.S. illegally to flee abuse or violence, by preventing them from being too-quickly sent back to their countries.
"It's complicated. We don't want to tinker with it," said Sen. Dianne Feinstein of California, who coauthored the 2008 law, on Wednesday.
But Boehner asserted that that law is being abused, and questioned whether Congress could send more money to the border to "mitigate the problem if you don't do something about the '08 law."
In fact, changing that law is one of the recommendations from the House "border working group" in its set of principles for the House to pursue, completed on Thursday. Members of the group led by Granger, including Reps. Steve Pearce, R-N.M., and Matt Salmon, R-Ariz., said a completed package of recommendations was delivered by Granger's staffers to each of their offices on Thursday morning for a final sign-off.
Most of the working group's recommendations are expected to become part of the House Republican alternative to Obama's proposal.
While there could be some last-minute changes, one of the recommendations — in addition to changing the 2008 anti-trafficking law — will be that children should be detained until they see an immigration judge. That would put an end to the so-called catch-and-release system for unaccompanied minors. The guidelines will recommend this should happen within five to seven days.
"This is a major, major change," said Salmon. "There will not be those busloads of kids coming in to the various communities; there will not be the family units dropped off at the bus station in Phoenix and Tucson, like they have been before. They will stay detained until they're adjudicated."
Salmon did not specify the number of additional judges the guidelines will call for to make this process work.
Other recommendations include such things as providing more National Guard involvement in humanitarian relief efforts, such as help in providing shelter, food, and health care. There also will be a recommendation aimed at "changing the narrative" by promoting — perhaps through advertisements in Central America — the notion that the U.S. will send immigrants back home if they do not arrive legally.
Members of the House Appropriations Committee, led by Chairman Harold Rogers, R-Ky., are also near completion of the funding part of their plan, and have already said their dollar figure won't come anywhere near the $3.7 billion sought by Obama. Rogers on Thursday would not provide a specific figure, explaining that cost calculations were still being done on potential variations of that funding plan, including some offsets elsewhere in the budget to the added spending.
Rogers did say the package would provide funding for agencies and other operations involved in dealing with the surge crisis through Jan. 1. But he said the proposal likely won't be finalized until next week, at the earliest.
In this area, Boehner and appropriators are treading carefully because of internal party concerns as well. Some House conservatives and outside conservative groups have said they are opposed to appropriating any more money for border issues outside of a regular appropriations process.
On Thursday, however, Salmon said that while he wasn't prepared to be the one to announce the exact dollar amount being considered by appropriators for the House Republican plan, he offered that it will be "less than half" of what Obama proposed.
That would set up a major difference between House Republicans and most Democrats, including leaders in the Senate. There, Appropriations Committee Chairwoman Barbara Mikulski said on the Senate floor on Wednesday that she is asking for the full $3.7 billion to be approved.
"There are those who will want to take from other domestic programs. I would caution that, and, in fact, I object to the very idea of that," she said.
"The president has said this is an emergency — an emergency under the Budget Control Act of 2011," she said. "It meets the criteria that it is 'sudden, urgent, unforeseen and temporary' and deals with the 'loss of life or property' or 'threat to national security.' I think it meets that test."
But the smaller emergency funding level that House Republicans appear prepared to embrace, along with some of the GOP demands for policy changes, were described by Pelosi at a news conference Wednesday as "going in the wrong direction."
The tension is expected to increase with Cruz's urging that Obama end his deferred action program for undocumented immigrants who were brought here as children. Normally, legislative demands from the brazen Cruz require at least a pause before being taken seriously. He is known for grandstanding. But in this case he has the support of his senior colleague from Texas, John Cornyn, the Senate's No. 2 Republican.
"I'm certainly open to that, if it's prospective, to say no further deferred action from the president," Cornyn told reporters on Thursday. Cornyn said that, in his understanding, a "prospective" end to DACA would not impact the 550,000 young people who have already been approved for it. "It wouldn't apply to them," he said.
Even with all the apparent hurdles to a deal, however, Cornyn sounded more hopeful, or perhaps more desperate, than Boehner about Congress's ability to pass a supplemental spending bill.
"What happens if nothing happens is the problem continues, and perhaps starts to escalate," he said. "People are realizing that they are going to have to pay to educate and house these children. It will put more pressure on the president and Congress if we do not act."
{{ BIZOBJ (video: 5103) }}