Cathy McMorris Rodgers Expects Export-Import Bank to Be Reauthorized
GOP Conference chair breaks with the majority-leader-in-waiting on a major issue for Washington state.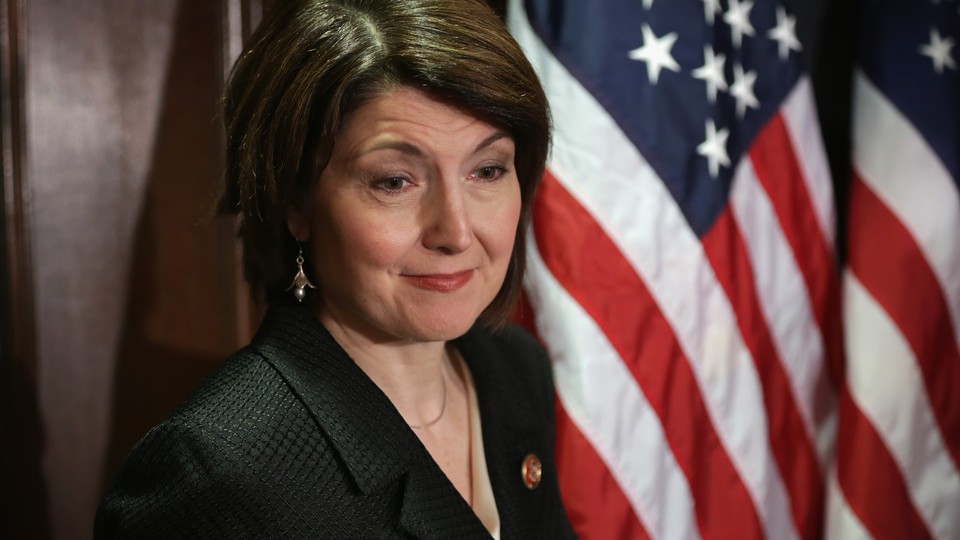 Correction: The print version of this story carried an incorrect headline. McMorris Rodgers expects the Ex-Im Bank to be reformed and reauthorized.
When Congress returns from its August recess in early September, members will have just a few legislative days to reauthorize the Export-Import Bank, the entity responsible for providing loans to American businesses to help them sell their products around the globe. Conservatives in the House, accusing the agency of trying to pick "winners and losers," favor allowing the bank's authorization to lapse, while members from states dependent on trade are pushing hard to keep the bank alive.
At the center of this fight is Rep. Cathy McMorris Rodgers, a member of House leadership as GOP Conference chair and a representative of Washington state, the most trade-dependent state in the country.
In past years, McMorris Rodgers has voted to reauthorize the bank, which gives loans to companies including Washington state giant Boeing. But with the bank's authorization set to expire on Oct. 1, McMorris Rodgers is the only member of the Washington delegation who has not yet said whether she will vote to keep it running this year.
In the meantime, she's getting hammered at home in editorials across the state, ranging far outside of her Eastern Washington district, even as a fellow member of Republican leadership has come out in favor of eliminating the bank altogether.
The Ex-Im reauthorization was a major point of contention two weeks ago during a D.C. meeting between the Washington state congressional delegation and the state's visiting governor, Democrat Jay Inslee. During the rendezvous in Sen. Patty Murray's office, Sen. Maria Cantwell pressed McMorris Rodgers on the issue, according to a Democratic aide with the delegation.
McMorris Rodgers told her colleagues that she believed the House would pass a short-term reauthorization, but stayed mum on whether she would support it, according to the aide. That didn't quite appease Democrats who feel that a short-term deal won't allow businesses to plan for the future. "I mean, that's better than nothing," the aide said.
Just a week earlier, Murray, Cantwell, and Democratic Rep. Denny Heck sent a letter to Speaker John Boehner calling for him to bring a reauthorization to the floor, offering an implicit nudge to McMorris Rodgers. "When last reauthorized, Ex-Im was unanimously supported by the Washington state delegation, both Republicans and Democrats," they wrote.
Cantwell, Murray, and Inslee even took a trip to McMorris Rodgers's district last month to rally support for the bank.
In an interview in her congressional office earlier this month, McMorris Rodgers acknowledged the controversy surrounding the bank's reauthorization and Washington state's dependence on it. One in three jobs in the state is dependent on trade, she said, many of them in her Eastern Washington district.
She is also well-aware of the wave of editorials in papers across the state calling on her to stand behind the bank. The Spokane Spokesman-Review, McMorris Rodgers's local paper, has called her out on the issue. The Seattle Times, whose distribution includes much of Boeing's operations but is a five-hour drive from McMorris Rodgers' district, has put out two editorials pointing its finger at the Eastern Washington Republican. So has The Olympian, which is even farther away.
That puts McMorris Rodgers in a tough position. As a member of House leadership, she can't ignore the growing voices on the far right that would like to see major reforms to the bank, if they decide to reauthorize it at all. And incoming Majority Leader Kevin McCarthy has said he'd be just fine letting the bank's authorization lapse and is leaving it up to Rep. Jeb Hensarling of Texas, one of the bank's strongest opponents.
McMorris Rodgers said she finds arguments for reform very compelling and hopes to get to a compromise to implement them, while keeping the bank open. "I think we're going to get to a place where something moves forward, some kind of reauthorization with some significant reforms," she said in her office.
Pressed on whether she would favor shuttering the bank altogether if conservatives can't get the reforms they desire, McMorris Rodgers said she was continuing to work with members of her party to make sure that doesn't happen. "I believe that we will get to a place where we will have some important reforms and there will be a reauthorization of the Export-Import Bank," she said.
When contacted for this story, staffers for the state delegation said they had not heard McMorris Rodgers say before that the bank would not close, but they were hopeful that she would use her position in leadership to protect it.
"I think the Ex-Im Bank is a real test for Cathy," said Rep. Adam Smith, D-Wash.