Can Charlie Crist Ride Out Rick Scott's Media Storm?
The Republican-turned-Democrat had a 10 point lead over Florida's incumbent governor throughout 2013, but a GOP spending blitz has tightened the race.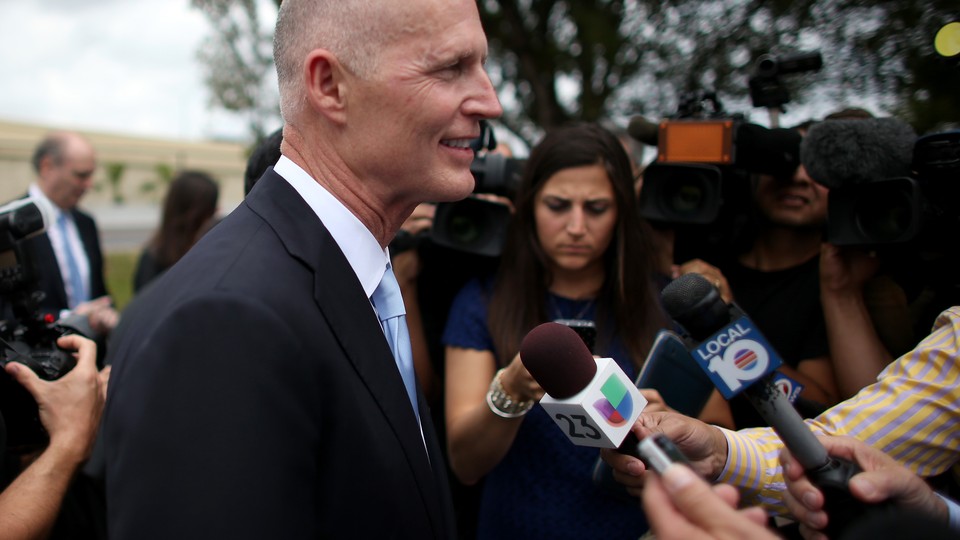 What is likely to be the most expensive race of the 2014 midterms—a knock-down, drag-out fight between current and former governors of Florida—is a fairly even contest except in the one arena that may matter most: money.
Republican Gov. Rick Scott and Republican-turned-Democrat Charlie Crist are running neck and neck in the polls, in name identification, and in terms of their records in office. But four months before the Nov. 4 election, Scott leads Crist by more than 2-1 in campaign fundraising. Barring any major changes, the disparity threatens to sink Crist in the same way it allowed Scott to narrowly overcome Democrat Alex Sink in 2010.
At this stage, Scott, his affiliated Let's Get to Work committee, and the Republican Party of Florida have raised more than $50 million since June 2013, according to state GOP Communications Director Susan Hepworth. Crist's campaign and two equivalent groups—Charlie Crist for Florida and the Florida Democratic Party—have raised around $20 million.
In 2010, pro-Scott spending tallied more than $129 million, while spending on Sink's behalf topped $55 million.
Scott and his allies have already spent more than $15 million on TV ads since early March as part of a plan to spend $25 million to "define" Crist in the early stages of the campaign. Eventually Scott's campaign plans to spend as much as $100 million on the effort.
The ads have hit Crist on everything from his support for Obamacare, high unemployment when he left office in 2011, and rising college tuition costs in the state. They have also hammered him for refusing to release his wife's tax returns. The message that permeates it all is, as Florida GOP consultant Rick Wilson put it: "Charlie Crist is nothing, believes nothing, and has nothing inside him except ambition."
Since late June, Crist and Florida Democrats have spent between $2 million and $3 million on three ads of their own, but polls show the race shifting in Scott's direction.
"As the Depeche Mode song goes, 'Everything counts in large amounts,' " Wilson said. And that sentiment doesn't stop with media. As of early July, Scott's camp had 49 field offices around the state; Crist's team had four.
Two of the biggest takeaways for Democrats from 2010 were that Scott's early spending spree helped define Sink and gave him an advantage later on. The cash vacuum left by the state's sprawling and diverse media landscape left too little funding for field and voter-turnout operations—particularly in heavily Democratic and Hispanic South Florida—that are widely recognized as crucial for Democrats in low-turnout midterm-election years.
Former Obama state director and Crist adviser Steve Schale half-jokingly speculated, "They have more press staffers than we have staffers total."
Since Scott began his media deluge in early March, polls have shown a tightening race. Scott trailed Crist by an average of 10 points in 2013, but the most recent automated survey from WFLA-TV/SurveyUSA had Scott edging Crist 45-43 percent. In a memo sent to campaign donors Tuesday and obtained by National Journal, Scott Deputy Campaign Manager Tim Saler expressed confidence the campaign's early ad blitz is having its desired effect.
Saler wrote: "In June, the governor locked in his lead—a year after being down 10 points. With today's survey from WFLA in Tampa, the governor has either led or been within the margin of error in 11 consecutive public polls."
Scott ad maker Joanna Burgos of OnMessage said, "We've had very effective advertising that's brought Charlie's negatives up. Our goal right now is to remind voters of what life was like under Charlie Crist—high unemployment, low education funding, and high debt."
Democrats are well aware of the challenge that confronts them. In an interview with The Atlantic in March, Crist acknowledged the financial threat posed by Scott, and used it to discredit the idea his comeback bid is solely about personal ambition. "Yeah, this is a delightful opportunity, to run into a $100 million buzz saw face-first. That's a joyous thought, right?"
Schale compared the impact of Scott's early advertising to competition between two known brands. "If Pepsi stopped advertising tomorrow, Coke sales might go up," Schale said, but added, "Alex started that race with 20 to 30 percent name ID. Rick Scott was able to build an entire narrative from scratch. He was able to define her in a way that you can't define Charlie Crist because he has a brand."
Florida Democratic Party spokesman Josh Karp agreed. "Scott's numbers are still in the low 40s, they haven't moved. He's spent $15 million and it hasn't improved his numbers at all," Karp said. "We knew going into this that he'd be able spend more money, but at a certain point there are diminishing returns with negative TV ads. And negative ads won't make folks trust Rick Scott."
Schale said, "Crist will have a robust operation on TV and on the ground, much more than Sink did, God bless her."
Democrats are also looking toward other fundamentals as Crist's saving grace, including Scott's general unpopularity and low approval ratings, and the state's continuously expanding Hispanic and African-American populations, with most of them registering as Democrats.
Schale believes demographic shifts will push Crist over the finish line in a close race. In 2010, Sink lost by roughly 65,550 votes out of more than 5.3 million cast, while President Obama won the state by just over 74,300 votes in 2012. Hispanics made up 11 percent of the electorate in 2010; Schale is predicting 12 percent in 2014. African-American voters accounted for 11 percent of all voters in 2010, and Schale is calculating 12 percent this year.
Relative to most 2014 Senate battlegrounds, Florida's demographic composition more closely mirrors the one that will shape the national debate ahead of the next presidential election, and as such, it's not unreasonable to expect more attention to the South in the coming months, particularly if Crist doesn't reemerge in the polls.
"This race is enormously consequential for 2016," Wilson said. "People are slowly appearing in the Crist world from the Hillary and Obama world in D.C. It's an aside for how important they realize Florida is for the future of the Democratic Party for 2016."