Can a Democrat Win in Kansas?
There are warning signs indicating Gov. Sam Brownback might be vulnerable, but can Democrats defy the national environment?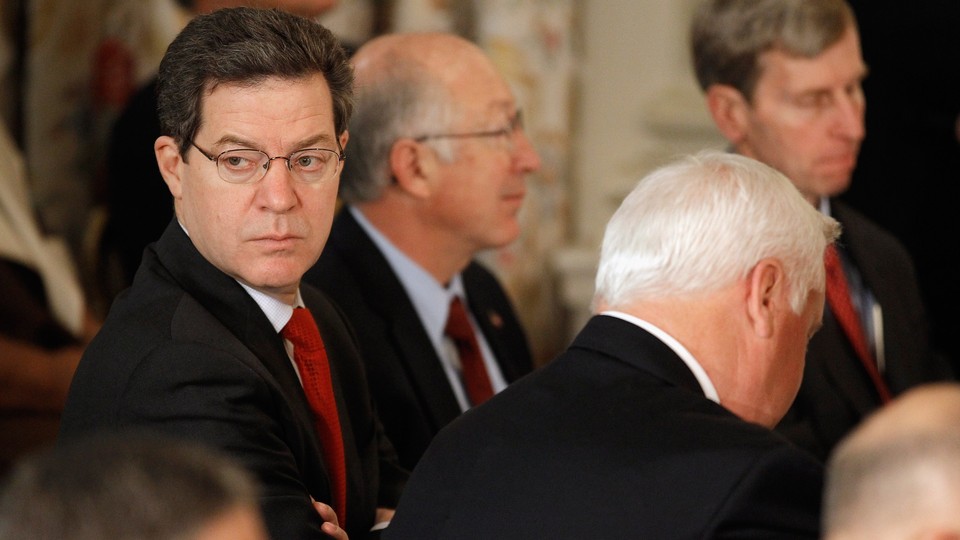 It seems unlikely that, in Kansas of all places, Democrats could pull off an upset victory in 2014. But the state's traditional GOP lean masks what party operatives regard as one of their better, if unexpected, targets as the midterm elections approach: the Kansas governor's race.
Thanks to a budget crisis and the open rebellion of the some of the party's moderate factions, its conservative governor, Sam Brownback, is unexpectedly vulnerable in his bid for a second term. Most public polling shows Democratic nominee Paul Davis slightly ahead in the early going.
And while Davis remains a clear underdog, his campaign is confident that it can defy a national political environment that's hostile to Democrats by keeping the race focused on state issues.
Perhaps a Republican loss wouldn't be that that crazy. After all, President Obama lost three states currently home to competitive Senate races — Arkansas, Kentucky, and West Virginia — by wider margins in 2012 than he did Kansas. Kansas also isn't the only hyper-partisan state that could dump an incumbent governor in line with their views: Democratic Gov. Neil Abercrombie appears in danger of losing in the liberal stronghold of Hawaii.
Democrats also had some relatively recent success in 2002 and 2006, when Kathleen Sebelius won two terms as governor before moving on to head Health and Human Services. "Kansans are very open," Brownback campaign manager Mark Dugan said of Sebelius's wins. "But I don't think Kansans will elect someone as liberal as Paul Davis with his plans to raise taxes and grow the government like he wants to do."
As of January both candidates reported over $1 million raised and the next round of reports, due in late July, will shed additional light on where things stand. One particularly eye-catching poll, a recent automated survey from SurveyUSA/KSN-TV, even had Brownback down 7 points to Davis, though even Democrats doubt that's really the case.
"It's a dead heat," said Kansas Democratic Party executive director Jason Perkey. "We've got national polling showing the Democratic candidate ahead, but we think it's a dead heat right now."
The roots of Brownback's troubles are varied. Recent news has homed in on the historic 2012 tax cuts that are now being blamed for significant revenue shortfalls of an estimated $338 million for the current fiscal year. By some reports, the cuts have contributed to a stall in job growth that runs contrary to Brownback's pledge they would do the opposite. Moody's also downgraded the state bond rating in May, citing the disparity between spending and revenue and the state's generally sluggish economic recovery.
Coupled with a long-standing dispute over state education funding and reports that a handful of former Brownback staffers are under investigation by the FBI for lobbying and fundraising activity, Democrats perceive a real opening for Davis to make inroads among disaffected independents and moderate Republicans needed to cobble together a winning coalition statewide.
The Democratic Governors Association certainly sees it that way. "Middle-class families have been crushed under the weight of the Brownback experiment," said committee spokeswoman Sabrina Singh. "Brownback has abandoned the value of fiscal responsibility, leaving him vulnerable this November."
"We've got a candidate in Paul Davis that's working his tail off to raise enough money to get out a message that we think is convincing," Perkey said.
Unlike recent buzz over the state's tax cuts and topsy-turvy polls, Perkey's optimism isn't anything new. Democrats sensed opportunity in Kansas long before the state's fiscal outlook took a turn this year. Brownback's approval ratings first dipped in late 2011 and early 2012, and the Kansas Democratic Party has been working with Clarity Campaign Labs for nearly two years in preparation for this year's race. The D.C.-based targeting and modeling firm, headed up by Tom Bonier, is also working closely this year with the DGA on more traditionally competitive gubernatorial contests in states including Michigan and South Carolina.
The party is well aware of the monumental task ahead. As of January 2013 Republicans had a big registration advantage over Democrats, comprising 44 percent of the state's 1.7 million registered voters, while Democrats made up 25 percent and independents 30 percent. Independents showed reasonable levels of support for John Kerry and Obama over the last three presidential cycles, but demonstrate the highest drop-off at the polls in nonpresidential years, making statewide victory impossible without the support of a significant number of Republicans.
A group of more than 70 former Republican state legislators formed a group last December opposing Brownback called Traditional Republicans for Common Sense. Among those involved are former Kansas Republican Party Chairwoman Rochelle Chronister, former Sen. Sheila Frahm, former state Senate President Steve Morris, three former Republican House speakers, and a handful of others defeated by conservative challengers in the 2012 primaries. Clay Barker, then the executive director of the state Republican Party, referred to the group as the "sour grapes caucus," but Davis's team is working to cultivate similar support among moderate Republicans at the grassroots level.
"At the party level were focused on one thing: the turnout, and that's why we're working so closely with Clarity Campaign Labs and Tom," Perkey said.
Perkey says their efforts will center in and around Kansas City, Topeka, and Wichita, where nearly two-thirds of the state's mostly white voters live, but notes Hispanics have driven nearly 75 percent of the state's population growth over the past decade. In this vein, the party is optimistic about the potential to target Hispanics in the state's southwest quadrant, traditionally a Republican stronghold.
Despite these plans, Davis's biggest challenge is and will remain the same as that faced by Democrats everywhere this year: The only man more unpopular than Brownback in Kansas is Obama, and Republicans are happy to remind voters every chance they get.
"Around the country there's a general displeasure, discontent with how things are going," said Brownback campaign manager Mark Dugan. "But what we think is important, is it's about if you want to go the Obama way and increase taxes or go the Brownback way and lower taxes, and rightsize the government."
Dugan notes Davis served as a delegate to the Democratic National Conventions in Denver and Charlotte in 2008 and 2012, which offers plenty of fodder for his opponents to label him an "Obama delegate" or an "Obama Democrat."
"It's June," Dugan said. "There hasn't been a lot of advertising; there hasn't been a lot of voter education. Once voters understand those choices we're very confident Governor Brownback will win this race."
Indeed, history may be their guide. A Cook Political Report race ranking by Charlie Cook on the 1996 Kansas Senate contest — when Brownback first ran for Senate against Democrat Jill Docking, Davis's running mate this year — reads like a preview of this year's gubernatorial race. The summary comes complete with moderate grievances against Brownback for his conservative record. Like this year's contest, unreliable automated and partisan polls swung dramatically right up to Election Day, and the race was considered a toss-up to the end, when Brownback ultimately defeated Docking by 10 percentage points.
CORRECTION: An earlier version of the story misidentified Jason Perkey's role with the state partyy; he is the Kansas Democratic executive director.  In addition, the outside group of GOP state legislators was specifically formed to oppose Brownback, not support Davis.