Can a Democrat Win in Georgia?
A victory might lock up control of the Senate for Democrats, but Republicans haven't lost a major race there in over a decade.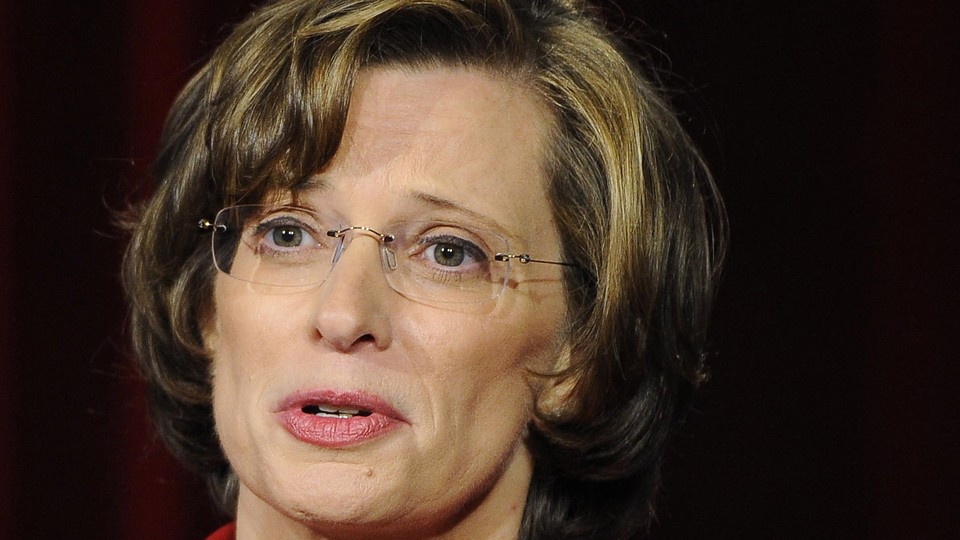 Michelle Nunn's campaign has a lot going for it. She raises a lot of money, shares a last name with her ex-senator father, and benefits from an ugly and especially long primary fight among Republicans. But, ultimately, whether she can win Georgia's open-seat Senate race will depend on whether a Democrat—during a midterm election where the party is expected to suffer across-the-board losses—can break through in a Southern state where Republicans have enjoyed almost uninterrupted success for more than a decade.
The GOP expects a competitive race, a stumble from their nominee could easily change the contest's trajectory, and—for now—some polls show Nunn holding an early lead. But the dual headwinds of the Republican-lean and an unfavorable midterm political climate explains why for all the optimism about Nunn's ability as a candidate, she enters the general-election race to replace the retiring Senator Saxby Chambliss as a firm underdog.
Nunn learned Tuesday that she'll face David Perdue, the wealthy former CEO of Reebok, after he won the GOP's two-month-long runoff race over Representative Jack Kingston.
If she goes on to lose in November, most will trace her defeat to the first phase of the GOP primary, held in late May. The campaigns for both Representatives Paul Broun and Phil Gingrey ended that day, and both were considered by far Nunn's best possible matchup because of each's penchant for controversy. While Perdue is far from perfect, he won't easily be tagged as an extremist.
Most GOP strategists regarded Perdue and Kingston as roughly equal in strength as general-election candidates, and it was evident during the runoff that they weren't concerned about the upcoming election. Despite spending millions across the Senate map, no marquee GOP outside group like American Crossroads or the U.S. Chamber of Commerce launched a major television-ad campaign against Nunn. (One group, Ending Spending Action Fund, started running ads against her Sunday.)
Nunn's strengths as a candidate are many. Only two other Democratic Senate contenders, Kay Hagan in North Carolina and Alison Lundergan Grimes in Kentucky, raised more than the $3.45 million Nunn collected in the second fundraising quarter. Her father, Sam Nunn, served in the Senate for 24 years as a moderate Democrat—a reputation she is eagerly embracing for herself as a former leader of the charity organization Points of Light. And while maybe not a natural on the campaign trail, she's had nearly a year of practice honing her skills.
In effect, the drawn-out squabble among Republican candidates for their party's nomination built a long runway for Nunn's campaign to take off, allowing her to raise money and sharpen her rhetoric while mostly avoiding attacks and the spotlight.
"As the Republicans have wasted time and resources battling it out, Michelle Nunn has built significant financial and organizational advantages that put her in the driver's seat heading into the general," said Justin Barasky, press secretary for the Democratic Senatorial Campaign Committee, in a memo published before Tuesday's runoff.
And in the context of the broader battle for the Senate, a victory in Georgia would simply count as an unexpected bonus for Democrats. Win there, and Republicans would suddenly have to win seven seats to capture the majority, a potentially crucial difference when most analysts consider a GOP takeover something close to an even bet for now. Georgia is one of two states Democrats have targeted this year as possible pickup opportunities. (Mitch McConnell's Kentucky seat is the other.)
But a Georgia Democrat hasn't won a Senate or gubernatorial race since former Senator Zell Miller in 2000. And while President Obama's campaign once contemplated competing for the state in 2012 on the back of its changing demographics, he lost there in both of his presidential efforts. While the state has a sizable proportion of minority voters, it's white electorate leans heavily toward the GOP.
And now the president himself figures to be a major drag on Nunn's campaign. A poll commissioned by Democracy Corps/Women's Voices Women Vote Action Fund—conducted by a Democratic polling firm—found Obama's approval rating in 12 Senate battlegrounds (including Georgia) standing at just 37 percent.