Bullying, Threats and Chaos at Safety Agency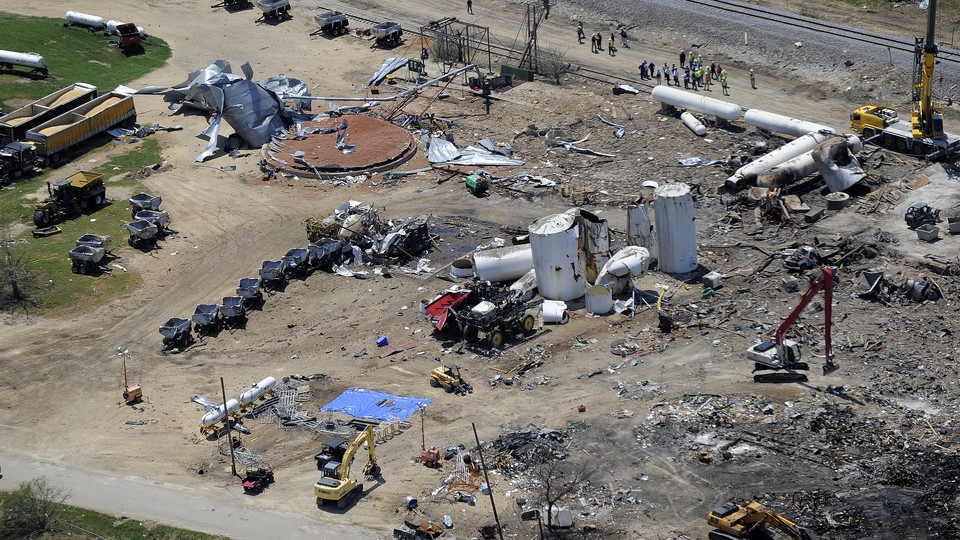 It was a rough week for Rafael Moure-Eraso.
Four days after House Oversight Committee Chairman Darrell Issa dedicated a hearing to slamming his work as the head of the federal Chemical Safety Board, Moure-Eraso gathered his employees in a conference room at the board's K Street headquarters to address the awkward situation.
His first announcement: He wasn't resigning — a disappointment to some agency staff and alumni who pine for his ouster.
The second: He could admit he wasn't perfect — a statement that was met by some snickers. When it came time to open the floor for questions, none came.
According to CSB employees and outside critics, Moure-Eraso's four years as chairman have been far worse than "not perfect." Under his watch, staff members say they've been bullied to keep debate low, key investigators have fled for the door, and an agency that used to be fueled by cooperative energy has turned toxic. Employees describe feeling downright paranoid, speaking in secret in bathrooms or avoiding colleagues they thought might reflect poorly on them.
The agency's internal strife — combined with increased congressional scrutiny and a backlog of unfinished cases — has led some to label the chairman a failure and to push for him to step down early. But Moure-Eraso is not the first CSB director to struggle: The agency has had internal disputes since its creation, and some believe that any director of the board is being asked to do the impossible.
Former board member Beth Rosenberg, who studied under Moure-Eraso, is now among his critics. She resigned her post after serving just 17 months of a five-year term because she felt "marginalized" in an office filled with "demoralized" staff.
An investigative backlog has raised pressure on CSB to correct its internal disputes. It's caught the attention of members of both parties — House Energy and Commerce Committee ranking Democrat Henry Waxman has flagged negative federal morale survey results, while Issa released a report on CSB's problems and called on Moure-Eraso to resign.
Several sources within CSB spoke to National Journal anonymously for fear of reprisal — no titles or experience levels are being used to protect their identities. Former staff and board members and interviews in an Oversight Committee report help tell a story of an agency struggling with internal conflict as it looks to catch up with its mission.
BOARD MEMBERS LONG FOR DEBATE
Although the management troubles have reached throughout CSB's 40 or so employees, Moure-Eraso's soured relationships with the up to five members of the board that votes on reports and recommendations stand out. Three former board members said that they felt pushed out or challenged. A normally collegial and cooperative body, they say, was chilled.
Bill Wright, who served a five-year term under three chairmen that ended in September 2011, said his time under Moure-Eraso was "terrible" because he felt the chairman framed relationships through politics (Wright was a George W. Bush nominee, but said his record showed a history of pro-regulation votes). Fellow member William Wark, who served the same tenure as Wright, said there were constant frustrations on efforts like getting a management plan to organize cases or scheduling a public agenda meeting.
There was particular tension over the decision to investigate the Deepwater Horizon oil spill (which happened just before Moure-Eraso came on, but was carried out in his term), an accident the board typically wouldn't have pursued because it was offshore and was being covered by other agencies. Both Wright and Wark voted for the investigation, but only under the condition that they could request dedicated funding from Congress that never materialized, and both now say they regret the decision.
The hiring of Richard Loeb as general counsel — a decision that board members said they did not have oversight over — also drove a wedge between the chairman and his fellow board members. The implication was that Moure-Eraso was trying to push general counsel Chris Warner out of his job for his support for the board members and replace him with someone more loyal. In an email cited in the Oversight report, Wark said the chairman was "getting bad advice" on human resources and said he should "not send threatening emails to Board members for doing their job."
Under standard operating procedure, board members would debate with each other and inspectors, be briefed on investigations, and feel a part of guiding CSB's overall mission. But they say that didn't happen. Rosenberg's testimony to the Oversight Committee includes a 2011 memo from Managing Director Daniel Horowitz to investigators in which he chastises investigators for going directly to board members with proposals and recommendations as well as requests that he be included in such discussions.
"Although I do not normally like to emphasize these matters — and prefer use of the collegial model — sending proposals and recommendations directly to board members without providing me a chance to review and approve them lacks professionalism and courtesy and undermines basic principles of sound management and appropriate workplace conduct," the memo states.
It was widely seen as an attempt to lessen the power of board members, despite Horowitz's assurance in the memo that it was not a bid to "stifle responsible discussion or debate," but was to "avoid situations where staff appear to be communicating in an uncoordinated manner."
In an interview, Horowitz reiterated that he didn't think there's been an attempt to freeze out board members and that investigators are encouraged to talk to them as long as management is kept abreast of the big issues. "We couldn't be as good in our reports as I think we are if we didn't do that," he said.
The dysfunction appears to have gone two ways. In a memo titled "Restoring Trust" released by the website TruthOut, CSB's investigation leaders say their "trust is broken" because of the actions of Rosenberg and board member Mark Griffon, including an alleged incident where Rosenberg told staff in the Denver office that she was working to remove Moure-Eraso and Horowitz and potentially take the chairman post herself. Later in the memo, the investigators say that Rosenberg and Griffon "are working to delay reports" and are fomenting public discontent. Another memo expresses frustration that the two board members wouldn't meet with staff and say that because of the delays, "our core mission work of issuing investigation reports is currently paralyzed."
In a response, also released on TruthOut, Rosenberg and Griffon say they were not delaying reports, but were waiting on comments to come in. Rosenberg said in an interview that the incident was blown out of proportion — the complaints were only brought up months later after she and Griffon voted to hear more information on the Chevron investigation.
The implication: The memo was a response to a vote that didn't please managers that were looking for consensus opinions.
Rosenberg has since left to return to academia at Tufts University. That's an environment, she said in an interview, where she felt she could actually debate and discuss big issues. Plus, she said, "people give me hugs here."
MORALE DROPS AMONG STAFF
That feeling has trickled down to the rest of CSB's 40 or so employees. In a fiscal 2013 employee survey, effective leadership was given just a 42.3 percent score, the third-worst in the government. Only 20 percent of employees said their senior leaders were offering effective leadership, a government low (the average was 45.4 percent), and teamwork was rated at just 48.5 percent, also a government low (average was 64 percent).
Overall morale also showed a drop between 2007 and 2013 on statements like "I like the kind of work I do" (down to 76 percent from 94 percent) and "My work gives me a feeling of personal accomplishment" (down to 70 percent from 94 percent).
It was enough to prompt a concerned letter from Waxman, who said he was concerned that "governance issues at the agency could threaten its important mission."
A February 2013 email exchange obtained by National Journal shows how touchy things were with regards to the morale data: When Horowitz circulated an article that named CSB one of the best small agencies to work for, staffer Manuel Gomez responded that he was "troubled" by that characterization. Data showed that "we rank, at best, in the bottom half among federal micro agencies," he wrote, adding "job satisfaction and morale are actually very poor by multiple measures."
In an email response, Moure-Eraso blasted the "really pathetic" use of numbers to "spin" a case and said Gomez should "avoid spreading unnecessary and inaccurate gloom and doom."
"I believe it is not at all bad to be the most improved out of 362 agencies," he wrote. "It puzzles me why you have this wish to make things look gloomy." When Gomez responded angrily and said it sounded like an "effort to muffle me," Moure-Eraso said his email was "sent in a spirit of levity" and meant to "poke fun at the use of 'medians' in a very surfaced-based analysis."
That atmosphere is also behind what critics have characterized as an exodus of experienced investigators. Four left in 2011, including two supervisors with 16 years experience, and CSB has lost an average of 2.5 investigators since 2008. (Since the Oversight report came out, at least two more staff members have left) A report from the Environmental Protection Agency inspector general on the CSB cited a 15 percent annual staff turnover rate and said that heavy demands and limited resources could be behind the moves.
That, said CSB employees, has left a lack of experience that has helped slow down casework and burdened the senior staff. The turmoil has grown so much, said one employee, that he felt CSB wouldn't even hold up to its own scrutiny.
"We analyze the environment and culture in workplaces "¦ for questions like whether employees are encouraged to report problems or bad news," the employee said. "We'd be judging harshly a company that operates in the same way CSB operates. It's just hypocritical."
MARRIAGE COUNSELORS AND WORKFORCE COMMITTEES
Moure-Eraso says he's not deaf to the workplace challenges and is working hard to fix them. CSB convened an eight-member Workforce Improvement Committee last November that since met 13 times and has recommended an outside development consultant. It has been made permanent with six volunteer members, according to leadership. Although employees have charged that the improvement committee is toothless and could be corrupted by management, Moure-Eraso promised it would be "an independent voice."
An outside consultant was brought in to meet with staff and present a report on morale improvement (a sort of "marriage counselor," Moure-Eraso said). But he denies the allegations that he's tamped down on the board or investigative staff, saying he encourages open discussion and has instituted a "scoping" process that keeps status updates on reports more open. The complaints, he said, have more to do with debates on big ideas on how investigations or recommendations should go.
"The staff have very strong ideas about what the findings and the recommendations are and at the end it has to come to a report and ultimately come to the board," he said. "There are some people with very strong opinions and their opinions don't carry the day."
Management has said that the turnover is normal and that they have replaced their losses with equally experienced hires (one new staffer had 33 years of industry work). The board also has plans to hire five or six more investigators in the next year and they've pointed out that reports are coming out at a faster pace, including one just weeks after the Oversight hearing.
The bigger question, however, is whether the chaos is new or is part of CSB's short history. The non-regulatory agency was created in the 1990 Clean Air Act amendments and was seen as a counterpart to the Occupational Safety and Health Administration, the National Transportation Safety Board, and other investigative bodies. But it took until 1998 for the board to become fully staffed up amid questions about executive oversight.
The board's first chairman, Paul Hill, was alleged to be guilty of some dictatorial moves that overstepped the other board members, which prompted employees to seek guidance from the Justice Department Office of Legal Counsel. The ensuing "Moss opinion" laid out a system where the chairman is a "chief among equals" (a description codified by a CSB board order) and must listen to the four other board members when making decisions.
The small staff and tight $11 million budget for CSB has been cited as a reason for its investigative backlog, but also contributes to the stressed environment. Former board member Wark compared it to "a little chicken always getting pecked at" when politicians wanted an accident in their district addressed. There's even been talk among stakeholders that it would be better off folded into NTSB or OSHA.
PRESSURE BUILDS
For now, though, people inside and outside the agency are just wondering how to fix the dim atmosphere within. At June's Oversight Committee hearing, Chairman Issa called on Moure-Eraso to resign ("You really need to ask whether or not in your last year, you can really undo the damage of your first five," Issa said) and reiterated that in a letter to President Obama.
Nobody questions Moure-Eraso's commitment to worker safety, but they say his management style leaves in doubt whether CSB can uphold that mission.
An ongoing inspector general investigation into the leaked identity of whistle-blowers at CSB has complicated matters — the IG said that CSB officials were withholding documents (management had cited attorney-client privilege) and is still reviewing a recent release of emails to see if CSB has complied.
Two more nominees for the board are on hold in the Senate until that dispute is resolved. That leaves CSB in an unusual position — because of rules about collusion, Moure-Eraso and Griffon, the sole remaining board member, can't be in the same room alone discussing official business.
There's been no follow-up from either the White House or Congress, but discussions about Moure-Eraso's future are continuing behind the scenes on Capitol Hill and among stakeholders.
"I know that the refining industry believes that a well-managed, professional, and respected CSB can play a much needed role in enhancing worker and community safety," said an industry executive working with government officials on matters related to CSB. "To that end, we are intent on being a constructive voice in helping to re-focus the Agency toward its original mission of providing objective investigative analysis of incidents free of any political agenda."
But Moure-Eraso has said he won't resign and is determined to close out the remainder of his term.
Former board member Rosenberg said she's confident that the governance issues are "fixable" and that she would like to see them be corrected soon. Others aren't so sure.
"People have asked me if I'd go back and I say you'd have to turn the whole thing upside down," said Wright, adding that he'd want board members to get hiring and firing powers. "It's supposed to be the pinnacle of your career, but not when you're marginalized and the staff can't treat you with respect. I wouldn't go back to that."