Braley's Missteps Have Democrats Worried in Iowa
The race has been seen as tightening since GOP candidate Joni Ernst won the June 3 primary, and polls find the race is now a toss-up.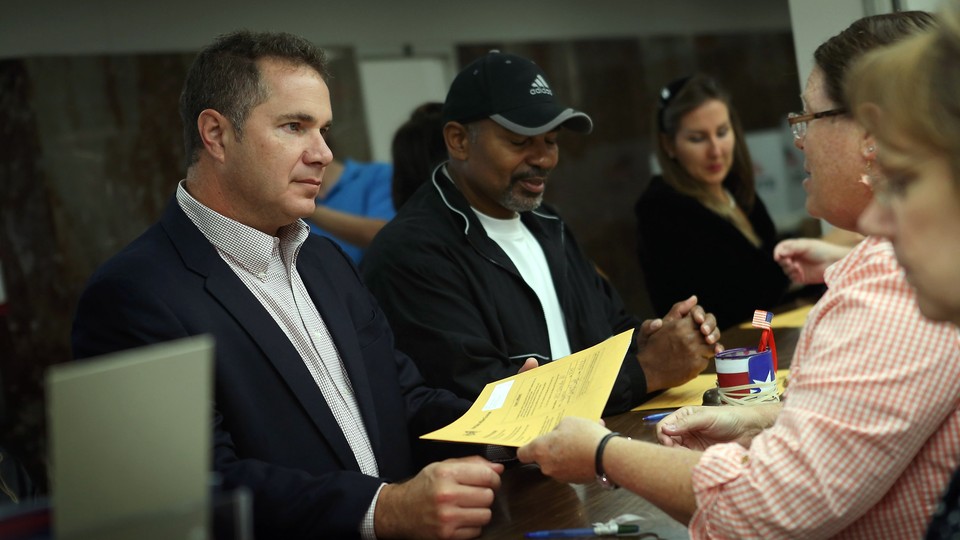 Democrats never expected that the 2014 candidate most likely to put his foot in his mouth would be their own Bruce Braley.
The national Democrats who had long touted the four-term House member as a top Senate recruit in Iowa are the same ones who privately worry that Braley's missteps are putting his chances at holding longtime Democratic Sen. Tom Harkin's seat in jeopardy.
And in a year where Democrats must defend vast territory and there's little margin for error, losing Iowa — a race the party has seen as very winnable — would be a big blow to their chances of holding the Senate.
Braley entered the race in early 2013 after the veteran Harkin announced his retirement, quickly clearing the Democratic field and posting big fundraising quarters while the big and largely unknown Republican field battled against itself. That led to expectations that this would be an easy race for Braley, which one Democratic operative with Iowa experience said were "unreasonable" for such a perennially competitive state.
The Iowa race has been seen as tightening since GOP candidate Joni Ernst won the June 3 primary convincingly. That sense culminated this weekend with the news that Braley's campaign had parted ways with its pollster and ad-maker earlier this summer (first reported by Politico).
Chief among Braley's missteps this year, and appearing most frequently in GOP ads, are his now-infamous comments from a fundraiser in which he described GOP Sen. Chuck Grassley as "a farmer from Iowa who never went to law school."
Polls find the race is now a toss-up: The most recent, from NBC/Marist, found Braley and Ernst tied at 43 percent each. Other recent public polling has given a slight edge to either Braley or Ernst — a far cry from the consistent high-single-digit leads Braley was commanding earlier this year.
"This race did a 180 when [Braley] stubbed his toe on that 'farmer' comment," said former Des Moines Register political reporter David Yepsen. "He may have mortally wounded himself with that, because he wasn't well-known to a lot of people."
And while Braley still has considerably more money in the bank than Ernst — he has $2.7 million on hand, compared with $1.1 million for Ernst — the GOP candidate outraised Braley slightly in the second quarter, proving she can successfully raise big sums.
All three top political prognosticators — The Cook Political Report, The Rothenberg Political Report and Larry Sabato's "Crystal Ball" — have shifted the race toward Republicans in recent weeks and now rate it as a pure toss-up.
The Democratic Senatorial Campaign Committee put $500,000 behind an ad hitting Ernst last week, a sign national Democrats have become increasingly concerned about the race.
Several stories since the "farmer" comment have helped reinforce, at least in national circles, Braley's unfortunate penchant for putting his foot in his mouth: At a parade earlier this month, Braley appeared to answer a voter's cheer of "We're farmers!" with "So am I!" (The campaign said Braley thought the voter had said "We're for farmers," which is why he agreed.)
Republicans also seized on a story about Braley and his wife complaining to the local homeowners association about a neighbor's chickens running free, a story that helps fit into the GOP portrayal of Braley as an elitist trial lawyer. Another report this week found he had missed the majority of Veterans Affairs Department oversight hearings in 2011 and 2012.
"The last thing you want to be is somebody who 'went Washington,' and those stumbles sort of opened the door" to criticism like that, said one Democrat familiar with the campaign. "That's a caricature that the Braley campaign does not want to stick."
The campaign worked to combat the image early, running an ad earlier this spring highlighting Braley's ties to the state and working-class past. The pro-Democratic group Senate Majority PAC, too, came out with an ad this spring featuring farmers defending Braley and his Iowa roots.
Democrats in the state say the "farmer" remark and the perception of Braley it feeds haven't yet had time to sink in with voters — nor have views about Ernst, whom Democrats will use considerable resources to portray as too extreme for the state.
State Democratic Party Chairman Scott Brennan called some of the recent headlines, like the chicken story, "just silliness," noting that candidates' words are "parsed and reviewed" to a level that's unnecessary.
Democrats note that in a state like Iowa, which is split nearly evenly between Democrats, Republicans and independents, a tight race was inevitable — and that once Braley's allies go on the attack against Ernst, her numbers will come down to earth.
Ernst has been on National Guard duty, which means the campaign has been somewhat on hold — but with her return to the campaign trail this week, Braley and outside groups will pounce. They plan to argue Ernst is too right-wing for the purple state, and that her views are out of line with those of the voters.
They'll highlight comments like the ones she made earlier this year, including suggesting she was open to impeaching President Obama and saying she believed Iraq did have weapons of mass destruction during the 2003 invasion. The Daily Beast reported Monday afternoon that, at a forum last fall, Ernst suggested the states could nullify federal laws.
Democrats also point to their superior ground operation, which state party officials say is the largest non-presidential-year coordinated campaign ever.
"It's easy to see where, with a competitive Republican primary, this race might have looked different a few weeks ago," said Norm Sterzenbach, a veteran Democratic consultant in the state. "But due to the fact that the primary's over, nationally the U.S. Senate is in the balance and this is an open seat in a swing state "¦ it was always going to tighten up."